Gymnocalycium triacanthum P124, Sierra Ancasti, Catamarca, Argentina 600-700m
Forms flat greyish/brow to olive/green stems with (usually) three spider like spines per areoles, it is fairly rare in cultivation but easy to grow.


Description: G. triacanthus (rionense) is a dark skinned solitary Argentinian cactus with almost useless spines making it relatively easy to handle. G. rionense is one of the most variable Gymnocalycium. Will eventually offset after a considerable period of time.
Stem: Flattened globose, brownish olive green, 1-8 cm tall up to 10 cm in diameter. Apex depressed often spineless.
Ribs: 10-12, flattened, without prominent chin-like protrusions..
Areoles: Oval with white felt.
Spines: All radials 3 (to 7) yellowish-white to light-brow with dark tips when young, becoming grey with age, spider-like, slightly curved, flattened against the stem, one pointing downward the other to the sides, up to 2 cm long.
Flower: White to pinkish-brown with a pale pink or red center up to 3,5 cm across, tube short.
Fruit: Cylindical.
Blooming season: Flowers are produced in late spring and remain open for up to twelve days.


Cultivation: Summer grower, water regularly in summer, keep this plant almost dry in winter at a minimum temperature of 0°C, prefer a low pH compost otherwise growth will stop altogether. The plant does not like extremely bright situations. Give it some shade during the hottest part of the day.
Propagation: Direct sow after last frost. (seldom produces offsets)
Seed Collecting: Permit fruit to ripen. Fruit must be significantly overripe before harvesting seed; clean and dry seeds


Advertising




Family:
Cactaceae (Cactus Family)
Gymnocalycium triacanthum, Backeberg 1959
In: Die Cactaceae 3:1784, 1959 nom. Inval. Art. 8,2, 37.1( = G. Marsoneri subs. matoense)
Accepted Scientific name: Gymnocalycium riojense Fric ex Till & Till
Origin: Argentina (Cordoba, Catamarca, La Rijoa)
Conservation status: Listed in CITES appendix 2.
Etymology: The species name "triacanthum" comes from the Greek for "with 3 spines".
Gymnocalycium riojense Fric ex H. Till & W. Till 1991
Gymnocalycium stellatum Speg.
Gymnocalycium asterium var. triacanthum Rowland SL1992
Gymnocalycium rionense subs. Paucispinum var. triacanthum
Gymnocalycium triacantum Backeberg
Some authors recognizes several (controversial) variety of G. rionense, differing in spination, body shape and distribution:
The 'riojense' subspecies. It is the more widespread and common it has 5 radial spines and whitish to pinkish brown flowers. (Origin: La Rioja)
The 'kozelskyanum' subspecies has 3 radial spines and the flowers are deep pink with darker throats (Origin: Sierra de los Colorados).
The 'paucispinum' subspecies has 3 radial spines and white/off white blooms.(Origin: La Rioja)The 'piltziorum' subspecies has 3-5 radial spines that are initially erect then radiate. The flowers are lilac-pink. (origin:Sierra Velasco)
The 'platygonum' subspecies has pearl-white scented flowers and 3 claw-shaped spines.(Origin: N Salinas Grandes)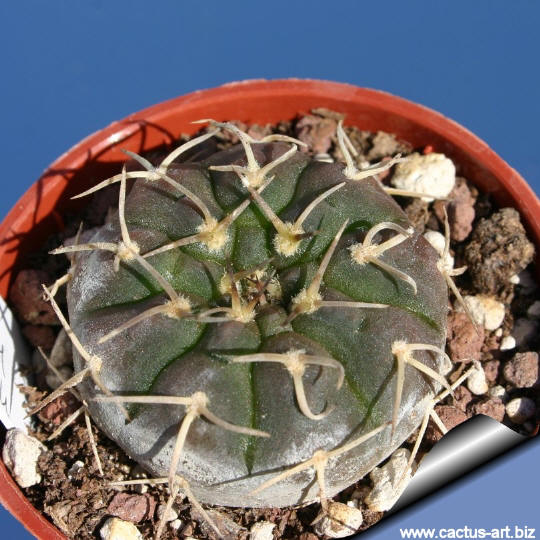 Photo of conspecific taxa, varieties, forms and cultivars of plants belonging to the Gymnocalicyum stellatum complex