This is a striking plant with pointed leaves banded with white transversal stripes and spots that forms fast beautiful clusters. It is highly variable and offsets profusely with several forms, variety and cultivars.


Description: Stemless clustering perennial-succulent, that eventually form large clumps.
Rosettes: 6-12cm diameter, 6-13(25) cm tall, heavily clumping.
Leaves: Dark green, pointed and strikingly banded or spotted with white with varying amounts of variegation. Tubercles are "patterned" on the upper surface of the leaves. The lower surface of the leaves have transverse bands of tubercles
Flowers: White-greenish keels.
Bloom time: Can be ever blooming if you snip off each bloom when it dies.
Remarks: Haworthia attenuata-fasciata comes in many varieties. This species vary from solid green with only few tiny white bumps forms to heavily white horizontal banded forms, and also individual clump that has broad, heavy horizontal stripes will sometimes throw off a pup with just bumps, or some will be smoother, knobbier, etc., and vice-versa.


Variegated specimen are also frequently found in cultivation.

Cultivation: Very easy to grow and common. Need regular water but do not water again until dry. Also, it is a species that is dormant in the winter and require very little water (maybe even none) during the cold months. Frost Tolerance: Light frost protection required. Minimum of 5ºC for safe growing (but hardy up to -5°C or less.) Sun Exposure: Requires light shade to bright light (protect from strong midday sun). In shade the body colour will remain mostly green, while full sun will darken it and give it red/brown body colour. Can be sunburned if moved from shade/greenhouse into full sun too quickly. The amount of sunlight it can withstand without scorching depends upon the how hot it becomes in the summer in the locale in which it is planted. It will have more colour if it receives more light. During the spring it may be able to take full sun until the heat arrives at the end of spring. In an area that has hot afternoon sun, it may be able to take full morning sun, but requires afternoon shade or afternoon light shade.


Photo of conspecific taxa, varieties, forms and cultivars of Haworthia attenuata.


Advertising




Family:
Asphodelaceae (Aloacee - Liliaceae)
Scientific name: Haworthia attenuata (Haw.) Haw. var. attenuata
Origin: South Africa (Eastern Cape) Alt: 0 - 1000 m.
Common Names include: Zebra plant
Synonyms: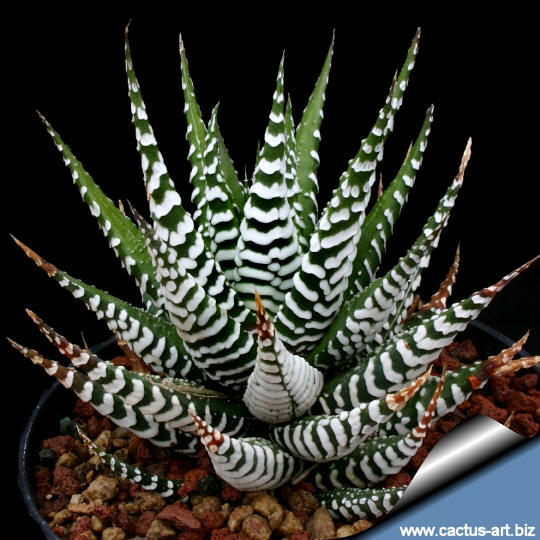 Haworthia attenuata cv. WIDE ZEBRA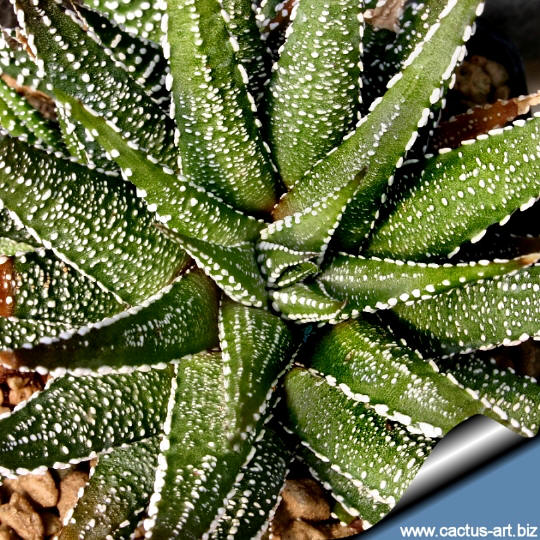 Haworthia attenuata var. clariperla

Propagation: Seeds or (usually) offsets that appear at the base between the leaves; leave them attached to form a cluster, or wait until they are 1/3 the size of the parent and then detach and plant.