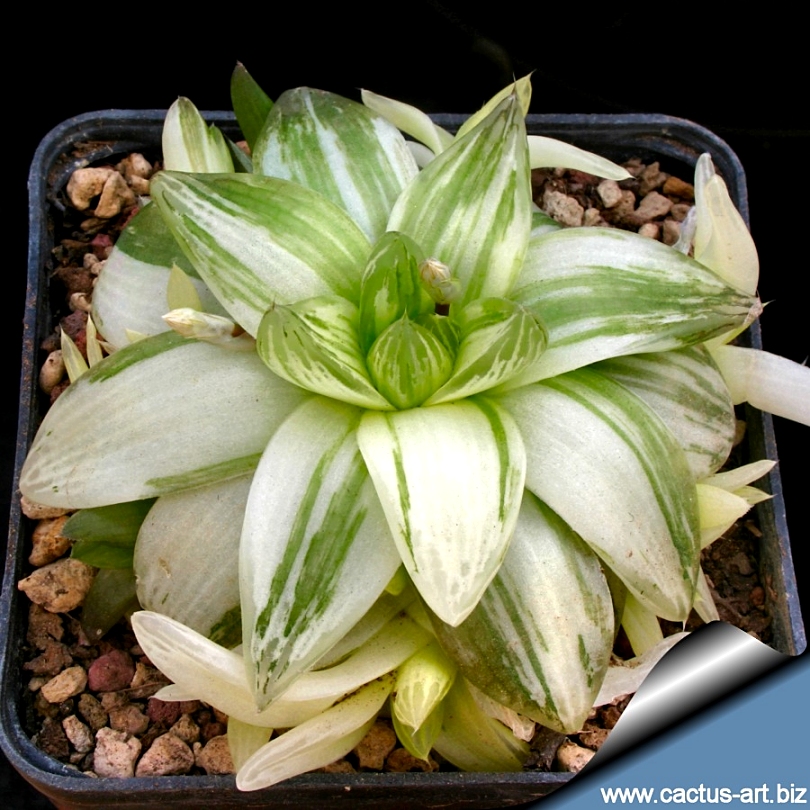 This is a striking variegated chimera with white longitudinal stripes that forms fast beautiful clusters. It is highly variable and offsets profusely
Description: Spreading stemless ground cover rosette succulent, up to15cm in diameter.
Leaves: Succulent soft and glassy (almost transparent) they are nicely variegated with light-green and white longitudinal strips with varying amounts of variegation. Regularly there appear some normal (not variegated) green or totally white offsets.
Cultivation: There's no difference in cultivation from usual plants of this type. Though it grows more slowly.
Exposure: Needs light shade to shade.
Watering needs: regular water (They enjoy a little water during winter period too) but do not overwater as they will most likely wind up with root rot, and do not water again until dry! Hardy to -1°C.
The normal green and totally white offsets should be eliminated.

Propagation: Offsets (New plants are freely produced basally between the leaves)

Photo of conspecific taxa, varieties, forms and cultivars of Haworthia cymbiformis.