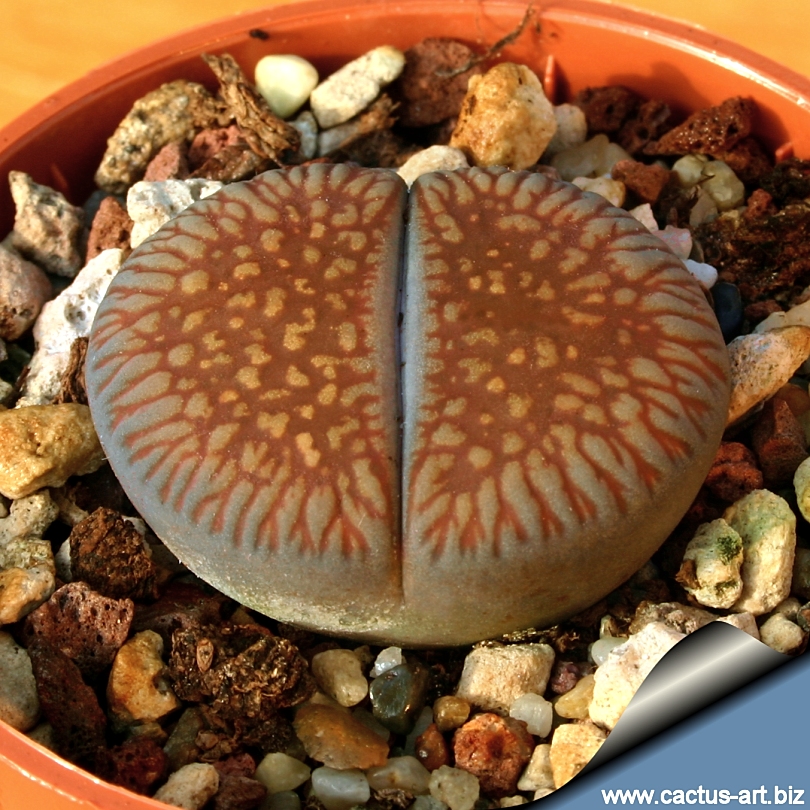 The plants colour is reddish-brown with variable colour and markings on the top
surface with characteristic reddish-brown branches in the outer margin.
Description: Relatively uniform and easily recognizable by its very characteristic marginal pattern and markings. It slowly clumps forming cluster up to 200 mm in diameter, with up to 10 or more heads (but usually 2-4).
Size: Medium to very large, facial diameters up to 40 mm in length X 30 mm wide at the narrow fissure, mostly about 33 X 25 mm.
Profile: truncate; top surface flat to slightly convex; fissure shallow, 3-6 mm; lobes conjunct.
Colours: The plants prevalent colour is reddish-brown with variable colour and markings on the top surface. Top surface is flat with various shades of olive-green, opaque yellowish, greenish or pinkish grey. Windows and channels various shades of obscurely transluscent dark red-brown, the digitate lines extending into the margins usually distinctly brighter red. Dusky dots dull greenish grey. Shoulders milky bluish, pinkish or greenish grey.
Flowers: Yellow, medium to large, up to 45 mm Ø, mostly 25-35 mm Ø.
Photo of conspecific taxa, varieties, forms and cultivars of Lithops aucampiae.

Advertising
Family: Mesebrianthemaceae (Aizoaceae)

Scientific name: Lithops aucampiae subsp. euniceae (H.W. de Boer) D.T. Cole var. euniceae (1966)

Field numbers: C048

Origin: South Africa, Northern Cape, restricted to a small area N of Hopetownk. (TL 'about 15 miles N of Hopetown)

Habitat : Grows in reddish sandy soil among red-stained quartzite stones of similar brown colour..
Etymology: Collected by H.A. Horn in September 1963, and named for his friend, Mrs Eunice E. Burmeister.
Bibliography: COLE, DESMOND T. and NAUREEN A., (2005) Lithops Flowering Stones, Cactus&Co. Libri

Synonyms: