Lobivia backebergii R456
La Paz, La Paz, Bolivia

Photo of conspecific taxa, varieties, forms an cultivars of Lobivia (Echinopsis) backebergii. (This taxon has lots of synonyms (like most Lobivia) whit several controversial varieties and subspecies):

Cultivation: It is a summer grower species that offers no cultivation difficulties. Water regularly in summer (but do not overwater ) needs good drainage and very porous soil, keep rather dry in winter. Feed with a high potassium fertilizer in summer. It is quite frost resistant if kept dry (hardy to -5° C or less). Need a bright exposure, full sun or half shade in summer.

Propagation: Direct sow after last frost, offsets.


Advertising




Family:
Cactaceae (Cactus Family)
Conservation status: Listed in CITES Appendix II
Currently accepted Scientific name: Echinopsis backebergii Werderm. in Backeb.
In: Neue Kakteen 83, 84, fig. 1931 Fedde, Rep. Spec. Nov. 30: 64. 1932
Origin: Peru.
Conservation status: Listed in CITES appendix 2
Echinopsis winteriana Ritter
Lobivia wrightiana var. winteriana (Ritt.) Rausch
Echinopsis backebergii subsp. wrightiana (Backeb.) M.Lowry
In: Cactaceae Syst. Init. 20: 15. 2005
Lobivia backebergii winteriana
Echinopsis backebergia Werdermann ex Backeberg 1931
Lobivia backebergia (Werdermann ex Backeberg) Backeberg 1935
Lobivia wrightiana Backeberg 1937
Echinopsis wrightiana (Backeberg) G. D. Rowley 1982
Neolobivia winteriana (F. Ritter) F. Ritter 1981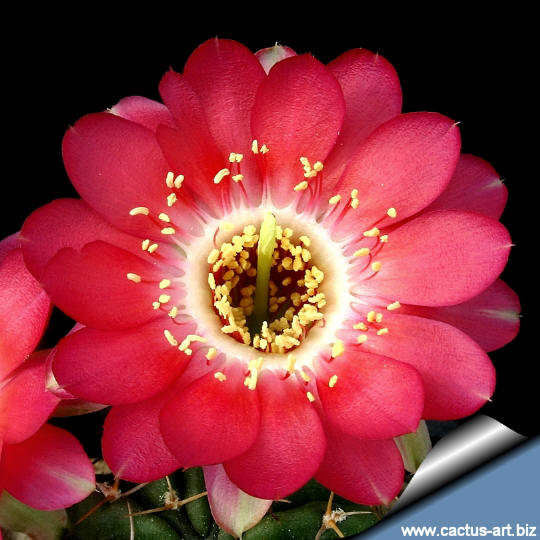 Clone V1:
A selected form with a very bright white throat circle.