The flowers of this plant are usually white, but they can be of almost any colour.


Description: Very large and spiny cactus, solitary or branched. The body is almost concealed by the spines.
This is a very variable species especially in shape and and length of spines and in flowers colour. Since the various forms are connected by intermediates it is extremely difficult to recognize infraspecific taxa.
Stem: Bluish-green, spherical at first and later sort of cylindrical, and it may grow 25 cm tall and 10-40 cm in diameter.
Ribs: 25 to 50 ribs deeply incised between the tubercles, which are approx. 2 cm long.
Spines: Radials are hard to tell from the central spines. Each areole bears approx 4 to 15 spines ranging from slender to thick, conical with a wider base, and irregular in length, the longest up to 8 cm or more. They are flexible and curved upward, and those on new parts of the plant have occasionally a hooked tip. Their colour varies from yellowish to brown when young, but later grey.
Flowers: Lateral or basal, 7-10 cm. long, funnel-shaped, and have a slender, curved tube covered with long white hairs. Perianth segments are short and white, but can be of almost any colour.
Fruit: Globular, dark green with flowers remnants.

NOTE: The fruit has a whitish mucilaginous pulp and is edible with a fresh and agreeable taste



Lobivia ferox is a very variable species (especially in shape and and length of spines and in flowers colour) with many intermediate forms and several controversial infraspecific taxa.


Cultivation: It is a summer-growing species that offers no cultivation difficulty. Water regularly in summer (but do not over-water). It needs good drainage and very porous soil. Keep rather dry in winter. Feed with a high potassium fertilizer in summer. It is quite frost-resistant if kept dry (hardy to -5° C). Outside full sun or afternoon shade; inside it needs bright light, and some direct sun.

Propagation: Direct sow after last frost (it seldom produces offsets)



Advertising




Family:
Cactaceae (Cactus Family)
Scientific name: Echinopsis ferox (Britton &Rose ) Backeberg

In: Blätter für Kakteensforschung 3: 4, 1934
Origin: NW Argentina ( Salta y Jujuy, at about 2000 m), Western Bolivia (department of Oruro. Chuquisca: N Camargo, at about 3000 m) NE Chile: Región I: Altiplano of Tarapacá Province of Iquique 3.700 y 4.000 m.
Habitat: Growing from fissures in rocks and on gravelly outcrops, mainly on volcanic substrates but also in other stone formations from 1800 to 4000 m in altitude, mostly on N, NE and E faced slopes, with 10 to 30% of inclination in open areas or under scrubs.
Conservation status: Listed in CITES appendix 2.
Synonyms:
Echinopsis ferox (Britton & Rose) Backeberg 1934
= Lobivia ferox Britton & Rose 1922 (Basionym)
= Pseudolobivia ferox (Britton & Rose) Backeberg 1942
Lobivia ferox var. longispina
Lobivia longispina Britton & Rose 1922
= Echinopsis longispina (Britton & Rose) Werdermann 1931
Echinopsis potosina Werdermann 1931
= Pseudolobivia potosina (Werdermann) Backeberg ex Krainz 1942
= Lobivia potosina (Werdermann) H. Friedrich 1974
Lobivia claeysiana Backeberg 1937
Lobivia hastifera Werdermann 1938
Lobivia aureolilacina Cárdenas 1961
Lobivia backebergiana Y. Itô 1962
Lobivia pachyacantha Y. Itô 1962
Pseudolobivia wilkeae Backeberg 1962 (n.val.publ.)
Echinopsis lecoriense Cárdenas 1963
= Pseudolobivia lecoriense (Cárdenas) Backeberg 1966
Lobivia horrida F. Ritter 1963
Lobivia pictiflora F. Ritter 1966
Lobivia varispina F. Ritter 1980;
Lobivia ducispauli Fric.
Lobivia ferox var. camargensis Ritter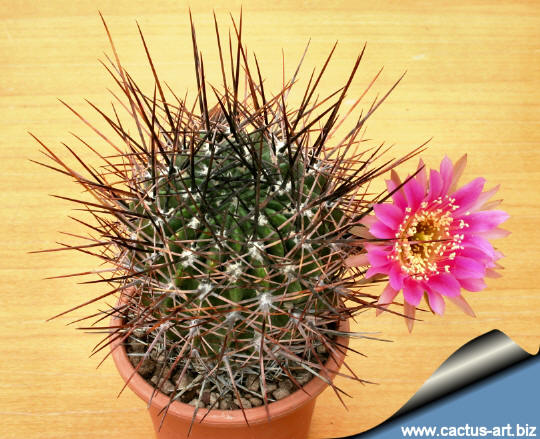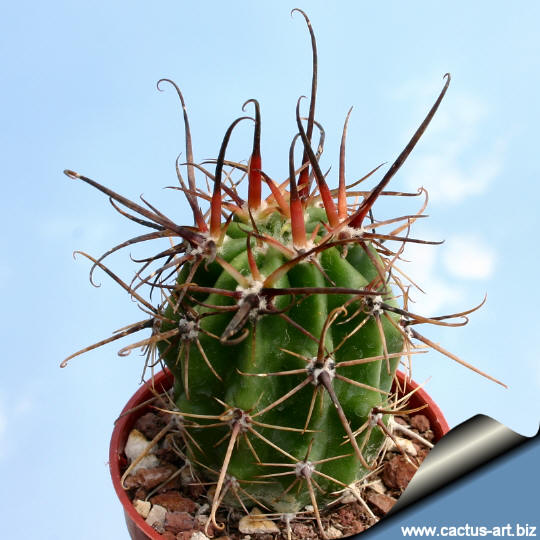 Photo of conspecific taxa, varieties, forms and cultivars of Lobivia (Echinopsis ferox). (This taxon has lots of synonyms (like most Lobivia) whit several controversial varieties and subspecies):