Lobivia maximiliana var. westii KK437
This species is one of the most remarkable Lobivia, with long curved yellow spines.
The flowers are very eye-catching red, orange, yellow, white & fuchsia !


.

.





Advertising




Family:
Cactaceae (Cactus Family)
Lobivia westii Hutchison
Published in: Cact. & Succ. Journ. Amer. 26. 81., 1954
Currently accepted Scientific name: Echinopsis maximiliana Heyder ex A. Dietrich 1846.

Conservation status: Listed in CITES appendix 2.
Etymology: For James west (1886-1939) well known Californian horticulturist, who accompanied Goodspeed on the first Andes Expedition.
Echinopsis maximiliana Heyder ex A. Dietrich 1846
Lobivia maximiliana (Heyder ex A. Dietrich) Backeberg
In: 10 Jahre Kakteenforschung 1927-1937 28, 1937
Echinopsis maximiliana subsp. westii (Hutchison) G. D. Rowley 1982
Lobivia maximiliana ssp. westii (Hutchison) W. Rausch
In: Lobivia 1: 36, 1976
Lobivia caespitosa Britton & Rose 1922
Echinopsis maximiliana subsp. caespitosa (Britton & Rose) G. D. Rowley 1982
Lobivia hermanniana Backeberg 1933
Lobivia westii Hutchison 1954
Lobivia charazanensis Cárdenas 1957
Lobivia cariquinensis Cárdenas 1959
Lobivia pseudocariquinensis Cárdenas 1961
Lobivia miniatiflora F. Ritter 1963
Lobivia cruciaureispina Knize 1969
Lobivia sicuaniensis Rausch 1971
Lobivia intermedia Rausch 1971
Echinopsis pentlandii var maximiliana Lem. 1860
Echinopsis tricolor A. G. Z. 1848
Lobivia pentlandii var maximiliana Backbg 1951
Lobivia lauramarca Rauh a Backbg., Descr. Cact. Nov. 1956/28
Lobivia corbula (Herrera) Britton & Rose 1922
Lobivia maximiliana var. corbula (Herrera) Rausch Lobivia 1975
Description: At fist solitary but will start soon to branch at the base, older plants forms dense, large mats.
Stem: Globose to short cylindrical, somewhat umbilicate at apex, bright green 5-15(-20) cm long, 5 cm in diameter.
Ribs: 12-20 deeply crenate, rather high, ribs straight, notched tuberculate.
Areoles: With dull white wool, ± 2 cm apart.
Spines: 4-12 acicular, not differentiated as centrals and radials, somehow curved backward yellow, amber or brown, unequal 3-5 cm long (or less).
Flowers: Funnel-form, on the sides, very colorful red-violet with orange to white-yellow throats, 4-8 cm in diameter. The tube is greenish to reddish up to 4 cm long. The tepals are narrowly obovate abruptly acute spreading, outer ones often violet coloured. Stamen and style short
Fruit: Globular, dull green, reddish or maroon, woolly 1-2(-4) cm long and in diameter.
Seeds: Black.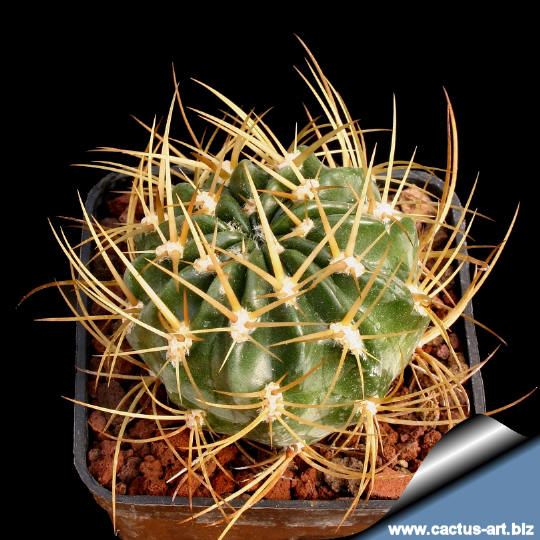 Cultivation: It is a summer grower species that offers no cultivation difficulties. Lobivia akersii has a fairly large tap root, and should be kept in a deep pot with a very draining mineral substrate. Water regularly in summer (but do not overwater ) keep dry in winter. Feed with a high potassium fertilizer in summer. Repot yearly until reaching about 100 mm in size, then every two or three years will suffice. Repotting is best done at the end of winter but can be done at other times. Do not water for a couple of weeks after repotting to reduce risk of root rot via broken roots. Repotting will increase size of stems. It is quite cold tolerant if kept dry (hardy to -5° C). Outside it need a bright exposure, full sun or half shade in summer, inside it needs bright light, and some direct sun.

Propagation: Seed, grafting, cutting. (seldom produces offsets)
Photo of conspecific taxa, varieties, forms an cultivars of Lobivia (Echinopsis) maximiliana. (This taxon has lots of synonyms (like most Lobivia) whit several controversial varieties and subspecies):