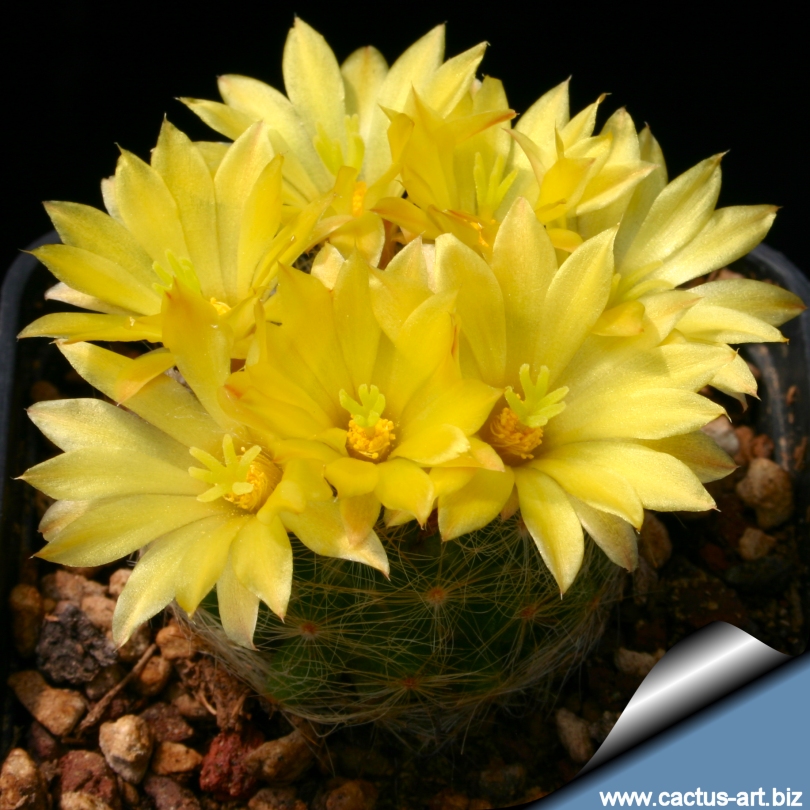 Mammillaria baumii
It has soft stems obscured by spines, If grown correctly, it will recompense the grower with generous displays of golden-yellow strongly scented flowers.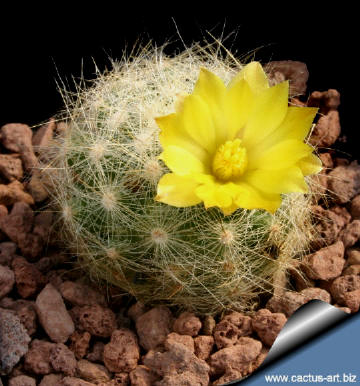 Description: Soft clumping succulent with the stems obscured by spines, eventually forms dense clusters.
Stems: Subglobose to ovoid, 5 - 7 cm high, 6-15 cm in diameter, without latex.
Tubercule: Soft, cylindrical to short conical.
Radial spine: 30 - 50, hair like, very thin, flexible, interlacing, white, to 15 mm long.
Central spine: 5 - 11, slender, needle-like, straight, whitish yellow, 10 - 18 mm long held close to stem.
Flowers: Broad funnelform, strongly scented golden yellow , over 3 cm in diameter and come in late spring. Stigmas green.
Fruit: Oblong to ovoid, grey-green.



Advertising
Family:
Cactaceae (Cactus Family)

Scientific name: Mammillaria baumii Boededeker
Published in: Zeitschr. Sukkulentenk. 2:238 (1926)
Origin: Mexico (Tamaulipas)
Habitat: Grows under bushes, also in shady rocky fissures on densely wooded hills. Altitude 700 - 1.800 m.
Conservation status: Listed in CITES appendix 2.
Dolichothele baumii (Boed.) Werderm. & Buxb. 1951
Mammillaria radiaissima G.E.Linds. ex R.T.Craig 1945
Ebnerella baumii,
Mammillaria baumii var. radiaissima
Cultivation: Very easy to grow. Watering Needs Need regular water but do not water again until dry. Also, it is a species that is dormant in the winter and require very little water (maybe even none) during the cold months. Frost Tolerance: Light frost protection required. Minimum of 5ºC for safe growing (but hardy up to -5°C or less.) Sun Exposure: In spite of its preference for shade in the wild, in culture, good exposure to sunshine will favour good spine development. Can be sunburned if moved from shade/greenhouse into full sun too quickly. During the spring it may be able to take full sun until the heat arrives at the end of spring. In an area that has hot afternoon sun, it may be able to take full morning sun, but requires afternoon shade or afternoon light shade. If grown correctly, it will reward the grower with generous displays of yellow flowers. Clumps will be formed quite readily over a few years.

Propagation: Seeds or offsets that appear at the base; leave them attached to form a cluster, or wait until they are 1/3 the size of the parent and then detach and plant.