M. bocasana var multilanata has round soft stems with an extreme abundance of white woolly hairs and short hooked central spines.



Description: Clumping cactus.
Stems: Blue-green up to 6 cm in diameter, spherical, sometimes becoming somewhat cylindrical.
Spines: Radials 50-10 (or more numerous), white, hair-like, 8 - 20 mm long, with one, occasionally two, short hooked centrals , reddish brown, 5 - 10 mm long.
Flower: Funnelform, creamy yellow to pale pinkish, 13 - 22 mm (0.5 - 0.9 in) long, to 15 mm (0.6 in) in diameter in spring and summer.
Fruit: Cylindrical, rosy-pink to red 2,5 cm long in summer.



.

.



Advertising




Family:
Cactaceae (Cactus Family)
Mammillaria bocasana var multilanata Hort

This is an horticultural name not validly pubblished
Scientific Name: Mammillaria bocasana
First description by Poselger, Allg. Gartenz 21: 94 (1853)
Common name: Powder Puff Cactus snowball cactus; powderpuff cactus; fishhooks.
Origin: Garden origin (Nursery produced cultivar)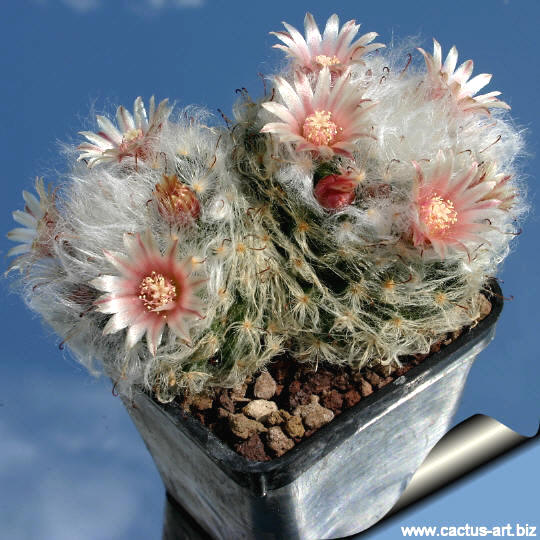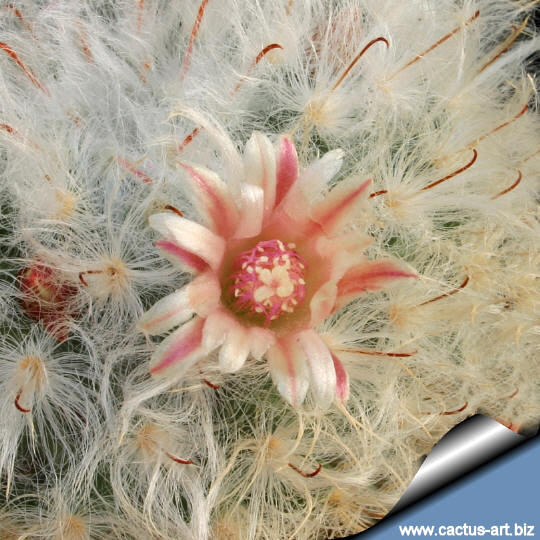 The flowers are cream/yellow or pinkish, in spring.
Cultivation: It is a relatively rapid growing species of easy culture, recommended for any collection, it doesn't require any special treatment. Water regularly in summer, but do not overwater (Rot prone) Use pot with good drainage and a very porous potting media, keep dry in winter. Feed with a high potassium fertilizer in summer. It is quite frost resistant if kept dry, hardy as low as -5° C (some reports give it hardy to -5°C) Sun Exposure: High levels of light are needed to flower and for good spine development. Can be sunburned if moved from shade/greenhouse into full sun too quickly. During the spring it may be able to take full sun until the heat arrives at the end of spring. In an area that has hot afternoon sun, it may be able to take full morning sun, but requires afternoon shade or afternoon light shade. If grown correctly, it will reward the grower with generous displays of purple flowers.
Clustering in cultivation after several years and easily flowered. For best results, use a shallow pot, and only use the smallest diameter pot that will accommodate the plant.

Propagation: Direct sow after last frost (usually) or division, wait until the offsets that appear at the base of old clustered specimens are 1/3 the size of the parent and then detach and plant.
Photo of conspecific taxa, varieties, forms and cultivars of Mammillaria bocasana.