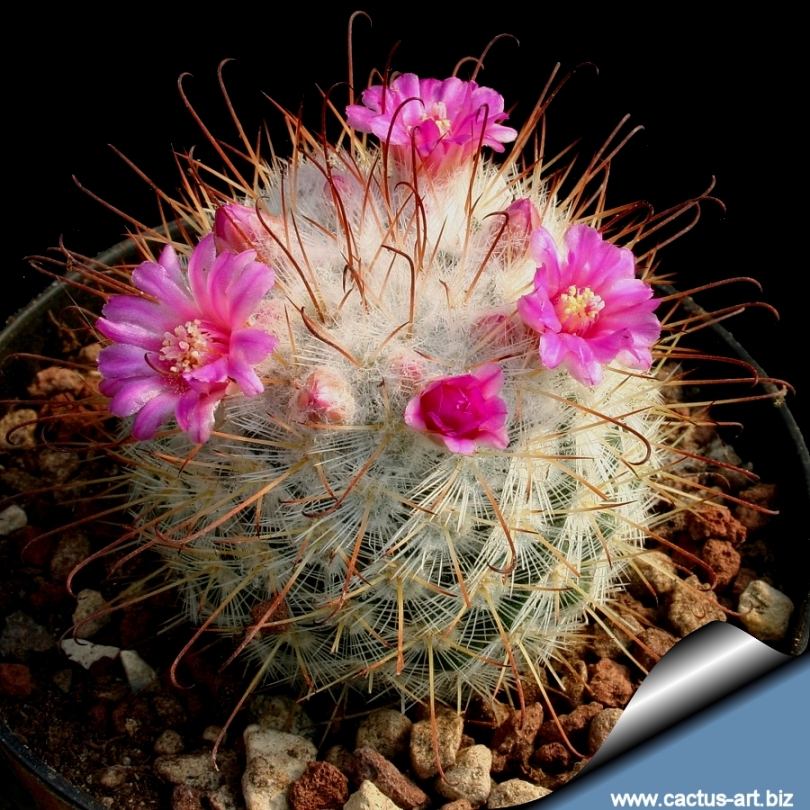 Mammillaria bombycina is one of the most popular and beautiful species that will produce clumps, as a washing up bowl. It combines clean, glassy white radial spines with hooked reddish-brown centrals.
The spines are quite sticking. This plant will produce several complete circles of contrasting light carmine flowers every year.

Description: Solitary or clustering stems, some clones cluster aggressively and can form 50-90 cm wide, gorgeous mounds as they matures.
Stems: Depressed globose to club shaped, bright-green to grey-green, 7 - 14 cm high, 5 - 6 cm in diameter.
Tubercle: Conical to cylindrical, firm.
Sap: Occasionally latex in tubercules.
Axil: With dense wool and bristles.
Radial spine: 30 – 65, have a glassy appearance white, to yellowish white stiff, thin, needle-like, pectinately arranged, that almost conceal the epidermis to 8 mm long.
Central spine: 3 – 8 (usually 4), yellow with dark tips, or orange-reddish brown, lowermost one hooked downwards and to 20 mm long, others straight and to 11 mm long. hooked spines.
the many radial spines
Flower: Light carmine, pink or white, funnelform, , to 15 mm long and in diameter in circles around the crown of the plant.
Blooming: Come only to mature plants in Spring
Fruit: Pale pinkish green.


Advertising
Family: Cactaceae (Cactus Family)

Scientific name: Mammillaria bombycina Quehl 1910
First description published in: Monatsschr. Kakteenk. 20: 149 with fig. (1910)

Common name: Silken Pincushion

Origin: Originally described from eastern Jalisco, Mexico, additional populations have since been located in Aguascalientes just to the north. Altitude 2.340 to 2.500 m.

Synonyms:
Chilita bombycina,
Escobariopsis bombycina,
Ebnerella bombycina,
Neomammillaria bombycina
M. perezdelarosae is closely related though most plants are solitary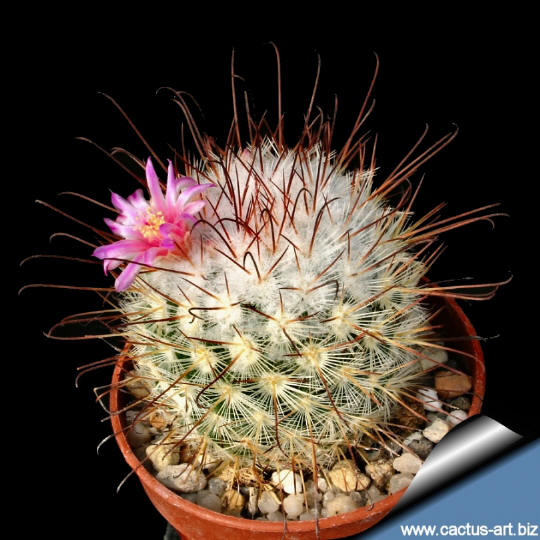 Cultivation: This is one of the easier species to grow, it is an easy bloomer and don't requires any special treatment, it have consistently clean spination whether grown indoors or out but the plants are the most beautiful when cultivated in the full sun that encourage the heaviest spine formation. Regular water in summer. Keep dry in winter. Frost tolerance: 4° C
Propagation: Seeds or offsets.
Photo of conspecific taxa, varieties, forms and cultivars of Mammillaria bombycina
.