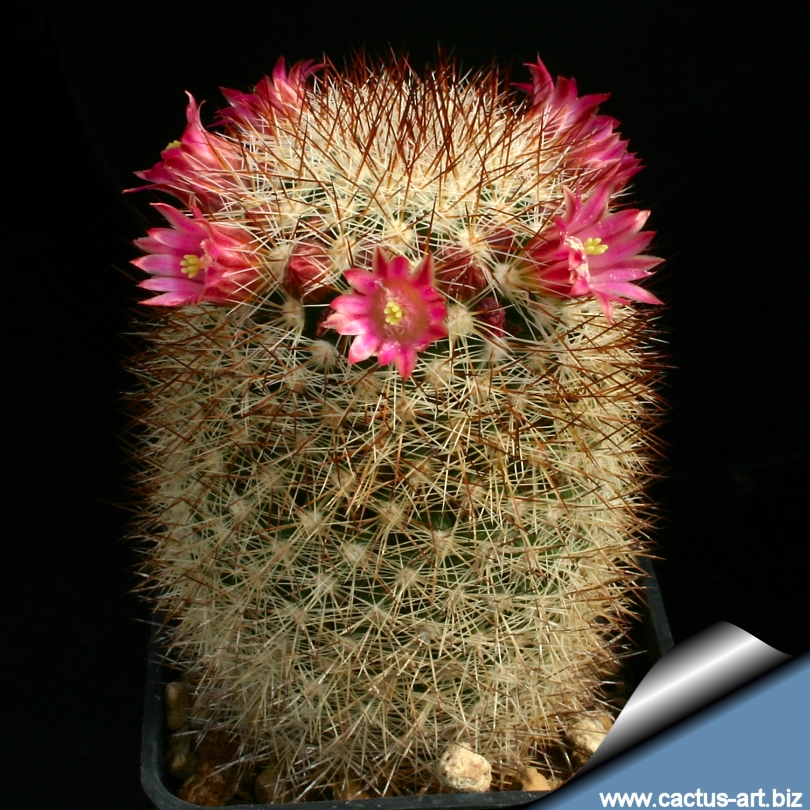 Mammillaria duoformis ML347
10km West of Huajuapan de León, 2km South-West of Santa María Xochixtlapilco, OAX-15,
Oaxaca, Mexico 1700m

Description: Slowly clumping columnar cactus.
Stem: Cylindrical bluish green up to 10 cm tall, 3-4 cm in diameter. Tubercles without latex, but latex present in the stem. Axil with bristles.
Radial spine: 18 - 20, slender, needle-like, straight, chalky white to pale yellow above, orange brown below, 5 - 7 mm long.
Central spine: 4, pinkish tan below, blackish brown above, 8 - 12 mm long (or more), lowermost one red to blackish hooked and longer.
Flower: Bell shaped in apical rings, bright pink to light carmine, to 15 mm long and 12 mm in diameter.
Fruit: Pale brownish pink.
Seed: Brown.
Cultivation: They are easy to culture and make interesting specimens for any collection. It grows by producing offsets and will form large clumps with time and doesn't require any special treatment, but some forms can be fast growers, while others are average in speed. It needs as much light as possible to keep the stems compact, but care must be taken to avoid sun scorch. Need a well-drained soil mix. Water well and then allows to dry thoroughly before watering again during the growing season. It doesn't like much, if any, winter water, it can survive short exposures to freezing temperatures (-4° C.) if properly hardened off and kept dry.
Propagation: Mammillaria duoformis is best propagated from seed. Seed readily germinates at 20°-22°C, or by offsets if available.