Mammillaria huitzilopochtli var. niduliformis
It will form pretty ring of beautiful pinkish red flowers at Xmas followed by a crown of little red fruit in May.


.
.
.


Advertising




Family:
Cactaceae (Cactus Family)
Scientific name: Mammillaria huitzilopochtli ssp niduliformis (Lau 1994) Pilbeam 1999

First description by Lau, Mamm. Soc. J. 34(4): 46-49 – 1994.
(Mammillaria huitzilopochtli var. niduliformis)

Origin: Mexico (Oaxaca, Tomellin Canyon, Tecomavaca). Altitude 450 - 500 m.
Conservation status: Listed in CITES appendix 2.
Bibliography:
John Pilbeam (1999) - Mammillaria The Cactus File Handbook - page 143.
Edward F. Anderson (2001) - The Cactus Family - page 423.
Description: Solitary or slowly clumping in untidy clumps., up to 8 cm tall, 6 cm wide.
Stems: At first spherical, later cylindric, 8 cm high, 6 cm in diameter, slightly depressed.
Axil: With dense white wool in the flowering area.
Radial spine: ± 22, glassy whie, brown at base, 1.5 mm long.
Central spine: 2 (occasionally up to 4), brown or black, 2 cm long, curving, one up one down, the lower slightly longer, flexible, thicker at the base.
Flower: Bright pink to carmine, 15 mm long, 10 mm wide. Stigmas carmine.
Fruit: Red.
Blooming season (Europe): Winter (from November to March)
Seed: Brown, very small.

The differences between the subspecies are:
-- ssp. huitzilopochtli: has 0-1 central spines and up to 30 radial spines.
-- ssp. niduliformis: has 2-4 central spines and up to 22 radial spines per areole.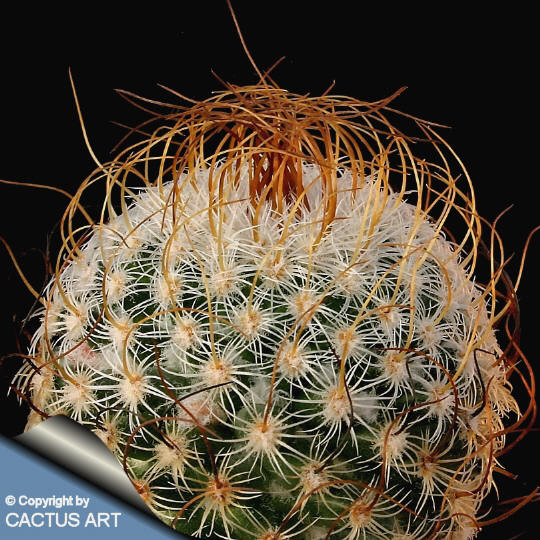 This is a beautiful plant with long curly spines.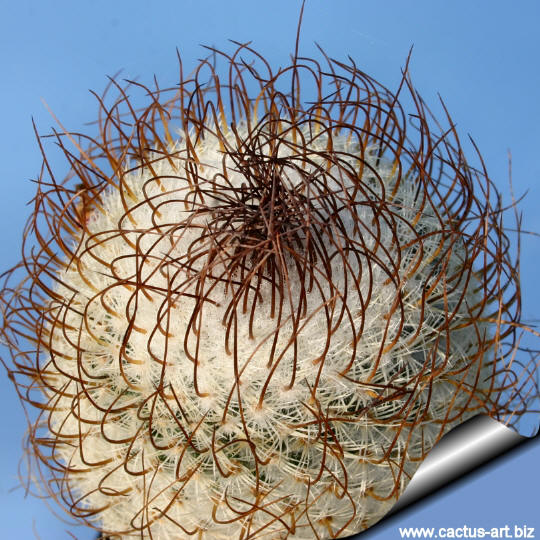 Cultivation: It is a relatively rapid growing species. This is easily grown into clumps, but it does often have an irregular pattern of offsetting. Water regularly in summer, but do not overwater (Rot prone) Use pot with good drainage and a very porous potting media, keep dry in winter. Feed with a high potassium fertilizer in summer. It is quite frost resistant if kept dry, hardy as low as -5° C. Outside full sun or afternoon shade, inside needs bright light, and some direct sun.
Easily flowering. Most plants will offset readily, and clumps can be produced in a few years.
Propagation: Division, direct sow after last frost.

Photo of conspecific taxa, varieties, forms and cultivars of Mammillaria huitzilopochtli.