Mammillaria pullihamata ML366 Microwave station San Cristóbal,
km145 of MEX-190, Oaxaca - Tehuantepec, Oaxaca, Mexico 1150m
This is a nice species with heavy gold or amber hooked spines.


.

Photo of conspecific taxa, varieties, forms and cultivars of Mammillaria rekoi.


Advertising




Family:
Cactaceae (Cactus Family)
Scientific name: Mammillaria pullihamata Reppenhagen 1987
Origin: Oaxaca, Mexico.
Conservation status: Listed in CITES appendix 2.

Synonyms:
Mammillaria rekoi (Britton & Rose) Vaupel 1925
Neomammillaria rekoi Britton & Rose 1923
Ebnerella rekoi (Britton & Rose) Buxbaum 1951
Mammillaria mitlensis Bravo 1956
Mammillaria pseudorekoi Boed. 1933
Description: Mammillaria rekoi in cultivation starts clustering at about 3 to 5 years old from seed. (while in its natural environment it is simple and rarely branches).
Stems: Globose to short cylindrical, green, 12-15 cm high, 5 - 6 cm in diameter. Sometimes with latex.
Tubercle: Conical to cylindrical. (Tubercle arrangement: 8-13 )
Areoles: Woolly when young.
Axil: With short white wool and white bristles.
Radial spine: About 20(-30), radiating, finely bristly, needle-like, white to golden yellow, 4 - 6 mm long.
Central spine: 4(-7), much stouter than the radials, yellow, amber or brown, hooked or sometimes straight, 10 - 15 mm long, the lower one sometimes strongly hooked.
Flower: Deep purple pink to pink, with darker midribs, up to 15 mm long, stigmas greenish. The petals flare back at the ends, rather than opening widely.
Blooming season (Europe): Spring.
Fruit: Red.
Seed: Brown.

Over time Mammillaria rekoi has been variously named, but nowadays there are only three recognized subspecies:
The subspecies 'rekoi' grows mostly with a solitary stem. It only has 4 central spines

,

with the lower one hooked

,

and 20 white radial spines per areole.
The subspecies 'aureispina' sometimes grows multiple stems.

It has 5-7 central spines and 20-23 yellow golden radial spines per areole.
The subspecies 'leptacantha' forms clump frequently.

It has 4-6 central spines that are curved and hooked

,

with 27-30 radial spines per areole.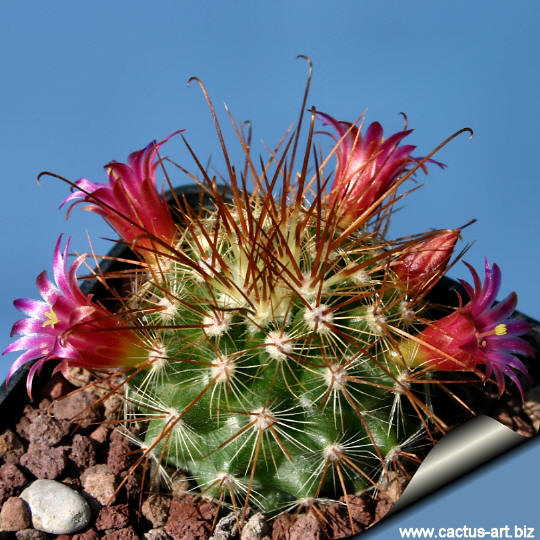 Cultivation: Requires excellent drainage provided by porous cactus soil. We suggest repotting every 2-3 years. Prefers bright light and ample airflow. Outside full sun or afternoon shade, inside it needs bright light, and some direct sun. Water the soil abundantly when it is dry to the touch. Allow soil to drain thoroughly before watering again. Do not water much in the winter (Rot prone). Protect from frost. But it's hardy to -5°C if kept dry. During the beautiful season enrich the soil using a fertilizer rich in potassium and phosphorous, but poor in nitrogen, because this chemical element doesn't help the development of succulent plants, making them too soft and full of water. Easily clustering, it's an easy bloomer. Most plants will offset readily, and clumps can be produced in a few years.

Propagation: Division, direct sow after last frost.