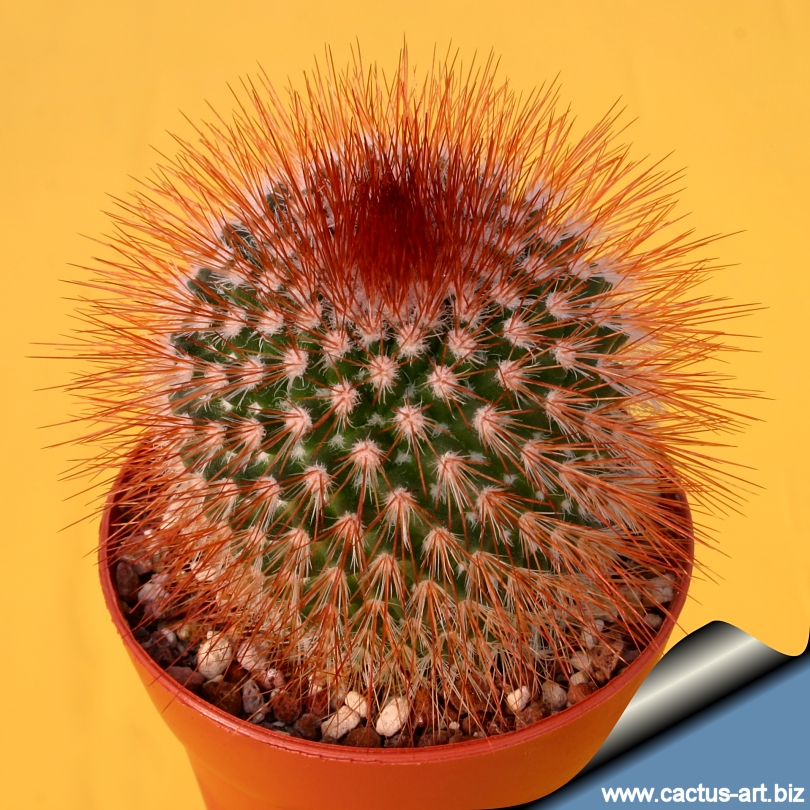 Mammillaria spinosissima "rubrispina"
Red spine selection.

Description: Columnar plants

,

usually solitary but

they

can form pups on old plants. M. spinosissima is very variable due to its wide area of origin in Mexico. The color of the spines vary from red or rust to white. The "rubrispina" selection forms nice clumps of columns

,

densely spined with bright coppery red spines.
Stem: Cylindrical, dark blue-green, rarely exceeding 30 cm in height, 6 - 7 (10 cm) cm in diameter. Without latex.
Parastichy: 13 - 21
Tubercle: Ovate conical, four-sided basally.
Axil: Slightly woolly.
Radial spine: 20 - 25, white, bristle-like, 4 - 6 mm long.
Central spine: 12 - 15, copper-red, stronger than the radials and thicker at the base, straight, 10 - 12 mm long.
Flower: Vivid purple/ red to deep pink, 12 mm long and in diameter

,

encircling the columnar stems.
Blooming season (Europe): Late winter and spring,
Fruit: Purplish red or greenish.
Seed: Brown.

Taxonomy notes:
The subspecies 'spinosissima' only rarely grows higher than 30cm. It has dirty white to coppery red spines and does not have bristles in the axils most of the time.
The subspecies 'tepoxlana' has yellow spines.
The subspecies 'pilcayensis' has whiter spines

,

and the stems can grow

up

to 50cm long/high. It might have some latex/bristles in the axils.
The flowers are purple-pink on all subspecies
Point of interest: The Mammillaria spinosissima "rubrispina" also known as the "Red-headed Irishman" has very attractive copper/red coloured spines and is one of the most beautiful Mammillarias.

Cultivation: Its qualities and ease of cultivation justify that it is an old favorite. It doesn't requires any special treatment, but needs as much light as possible (without burning the plant) to encourage the heaviest spine formation. Regular water in summer, dry in winter. Frost tolerance: -4° C.
Propagation: Seeds or offsets.


Advertising
Family:
Cactaceae (Cactus Family)

Scientific name: Mammillaria spinosissima Lemaire.
Pubblished in: Cact. Aliq. Nov. 4 (1838)

forma "rubrispina" (Red spines selection)
Common Names include: Red Headed Irishman
Origin: Garden origin (Nursery produced selection)
Conservation status: Listed in CITES appendix 2.
Bibliography:
John Pilbeam (1999) - Mammillaria The Cactus File Handbook - page 278.
Edward F. Anderson (2001) - The Cactus Family - page 444.
Mammillaria polycentra Berg
In: Allg. Gartenz.8:130. 1840
Mammillaria auricoma Dietrich
In: Allg. Gartenz. 14:308. 1846
Mammillaria polyacantha Ehrenberg
in: Allg. Gartenz. 16:265. 1848
Mammillaria polyactina Ehrenberg
In: Allg. Gartenz. 16:266. 1848
Mammillaria epatica Eremberg
In: Allg. Gartenz.16:267. 1848
Mammillari pomacea Ehremberg
In: Allg. Gartenz. 17:249. 1849
Mammillaria pulcherrima Ehrenberg
In: Allg.Gartenz. 17:249. 1849
Mammillaria pretiosa Ehrenberg
In: Allg. Gartenz. 17:250. 1849
Cactus spinosissimus
Neomammillaria spinosissima
Mammillaria centraliplumosa
Mammillaria centraliplumosa var gracilis
Mammillaria machucae
Mammillaria virginis
Mammillaria gasterantha
Mammillaria kladiwae Hort
Mammillaria heermannii var. flavicans
Mammillaria haasii
Mammillaria flava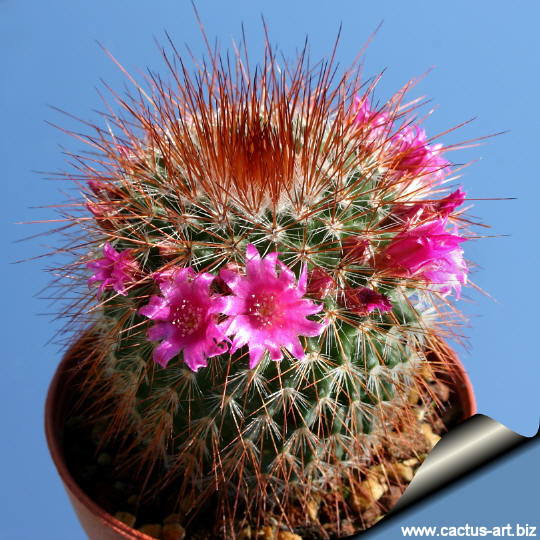 Vivid purple flowers encircle the columns of bright copper-red in late winter and spring, providing a startling contrast.

Photo of conspecific taxa, varieties, forms and cultivars of Mammillaria spinosissima