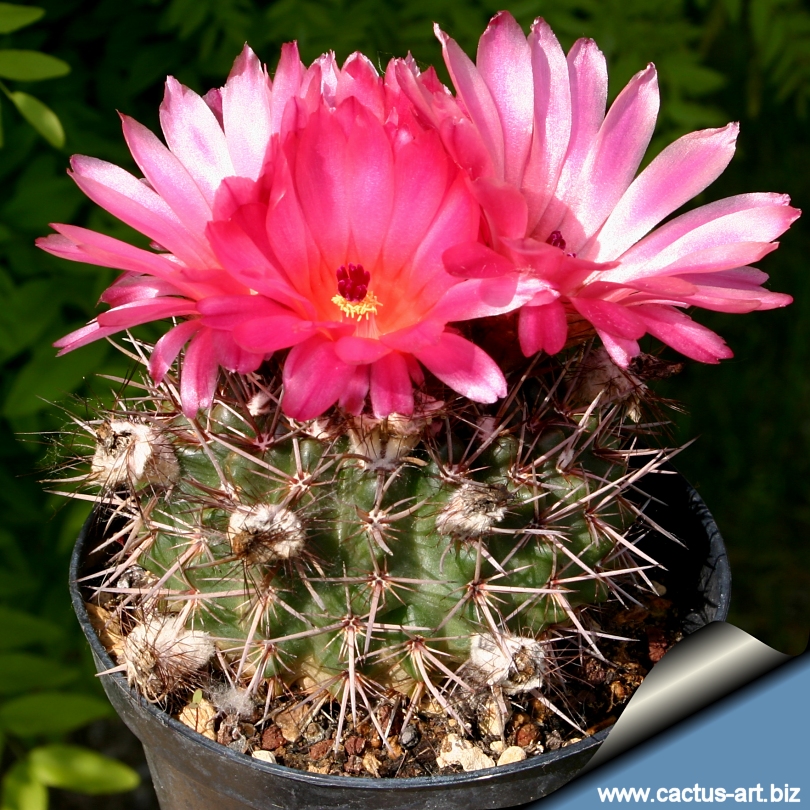 Parodia mammullosa "red flowers"
This is a very rare notocactus, with unique bright pink-magenta flowers.
This plant is seldom seen in cultivation, and is highy prized by collectors.

Description: This is the very rare red blooming form of this popular species that usually has yellow flowers.
Stem: Globose, that elongates to a height of 5-10 cm and a diameter of 7-13 cm, with a depressed, spineless apex. The epidermis is green,.
Ribs: About 18 straight, well distinct, with prominent, rounded tubercles with chin-like protrusion.
Areoles: Large, deeply embedded between the tubercles, and set about 5 mm apart.
Radial spines: 8 to 10, slender, whitish to brownish, needlelike, usually less than 5 mm long.
Central spines: 4 (or more), up to 15 mm long, not easily distinguishable from the radials, usually flattish, thicker, straight and more than twice as long, white, yellow to brown with a brown tip, one usually flattened.
Flowers: Bright magenta-pink with a orange-red throat, beautifully emphasized by the golden yellow stamens overtopped by the purplish-red stigma lobes, 5cm in diameter, with a short tube covered with white wool and brown bristles.

Cultivation: This is an easy plant to cultivate. Can support quite a lot of water during the growing season.
Watering Needs: Keep rather dry in winter. It rots easily if soil is wet and cold. Relatively cold hardy,
Sun Exposure: Light shade to full sun, but it doesn't like full, hot blazing sun in the central summer months.
Reproduction: Seed.
Photo of conspecific taxa, varieties, forms and cultivars of plants belonging to the Parodia (Notocactus) mammullosa complex (This Taxon has lots of synonyms, with several controversial varieties and subspecies, and comprises a multitude of different forms, but where each form is linked to others by populations of plants with intermediate characteristics):