Pediocactus bradyi SB470 Cocomino Co, Arizona, USA
A plant grafted on winter hardy Opuntia compressa stock





Flowering

-

size plants

g

rafted on a frost

-

hardy Opuntia compressa stock


Brown outer petals.

New spines

Photo by Scott F. Smith. Denver, Colorado, USA
Plants blooming outdoor

s

in

a

raised bed.


Advertising




Family: Cactaceae (Cactus Family)

Scientific Name:
Pediocactus bradyi
L.D.Benson1969 S.L. Welsh & S. Goodrich 1980
Major L.F. Brady collected this species in July 1958, and it is named after him.
Marble Canyon Cactus
Brady Plains Cactus
Conservation status: Listed in CITES appendix I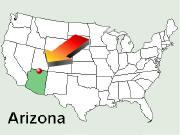 Origin: From Navajo Bridge to House Rock Valley, (northern Arizona), USA. 1140-1350 m. of elevation. Scattered populations along both sides that tend to be endemics.

Habitat: Grows in gravelly, gently sloping benches and terraces in open, exposed, sunny situations. Mycorrhiza are associated with the roots of this cactus. The fungus is acquired from the parent plant (the seed germinating immediately alongside the parent plant) or from the roots of grasses. The plants retracts in the ground during dry periods.
Toumeya bradyi

(L. Benson)

W.H.

Earle

1963


Published in: Cacti of the Southwest, ed. 2, 97, 1963.a
Pediocactus bradyi ssp.bradyi (Engelmann) L. Benson
Published in: Cact. & Succt. J. (US) 34:19, 1962
Pediocactus simpsonii subsp. bradyi
Puebloa bradyi
Description: Small globular semi-globose stem, 4-6 cm tall ,5 cm in diameter (in habitat forms clumps

are

only 1 - 2 cm across) elliptic areoles, densely felted; generally no central spine; 12 to 15 short spreading radial spines, almost pectinate

,

white to yellow, 2 to 6mm long
Flowers: Yellow to olive-white silky, 2.5-4 cm in diameter, 2 cm high in early March-April. Back of petals brown

-

edged in white.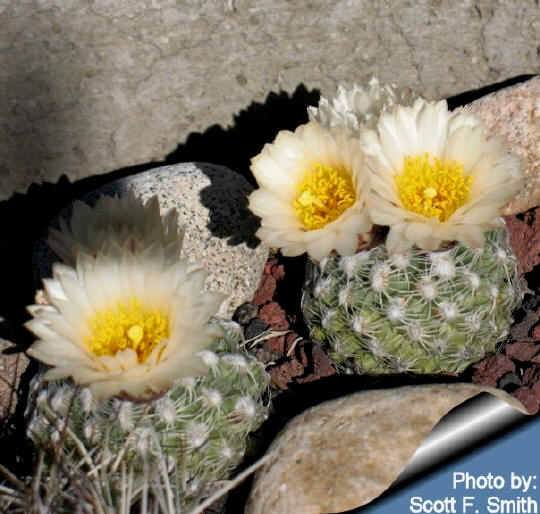 Cultivation: Under cool temperatures and wet conditions, it is highly susceptible to root rot. For this reason it is usually cultivated as a grafted plant, which is very easy to cultivate and free flowering. Best for full sun exposures.
The flowers buds stay dormant on the plant apex all winter, they will then open in spring when the temperature rises.
To avoid any damage to the buds donít let grafted plants that stay in the heated greenhouse completely dry out. Some light watering in winter is useful for keeping the flower hydrated and healthy.