P. paradinei (SB502 Coconino County, Arizona, USA)


.


P. paradinei (RP 80 Coconino County, Arizona, USA)

This is a very nice small cactus and one of the more frost hardy species from North America.

.

.


Advertising




Family: Cactaceae (Cactus Family)

Scientific Name: Pediocactus paradinei B.W. Benson
Published in: Cactus and Succulent Journal of the Cactus and Succulent Society of America. 29:136-137
Conservation status: Listed in CITES appendix I
Type: Holotypus deposited in the Boyce Thompson Southwestern Arboretum Herbarium, Nr. Bwb 8-1956-1. Isotypus deposited in the Herbarium of the Pomona College Nr. 286120.
Basionym
:
Pediocactus paradinei (Marshall, Saguaroland Bull.10:89-91, 107, 1956, nom. nud. without Latin diagnosis).
Pilocanthus paradinei

(B. W. Benson) B. W. in: Benson & Backeberg, Kakt. and. Sukk. 8:187-189.

1957

Pediocactus

simpsonii var. paradinei

(B.W.Benson) Halda 1998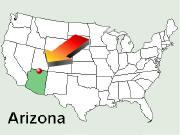 Distribution: Habitat: East side of the Kaibab Plateau and west edge of House Rock Valley, (Coconino County; northern Arizona, USA)
Type locality: Houserock Valley, Coconino County, Arizona.

Habitat: It is a narrow endemic, occupying typical restricted habitats. They live in relatively high altitudes, from 1600 m to 2100 m, in open woodland areas under the trees of Ponderosa pine. In this area winters are very cold, sometimes snow even in the spring. The substrate is a limestone gravely soils with high content in calcium carbonate (reduced clay content).
Etymology: The genus name "Pediocactus" derives from the Greek words "Pedion" meaning "plain/level" referring to the general habitat of the plant on the plains, and the word "cactus" ( an old genus name) (The genus name implies: "cactus of the plains").
Description:

It is a pretty

,

small

,

grey-green globose plant.


Stem:

3-4 cm tall, 6-8 cm in diameter

,

half of it underground.


Spines:

3 to 6 central spines

,

long, flexible and hair-like, white to ashy grey with yellow to brown tips., obscuring stem apex, 1-3 cm long; 13-22 radial spines

.


Roots:

with a big tap root up to 15 cm long


Flower: Flower 20mm long, 25mm in diameter, pinkish beige to yellow
Blooming season: Late April to early May.

Notes:

T

he

"hair-like" spine is not always a "typical" characteristic of P. paradinei

;

however in habitat there are few plants with such a long white hair. There are also hair-less adult plants very similar to P. simpsonii. They are extremely variable in spination.
Cultivation: They are some of the most difficult cacti to grow from their own roots, cultivated only by expert cactus enthusiasts. Nevertheless plants on their own roots are very hardy. They don't tolerate living in a humid and heated green houses. Place them in a ventilated position; they like "wind". Avoid direct sunlight exposure in summer. Water moderately only from early March to May; the rest of the year keep them in dormancy. They are exceptionally slow growers. They may need 7 to 10 years to grow to mature specimens with long hairy spines. For this reason it is frequently grafted on strong hardy cactus stock like Opuntia and Echinocereus.
Propagation: Seeds: Temperature for optimum germination: night minimum approx 17 day maximum to near 40 C at any time of year with proper temperatures and daylength (ca.13-14 hours); it is possible to extend day-length with artificial lights. Anyway the seeds germinate slowly with difficulty and a low rate of success (But germiation is comparatively easy if compared with other Pediocactus and Sclerocactus species and often new seedling cluster spontaneously around the plant every year), scarification and stratification help, alternate freeze and thaw both wet and dry, but don't keep wet, alternate wet and dry with changing temperature.
Germination can take several years so keep pot and try again next year. Seedlings do not do well either, and some die each year, for this reason plants are commonly grafted on hardy stocks like Opuntia compressa in this case they are easy to grow and no special skill is required.