Encephalocarpus (Pelecyphora) strobiliformis
A very slow growing, choice Mexican species, commonly called
the "Pinecone Cactus" for its resemblance to a pine cone.


Description: Slow-growing geophytic succulent, with solitary or multiple stems barely rising above ground level.
Stem: Spherical to flattened globose, greenish to yellowish-green, somewhat resembling a pine cone and vaguely reminiscent of Ariocarpus, 2-4 cm tall, 4 to 6 cm in diameter (or more, in cultivation).
Tubercles: Spirally arranged overlapping. They are scale-like, imbricated, and closely applied to each other, flat and convex on the inside and carinate on the outside. The base is woolly.
Areoles and spines: Dimorphic, with the spines-producing portion on the outer part and the flower-producing portion at the base of the tubercle. Small, oval, woolly on the new growth in the inner portion of the pointed tubercles apex. While the new growth continues, these areoles produce a few short, more or less pectinate spines. With age, the areoles disappear and the oldest tubercles have a bare, blunter apex.
Root: Large, spindle shaped, compressed taproot.
Flowers: Borne at the base of young tubercles near the top of the plant, diurnal, bell-shaped or funnelform, brilliant, pink to reddish-purple, about 3 cm long, with greenish outer segments and incised or curly inner segments.

Although adult specimens of Encephalocarpus strobiliformis bear scale-like tubercles, which are very different from the laterally compressed tubercles of Pelecyphora aselliformis, all the other characteristics clearly show that they are congeneric, while a third species, Pelecyphora valdeziana, does not seem to clearly belong to this genus, and it is now brought into synonymy with Turbinicarpus.





A dichotomously branched specimen.


A young plant showing subadult features (spines and tubercles are intermediate in appearance from those of fully adult and juvenile individuals)


Advertising




Family:
Cactaceae (Cactus Family)
Scientific Name: Pelecyphora strobiliformis (Werdermann) Frič & Schelle ex Kreuzinger
Published in: Kreuzlnger, Verzeichnis 9 (1935)
Origin: Mexico (Chihuahuan desert - Nuevo León, San Luis Potosí, Tamaulipas)
Conservation status: Listed in CITES appendix I
Encephalocarpus strobiliformis

(Werdermann) A. Berger
Published

in:

Kakteen 332 (1929

)

Ariocarpus strobiliformis

Werderm.
Published

in:

Zeits. Sukk. 3:126 (1927

Common names: Peyote, peyotillo, Pinecone Cactus

Etymology: The generic name comes from the Greek en (in), kephale (head), and karpos (fruit), because first the flowers and then the fruit appear at the apex of the stem. The specific name refers to the shape of its tubercles, which are reminiscent of the scales on the strobilus -- or cone -- of a conifer.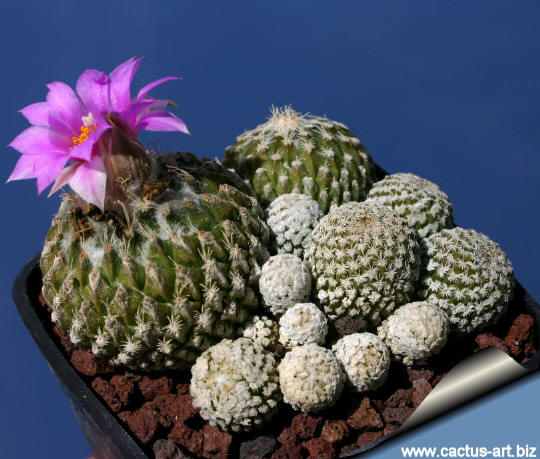 The arrangement of the tubercles resembles a pine-cone, which is what is meant by the specific name 'strobiliformis'.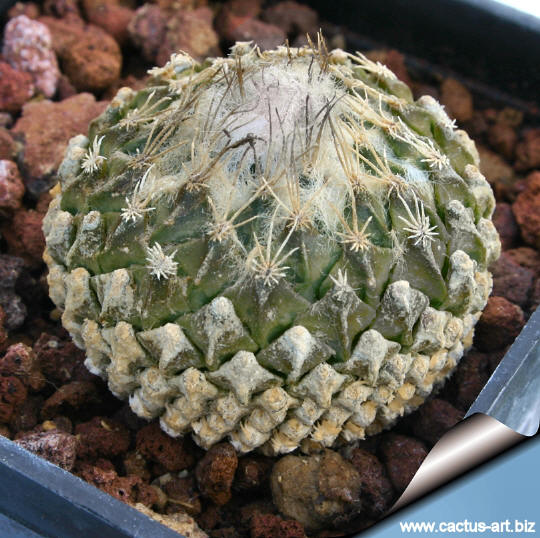 Cultivation: It's a fairly easy species to cultivate, but very slow-growing. It needs a very well drained soil, and requires strong sun to part sun to develop good spinal growth. Waterings should be rather infrequent, to keep the plant compact and avoid it becoming excessively elongated and unnatural in appearance. Keep dry in winter or when night-time temperatures remain below 10° C. It is hardy to -4°C for a short period. Assure good ventilation.
Propagation: Old plants put forth basal shoots, but growth is slow;. Propagation is mainly by seed.

Photo of conspecific taxa, varieties, forms and cultivars of Pelecyphora strobiliformis: