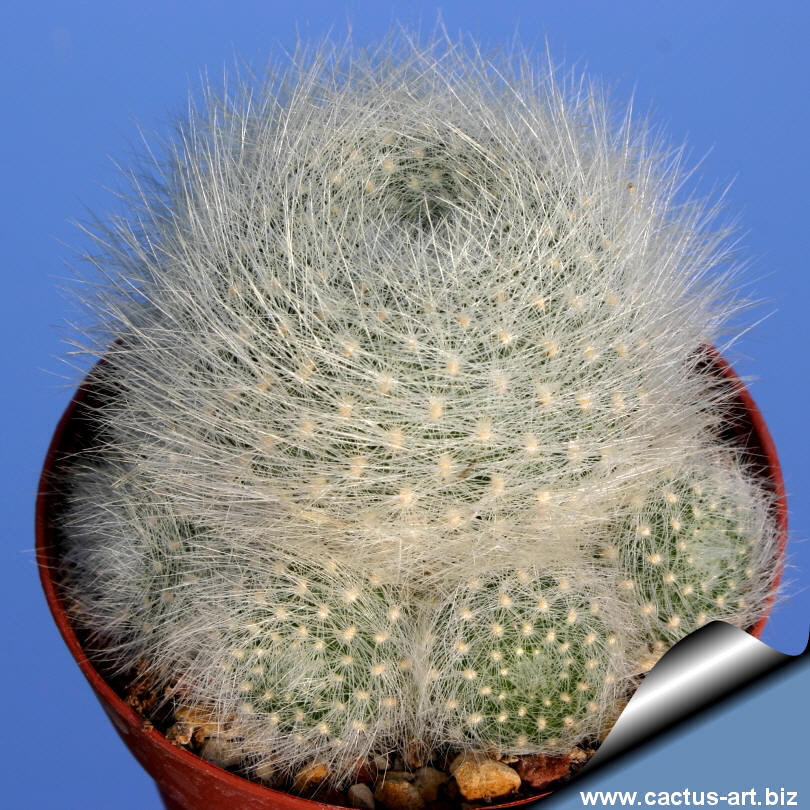 This species has an uncommon appeal, and is grown for its beautiful cream-white spines on fuzzy balls.
It also produces vibrant orange-red flowers.

Description: Rebutia albipilosa is a plant from northern Argentina. It's a white-furrowed cactus with dense, long, white bristles and a large main body, with several offsets that bloom sparely but regularly.
Stem: Flattish, 3-8 cm wide, 4-6 cm tall. It would appear that in cultivation they grow larger and cluster more vigorously than in habitat.
Spines: White or cream-white, fine, long and soft, that cover the plant body.
Flower: Deep orange, funnel-shaped, 2 cm in diameter, from the base of the stems.
Fruit: Tiny, berrylike, hidden among the spines, bursting when ripe.


Cultivation: This species is easy to cultivate in a very open mineral mix, (lots of pumice). It requires careful watering to keep plant compact and maintain strong and dense spines. Rebutia albipilosa tends to rot if too wet, and is best kept in a somewhat sheltered location. Keep dry in winter. Hardy to -4°C. Give them an airy spot and ensure good drainage, with soil at least 50% sand or pumice grit. It is better that they be repotted regularly. Repotting will increase the number and size of stems, and will increase the number of flowers produced. Repot yearly until reaching about 100 mm in size, then every two or three years will suffice. Repotting is best done at the end of winter, but it can be done at other times,too. Do not water for a couple of weeks after repotting, to reduce risk of root rot via broken roots. A layer of 'pea' gravel at the bottom of the pot improves drainage. A layer of decorative gravel as a top dressing helps prevent the caking of the potting mix, which decreases the rate of water absorption. It also keeps the perlite and pumice from blowing everywhere, and looks nice. Pots should be only slightly larger than the plant and root system. Keep dry in winter. Hardy to -4°C for a short period. Rebutias grow in nature at high altitudes, and do not thrive well at high temperatures in cultivation. They will often go dormant in mid-summer, and resume growth again when the weather cools in late August. They can tolerate amazingly low temperatures for long periods of time. All species can take a frost, even when not bone dry. It is generally accepted that plants kept at too high a temperature, or watered too much during the winter rest period, will not bloom the following year. The plants can be placed outdoors in April, but protected from rain and direct sunlight. Some plants will scorch if placed in direct sun too quickly. Water them thoroughly when placed out, and again in two weeks, and again in one week. After one month the plants are ready to be placed out in full sun and full rain for the summer. During dry spells the collection is watered once a week, during hot dry spells, twice a week. All, especially the young plants, are susceptible to red spider mites.

Propagation: Offsets, seeds.



Advertising