Scientific name: Titanopsis calcarea (Marl.) Schwant.

Origin: South Africa (Bushmanland, Upper Karoo)

Habitat: With a white incrustation to the leaves, it is confined to limestone outcrops. This is probably a rare case of protective coloration in plants akin to that found in the animal kingdom and these plants blend in well with their surroundings.

Etymology: Titanopsis calcarea is the species of Titanopsis most frequently seen in cultivation, the name means 'looking like limestone'

Synonyms: Titanopsis calcareum

Genus Titanopsis: There are three to six species, depending on botanists' opinions. Some botanists have now lumped T. lüderitzii and T. primosii in with T. schwantesii.
The species list for Titanopsis is considered to be:
T. fulleri ( = calcarea )
T. lüderitzii ( = schwantesii )
T. primosii ( = schwantesii )
schwantesii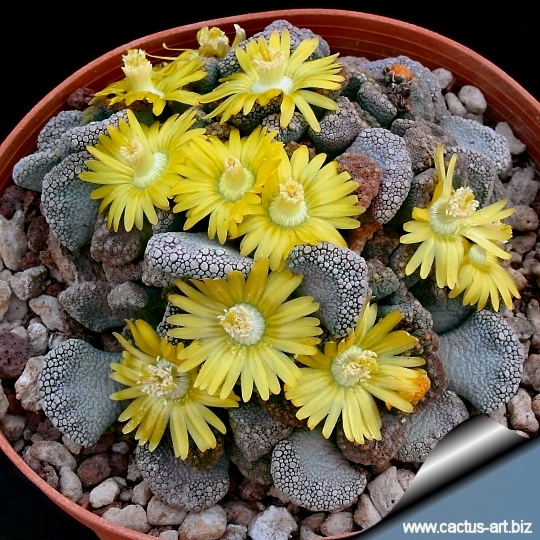 T. calcarea Campbell west Kimberley
This species is a truly impressive living rock, with unique leaves with very variable colourful "warts" on their ends, making them blend well in the rocky areas of South Africa where they are native.