Turbinicarpus pseudopectinatus (Cerritos)
This is one of the jewels of the genus, dwarfed by its beautiful flower.


Description: Usually solitary small geophytic cactus with many small spirally-arranged tubercles tipped with numerous tiny white spines in a comb like formation. The whitish colouring of the the pant is due to spines rather than wool.
Stem: Globular dull green, 3 cm tall, 4 cm in diameter, barely showing above the ground; apex with short white hair; spirally-arranged tubercles
Spines: Numerous white in a comb like formation (pectinated), 1.2 mm long.
Root: Tuberose and usually bigger than the stem itself.
Flowers: One to 5 pinkish white to bright pink with darker magenta or reddish-brown mid-veins.
Blooming season: Blossoms are expected early in spring. Flowers can be expected on T. pseudopectinatus seedlings after perhaps two or three years if they are grown well in plant that are only 1.5 cm in diameter, while the flower is 4cm long.
Fruit: Small tannish-green.

Often mistaken for a Pelecyphora! With its small size, beautiful spination and easy growing habit, Turbinicarpus pseudopectinatus is a welcome addition to any greenhouse.


This beautiful plant is dwarfed by its huge flower. Flowers can be expected on seedlings of only 1.5 cm in diameter, while the flower is 4 cm long.

The tuberose root system


Each tubercle is tipped by tight rows of white pectinate spines nearly hiding the body.



Advertising







Family: Cactaceae (Cactus Family)
Scientific Name: Turbinicarpus pseudopectinatus (Backbg.) C. Glass & R. Foster1977
Conservation status: Listed in CITES appendix I
Origin: Mexico (Tamaulipas, Nuevo Leon)

Habitat: It grows in grasslands and pinyon-juniper woodlands.
Pelecyphora pseudopectinata Backeb. 1935
Mammillaria pseudopectinata
Neolloydia pseudopectinata
Pediocactus pseudopectinatus
Thelocactus pseudopectinatus
Normanbokea pseudopectinata,
Pelecyphora pulcherrima Sabatini (Nom inval.) 1991
Over the years, T. pseudopectinatus has been placed in six different genera, a process that will probably continue in the future.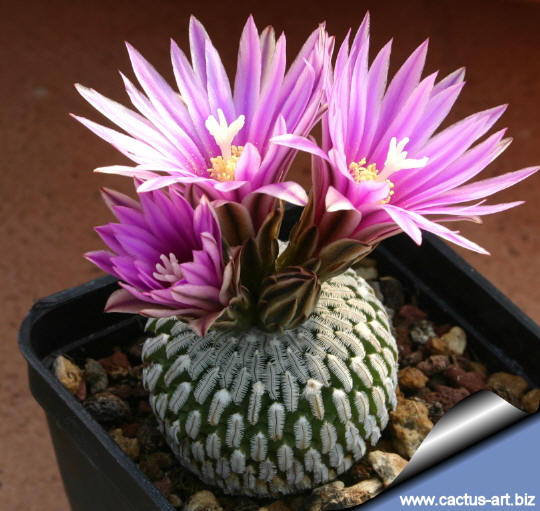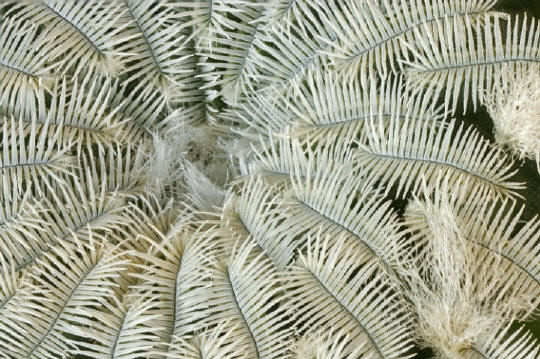 Photo & © copyright by Irwin Lightstone
Turbinicarpus pseudopectinatus taken in my front yard in late afternoon, Rodenstock 75mm dx2 lens mounted on a bellows unit f5.6. Multiple images with different focal point composited with Helicon software. Artifacts Photoshopped.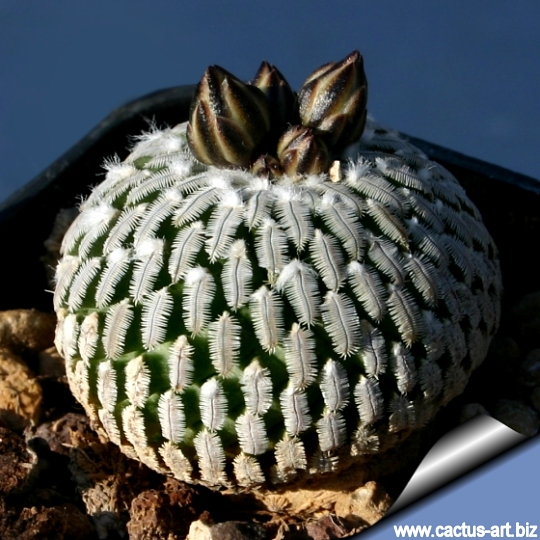 Cultivation: It's a fairly easy species to cultivate, but very slow growing. It needs a very well-drained soil, and requires strong sun to part sun where it obtains a flat natural look. Waterings should be rather infrequent to keep the plant compact, and avoid its becoming excessively elongated and unnatural in appearance. Furthermore it has a tap root, and watering it properly is often difficult, because it tends to crack open or rot if over-watered. Keep dry in winter, or when night temperatures remain below 10° C. It is hardy to -4°C for a short period. Assure a good ventilation.
Reproduction: From seed, since the plant rarely produces plantlets, or grafted.

Photo of conspecific taxa, varieties, forms and cultivars of Turbinicarpus pseudopectinatus.