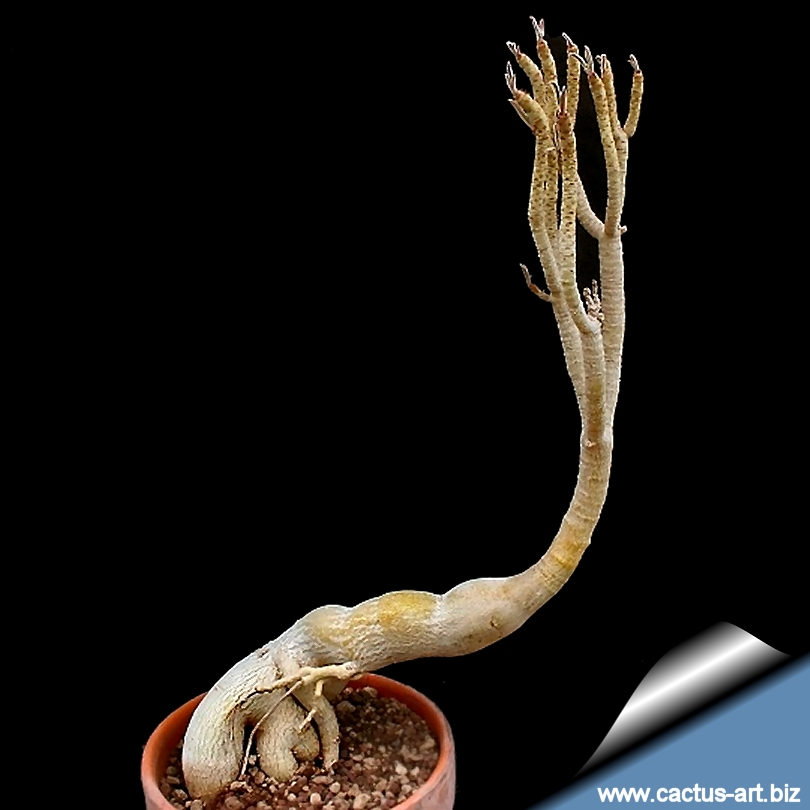 A. swazicum (during winter rest)
This is supposed to be the hardiest Adenium. it is also a very nice free blooming species with intense pink flowers borne in masses that tends to have a longer flowering season than most of the Adeniums.
well-developed plants have huge roots and thick trunks.

Description: It is a dwarf shrub, up to 30 cm high, with an enlarged succulent stem with few branches, sometimes partly below ground that tend to droop or spread, especially in plants that are too shaded; mature plants have massive roots and thick stems, but a caudex is evident only in young ones.
Leaves: Long, narrow and succulent up to 13 cm long x 3 cm wide, tapering to both ends or widest near the tips, often folded lengthwise and usually slightly crisped (wavy), softly pubescent below, losing hairs later without conspicuous veins ; lighter green than in most adeniums.
Flower: Uniformly coloured pink to deep reddish purple, average 6-7 cm in diameter, in terminal Inflorescence, appearing with leaves. Blooming over a long season normally in late summer and autumn (Some clones, however, are in almost continuous bloom, experiencing only a few weeks of rest in late winter)
Hybrids: Adenium swazicum was used in intergeneric hybrids with A. obesum and some of the most floriferous hybrids belong to this group.


Photo of conspecific taxa, varieties, forms and cultivars of plants belonging to theAdenium obesum complex :