Astrophytum myriostigma
The name Astrophytum comes from the Greek word for star plant. These beautiful plants are globe shaped and are speckled with white scales and flecks. As it ages, the plant becomes columnar.


Description: A. myriostigma (many dotted) is a spineless plant, usually solitary or with very few basal branches. A transverse section of the stem reveal a perfect star shaped form (like the common star-fish) giving the plant the appearance of a bishop's mitre (hence the common name Bishop's cap)
Stem: Globular to cylindric up to 60(-100) cm tall (but usually about 150 cm tall) and 10-20 cm in diameter, bright green, covered with many minute white hairy scales that give it a characteristic chalk-white or silvery-grey appearance, but sometime naked. The scales are composed of very fine interwoven hairs, which, under a microscope, are very pretty object.
Roots: Fine, fibrous.
Areoles: Closed together
Spines: Wanting.
Ribs: Usually 5, sometimes 4(or 3) that increase to eight or more with age ( rarely even 10), vertical, regular, deep, prominent, very broad and acute.
Flowers: Funnelform, 4-7 cm long glossy yellow and sweet scented from the areole at the tip of the stem on mature plant. Outer perianth segments narrow, with brown scarious tips. Inner perianth segments numerous, oblong yellow with a silky shine. Scales on ovary tube scaroious, imbricated, very narrow often bristly tipped, with long wool in their axil.
Blooming season: Flowers appear intermittently throughout the warm months from April to September. Plants may take up to six years to flower.
Fruit: 2-2.5 cm in diameter, greenish to tannish-red Covered with brown, overlapping scales, with long wool in their axil.
Seeds: Dark brown, shining, with a large depressed hilum, the margins being turned in.

The fruit of A. myriostigma (above) is very hairy, dehisces apically and has a greenish inner colour, it is very different from the fruit of A. coahuilense (below) which is pinkish and opens basally.



Photo and © copyright by Andrea B. (Bologna, Italy)


Old plant Apex.

The areoles in the older plants are quite different from those of juvenile specimens. They are large, very woolly, often brownish/reddish (but variable in colour from white/ yellowish to tan/black) and showy.

The flowers are silky yellow (never red throated)

Areoles


Cultivation: Although regarded as a choice and difficult plant in cultivation it is relatively easy to grow. It is sometime seen as a grafted plant but grows very well on its own roots too. Use mineral well permeable substratum with little organic matter (peat, humus). The Astrophytum myriostigma grows much faster with a low nitrogen content fertilizer in spring and summer. Water sparingly from March till October, the thin, fibrous roots suffer if there is humidity, therefore the plant should be watered only when the surrounding terrain is dry. Keep dry as soon as the temperature starts dropping in October and keep it perfectly dry in winter at temperatures from 5 to 15 degrees centigrade. (but it is Hardy to -7°C for short periods) Although it is one of the easier Astrophytum to grow, they tend to rot at that time of the year, if kept wet. In the rest period no high atmospheric humidity!! Sun Exposure: Light shade to full sun, its colour tends to richer and darker when grown in light shade.

Propagation: Almost exclusively by seed. Plants are sometimes grafted onto column-shaped cacti. Cutting scions from a flourishing plant is almost a crime because the scions do not root easily.


This quite variable plant has been widely grown for years and is now available in several cultivated variety and several breeds do exist. The famouse "Onzuka" is only one of these and though maybe the most beautiful, but a lot of other forms are represented in many collections.


A. myriostigma cv ONZUKA "tricostatum"


A. miriostigma "nudum"


A. myriostigma cv. KIKKO "nudum"

A. myriostigma "quadricostatum" round type



Advertising




Family:
Cactaceae (Cactus Family)
Scientific name: Astrophytum myriostigma Lemaire
Original description: Cactacearum Genera nova Speciesque novae et omnium in Horto Monvillano cultarum: 4-6 1839
Origin: Highlands of central and northern Mexico
Conservation status: Listed in CITES appendix 2.
Echinocactus myriostigma (Lem.) Salm-Dick CACT. hort. hort. Dyck. Cult., 22, 1841
Cereus calicoche Galeotti ex Scheidweiler
In: Bull. Cereus calicoche Galeotti in Scheidweiler, Bull. Acad. Acad. Sci. Sci.. Bruxelles, 6 : 88, 1839 Bruxelles, 6: 88, 1839
Astrophytum prismaticum Lemaire
In: Cactées 50. 1868

a

Astrophytum coahuilense (H.Moeller) K.Kayser 1932
Astrophytum columnare (K. Schum.) Sadovsky & Schütz 1979
Astrophytum myriostigma f. nudum (R.Meyer) Krainz 1967
Astrophytum myriostigma f. quadricostatum (H.Moeller) Krainz 1967
Astrophytum myriostigma f. tulense (K.Kayser) Krainz 1967
Astrophytum myriostigma subsp. coahuilense (H.Moeller) Y.Okumura 1933
Astrophytum myriostigma subsp. potosinum
Astrophytum myriostigma subsp. tulense K. Kayser 1932
Astrophytum myriostigma var. coahuilense (H.Moeller) Y. Ito, 1952
Astrophytum myriostigma var. columnaris (K. Schum.) Y. Ito, 1952
Astrophytum myriostigma var. nudum (R.Meyer) Y. Ito, 1952
Astrophytum myriostigma var. quadricostatum (H.Moeller) Y. Ito, 1952
Astrophytum tulense (K.Kayser) Sadovsky & Schütz 1979
Echinocactus myriostigma subsp. coahuilensis H. Moeller 1927
Echinocactus myriostigma subsp. potosina
Echinocactus myriostigma subsp. quadricostatum
Echinocactus myriostigma var. columnaris K. Schum., 1898
Echinocactus myriostigma var. nuda R. Meyer, 1912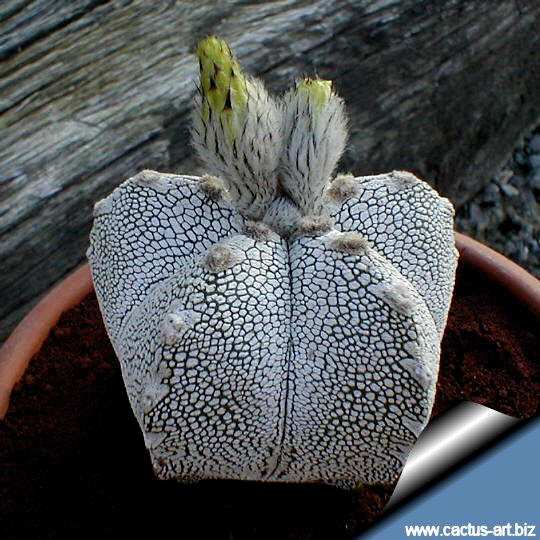 A popular Japanese cultivar "Onzuka"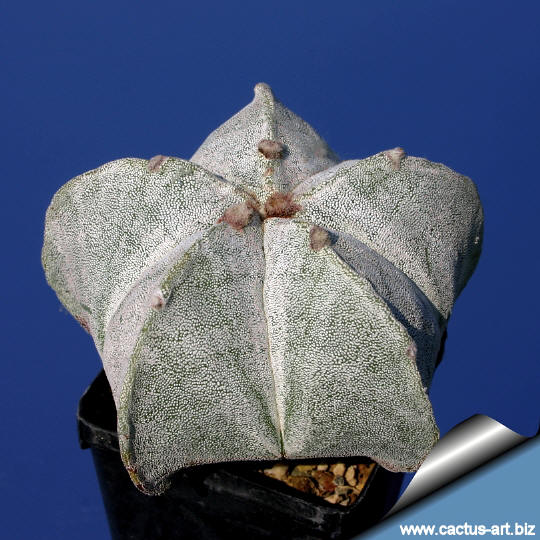 It adopts a spherical form with a crackled grey surface that resembles the surrounding rocks this help it to camouflage with background.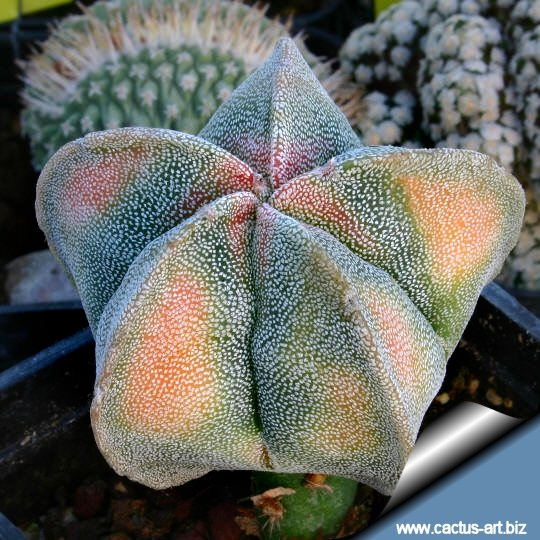 Forma variegata
Photo of conspecific taxa, varieties, forms and cultivars of Astrophytum myriostigma: