Coryphantha cornifera SB44 Ixmilquilpan Hidalgo (Mexico)
This species is one of those Coryphanthas which pass a purely radial-spined youth stage in which they are already floriferous. Most of the plants develop the central spines only at the age of 7 to 15 years.


Mature Coryphantha cornifera are dimorphic with respect to presence/absence of porrect central spines.

Cultivation: In culture C. cornifera is without problems, and regularly shows its large yellow flowers. It does best in slight shade, but does well in full sun too. It is sensitive to overwatering (rot prone), and needs a very porous soil with good drainage. It flowers quite early, but needs about 8-12 years to reach the typical, definite outlook. It tolerates fairly low temperatures as long as it is kept dry (hardy to -5° C or less for short periods of time).

Propagation: Propagation is by seed.

Photo of conspecific taxa, varieties and cultivars of plants belonging to the cornifera /radians complex (This Taxon has lots of synonyms, with several controversial varieties and subspecies):


Advertising




Family:
Cactaceae (Cactus Family)
Scientific name: Coryphantha cornifera (De Candolle) Lemaire
Cactéè, 35, 1868

Basionym: Mammillaria cornifera De Candolle
Mém. Mus. Hist. Nat. Paris, 17, 112 1828
Origin: The main distribution is in the Mexican states of Querétaro and Hidalgo, south to the Valle de Mexico, north to Guanajuato and sporadically in San Luis Potosí.
Habitat: Limestone gravel on low hills and plain.

Conservation status: Listed in CITES appendix 2.
Common Names include: Sea-urchin cactus, rhinoceros cactus, Prickly Beehive Cactus
Coryphantha cornifera /radians complex:

Coryphantha cornifera is thought to be the taxon classified in 1828 by de Candolle as Mammillaria radians, but this is unclear, partly because of various name changes over the years. However the range of both Coryphantha radians and Coryphantha cornifera is identical, and at most locations adult plants, either without central spines ("radians"), or with 1-4 central spines ("cornifera") can be found. The arrangement of the central spines is variable. With the exception of the absence or existence of centrals, all the other characteristics are absolutely identical, namely size and form of tubercles, number, size and arrangement of radial spines, flowers, fruits and seeds. Furthermore this species is one of those Coryphanthas which pass a purely radial-spined long youth stage in which they are already floriferous. Most of the plants after several years develop the central spines, giving the plant its sea urchin appearance.
Coryphantha radians (De Candolle) Britton & Rose
Cactaceae, 4 : 36, 1923
Mammillaria radians De Candolle
In :Mém. Mus. Hist. Nat. Paris, 17, 111 1828
Aulacothele radians (De candolle ) Monville
Cat. Pl. Exot., 21, 1846
Aulacothele cornifera (De candolle) Molville
Cat. Pl. Exot., 21, 1846
Mammillaria pfeifferiana De Vriese
Tydschr. Nat. Geschr. 6: 51, 1839.
Echinocactus radians (De Candolle) Poselger
Allg. Gartenz. 21 : 107, 1853
Echinocactus corniferus (De Candolle) Posselger
Allg. Gartenz. 21 : 102, 1853
Cactus radians (De candolle) Kuntze
Rev. Gen. Pl. 1 :261, 1891
Mammillaria cornifera (De Candolle) Lemaire
In : Cactée 35, 1868
Coryphantha cornuta
Coryphantha schwartziana
Coryphantha maliterrarum
Coryphantha bernalensis
Description: This is a very variable species, normally solitary, rarely sprouting.
Stem: Flat globose to cylindrical, up to 8-15 cm in diameter, 6-12 cm tall, dull olive-green, apex depressed, with a blunt, depressed apex covered with e wool.
Tubercles: Tubercles are spirally arranged in series of 5 and 8. Conical, rhomboid at the base, obliquely cut, grooved above; on new growth the groove may show some felt. Basal diameter 12-16 mm, 8-14 mm tall. Axil at first woolly, then naked.
Areoles: Oval, 3mm long, 2,5 mm wide (when central spines absent), round 2 mm Ø (when central spine present)
Radial spines: 10 to 20 fairly stout, pale whitish, yellow or horn-coluoured, sometimes darker tipped, 0.9-1.6 cm long, horizontal, irregularly radiating, interwoven, needle-like, straight or slightly curved; in youth pectinate. Occasionally 3-4 thinner spines, more densely set.
Central spines: 0 or 1( to 3), dark brown, becoming grey from the base, subulate. The dominant central is straight, porrect, or curved downward, usually about 1 cm long, but it may be longer on older plants (up to 1,8 cm); the other two protruding laterally, and curved.
Roots: Fibrous root or semi-taproot.
Flowers: Very big, 5-7 cm wide, yellow (occasionally red), funnel shaped, 6-7 cm. The linear segments are lemon-yellow, sometimes red at the base. Filaments reddish to reddish-yellow. Anthers yellow, stigma pale yellow, stigma lobes whitish.
Fruit: Green, juicy with attached flower remnants, 20-25 mm long, 10 mm wide.
Seed: Reniform (kidney-shaped), brown, 1,3 mm long.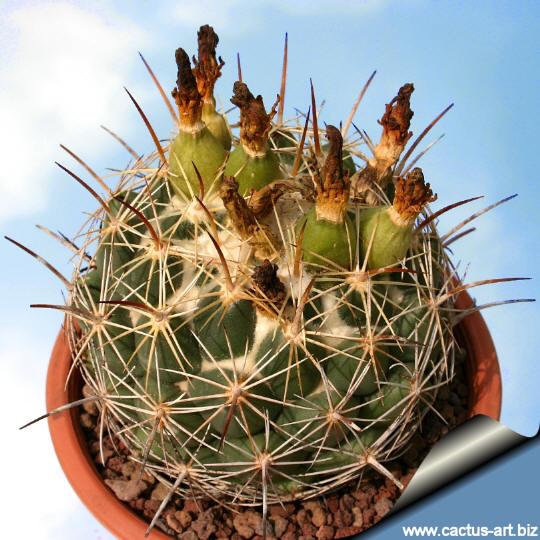 Coryphantha radians REP37 Locality: Colon, Querétaro, Mexico 2000m