The varietal name 'inermis' means unarmed (referring to the lack of spines), which as you can see in the close-ups is not entirely true, but almost, especially when compared to the other varieties.

Description: This is a spineless form (without or with very short spines) in the wild plants with 1 to 7 spines and the spineless form are equally common.
The spineless form of E. triglochidiatus (and of E. triglochidiatus var. mohavensis ) is called var. inermis by some (Echinocereus triglochidiatus var. inermis (K.SCHUM.) G.D.ROWLEY 1973) though it occurred with the normal and intermediate forms.
A particularity of this plant is that the flower buds emerge through the plant's skin above an areole, leaving a scar after fading, rather than arising from areoles or axils between areoles as in other cacti. The heavy and waxy flowers are red or orange with green stigma in the centre.


The bud don't develops from the areoles but start growing within the plants body and breaks the epidermis as it enlarge.


Advertising




Family:
Cactaceae (Cactus Family)
Echinocereus triglochidiatus "inermis" (= subnudus)
Scientific name: Echinocereus triglochidiatus Engelmann 1858
Origin: E. triglochidiatus is the most widespread species (Utah, and Colorado south to southern California, Arizona, New Mexico, Texas, and Mexico)
Conservation status: Listed in CITES appendix 2.
Echinocereus paucispinus var. triglochidiatus Schumann 1896
Cereus triglochidiatus Engelmann 1848

Cereus gonacanthus

Echinocereus triglochidiatus var mohavensis "inermis"
Common Names: Claret-Cup Hedgehog , Kingcup cactus, mound cactus, King's Crown Cactus, Spineless Hedgehog.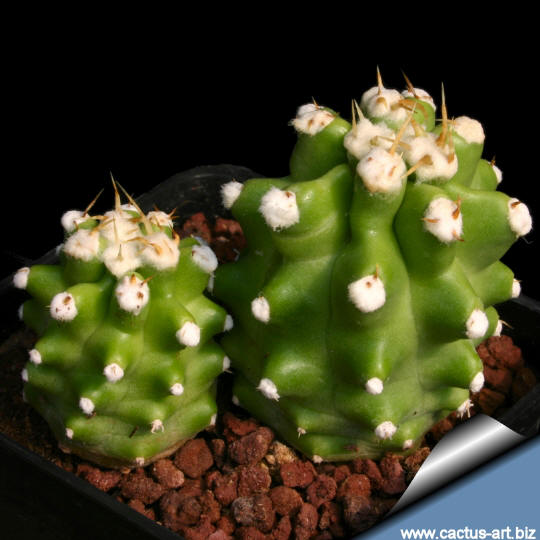 Echinocereus triglochidiatus "subnudus" HK 1040
Locality: Manzano, Torrance County, New Mexico, USA



USE: Some Native Americans collect the stems, burn off the spines and mash them. Sugar is added and then it is baked to make sweet cakes.
Parts Used: pulp, flowers and stems
Cultivation: This cactus is widely cultivated for its flowers. It is among the easiest species to grow, flower and propagate. Water regularly from March to October. Rot prone in winter, it needs good drainage. Claret Cups require strong sunlight to maintain a healthy appearance, and a harsh "dry and cool" winter environment combined with maximum light exposure enhances spring flower production.
Frost Tolerance: It is very cold resistant, hardy from -6° to - 18° C for short periods of time (Depends on the variety, some populations can tolerate temperatures down to -25° C or less.)
Propagation: Cutting as it produces abundant suckers; Also can be grown from seeds.

Photo of conspecific taxa, varieties, forms an cultivars of Echinocereus triglochidiatus.