Eryosice villosa is a very heavy and constant bloomer with outstanding colour, easy grower.


Description: Small solitary cactus with variable spination.
Stem: Subglobose to Globose becoming elongated, green or very dark green (almost black) or dark red, up to 15 cm tall, 8 cm in diameter.
Root: Large tuberose tap-root.
Ribs: 13-15 Deeply notched between areoles.
Spines: ± dense, long, glassy gold-brownish to black central spines with thin bristle like grey radials, the number of spines (especially the bristly radials) is quite variable.
Flowers: Bright magenta, borne on young areoles, 2-2,5 cm in diameter, pericarpels and floral tubes with long wool and gassy white bristles.
Blooming time: Blooms early in the year. Occasionally forms some buds late in the previous year, and it can sometimes flower during the winter, although the main burst of flowering is in April.
Fruit: Elongate, red, dehiscing by basal pores.


.

Photo of conspecific taxa, varieties, forms and cultivars of Eriosyce villosa.


Advertising




Family:
Cactaceae (Cactus Family)
Scientific Name: Eriosyce villosa (Monville) Kattermann 1994
Origin:Totoral Bajo to Carrizallilo, Huasco, Atacama, Chile

Conservation status: Listed in CITES Appendix II
Neoporteria villosa (Monv.)
Neoporteria atrispinosa
Chileniopsis polyraphis,
Neoporteria villosa var. cephalophora,
Neoporteria cephalophora,
Chilenia cephalophora,
Neoporteria planiceps,
Neoporteria villosa var. atrispinosa,
Euporteria atrispinosa,
Chilenia atrispinosa,
Cactus villosus,
Bridgesia polyraphis,
Euporteria cephalophora,
Neoporteria villosa,
Euporteria villosa,
Bridgesia villosa,
Chileniopsis villosa,
Neoporteria laniceps,
Neoporteria polyraphis,
Echinocactus polyraphis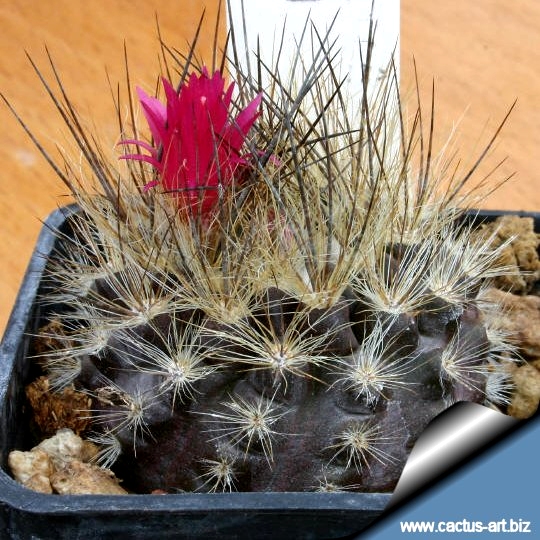 Eriosyce villosa KK51 Huasco Bajo
Cultivation: It is a summer grower species. Easy to cultivate but somewhat rot prone if kept in a non ventilated place. Requires a very fast draining drying soil Water regularly in summer, but do not overwater.
Needs a full sun exposure (or light shade) Good heat tolerance. Hardy to at down to -5°C for brief periods.
Propagation: Usually propagated from Seeds. (seldom produces offsets)