Ferocactus gatesii (F. gracilis ssp. gatesii)
Seldom offered for sale , this species is only known from the islets
in the mouth of the Bahia de los Angeles in the gulf of California.


Description: Ferocactus gracilis is a globular to cylindrical solitary cactus.
Stem: Up to 150 cm tall, 30 cm in diameter
Ribs: About 24;
Central spines: 7 to 13, reddish-brown, 2.5-4 cm long.
Radial spines: 5 or 6.
Flowers: Blooms in summer, flowers are diurnal, red or (usually) golden yellow with reddish mid-stripe.

The 'gracilis' subspecies usually grows higher than 90 cm. it's central spines are less than 5mm wide.

The 'coloratus' subspecies seldom grows up to 90cm high. Its widest central spines are often wider than 5 mm.

The 'gatesii' subspecies can grow up to 150 cm high. Its central spines are only 3 mm wide and curved, but not hooked.


Cultivation: Slow growing to start, but it does well under cultivation. Suited for any rich, well drained soil in full sun throughout the year. Water during the aestival growth cycle (this plant needs plenty of water). But it's necessary to avoid wetting the bodies of these plants while they are in sunlight. A wet cactus in the sun can suffer sun burning, which can lead to scars or even fungal infections and death. In winter keep completely dry at 10°C, but it can tolerate sporadic light frost.

Propagation: They are easily grown from seed!



Advertising




Family: Cactaceae (Cactus Family)

Scientific Name: Ferocactus gatesii G. E. Linds.
In: Cactus and Succulent Journal (Los Angeles) 27(5): 150-151. 1955.

Origin: Mexico, only known from the islets in the mouth of the Bahia de los Angeles in the gulf of California (Smith Islands group in the Sea of Cortez). This species appears to be relictual from cooler times when F. cylindraceus reached further south in the in the northern peninsula of California.

Habitat: Coastal fog desert

Conservation status: Listed in CITES appendix 2.
Ferocactus gracilis subsp. gatesii (G. E. Linds.) N. P. Taylor
In: Cactaceae Consensis Init. 6:16. 1998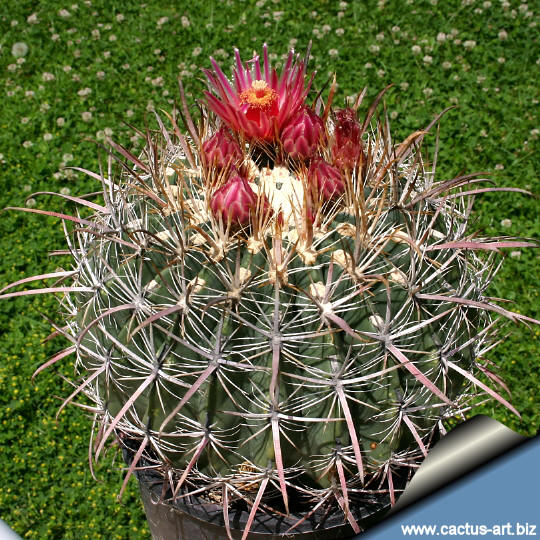 Photo of conspecific taxa, varieties, forms and cultivars of plants belonging to the Ferocactus peninsulae/wislizenii complex (This Taxon has various synonyms ( like many other cacti) whit several controversial varieties and subspecies and comprises a multitude of different forms, but where each form is linked to others by populations of plants with intermediate characteristics):