Gymnocalycium mihanovichii f. rubra
It is an ensemble of popular mutant with more or less red and banded bodies. Some of this colourful plants (those with some chlorophyll) are able to grow on their own roots and are very priced by collectors.


Description: Gymnocalycium mihanovichii friedrichii 'rubra,' comprises a large group of popular mutants, characterized by more or less red coloured bodies. They are red (but also orange, dark purplish, yellow or even white) because they contains few chlorophyll or even no chlorophyll at all, much like the red we see in the fall foliage of trees when their chlorophyll breaks down and disappears. Without chlorophyll many of these mutants gymnocalyciums can not produce sugar and without sugar they will die. The only way to keep them alive is to graft them onto another cactus which has chlorophyll and which will provide sugar to the mutant scion. The chlorophyll containing bottom part of the graft, called the stock, can be any number of different cactus species. In the case of the gymnoclyciums it is usually Hylocereus, a tropical cactus. The oldest and more famous mutant is the bright orange-red and completely clorophyl-less cultivar "Hibotan" often known as the "Red Cap Cactus", or "Ruby Ball". While the yellow and paler forms are sometime known as "Blondie" or "Moon Cactus".
The first red "HIBOTAN" were produced by E. Watanabe in Japan. Sowing of some thousands of seeds of G. friedrichii yielded two bright red freak seedlings which would have died quickly had they not been grafted at once. From these have been produced literally millions of plants, distributed all over the world, by repeated grafting and cutting."
Furthermore a number of variegated cultivars only partially de-coloured are known as "HIBOTAN NISHIKI".
Some of this colourful plants (those with some chlorophyll) are able to grow on their own roots and are very beautiful and priced by collectors.
Stem: Flattened globose to elongated globose, white, yellow, orange, red, greenish-purple, reddish brown to a dark grape colour up to 10 cm tall (or more) and 6-12 cm in diameter, often branching profusely from the sides.
Ribs: 8-14, very prominent, and sharp banded whit strong dark brown markings especially when young, and these sometimes have cross-bands of lighter colours.
Radial spines: 3-6, acicular, to awl shaped, light to dark brown, somewhat twisted, 0,7-1 cm long.
Central spines: Usually absent.
Flowers: Pale-pink to purplish-pink, 6-7 cm long.
Fruit: Gray-green to pinkish-red up to 4 cm long, diameter 1 cm.



cv. Hibotan Nishiki
Photo and © copyright by Irwin Lightstone (http://www.radiantimagesphotography.net )


cv. Hibotan Nishiki



Cv. Pink-Kuro

Photo of conspecific taxa, varieties, forms and cultivars of Gymnocalycium mihanovichii.


Advertising




Family: Cactaceae (Cactus Family)

Scientific name: Gymnocalycium mihanovichii var. friedrichii Werdermann,
In: Kakteen and. Sukk. Pflanzen, Bd. 4, Mappe 29, pl.113, 1936
Origin: From south to North-Western Paraguay (Chaco -Department Boquerón)
Habitat: Grows among scrubs in high-savannah

Common English Names include: "Red Cap Cactus", "Ruby Ball", "Red HIBOTAN", "HIBOTAN", "Blondie" or "Moon Cactus"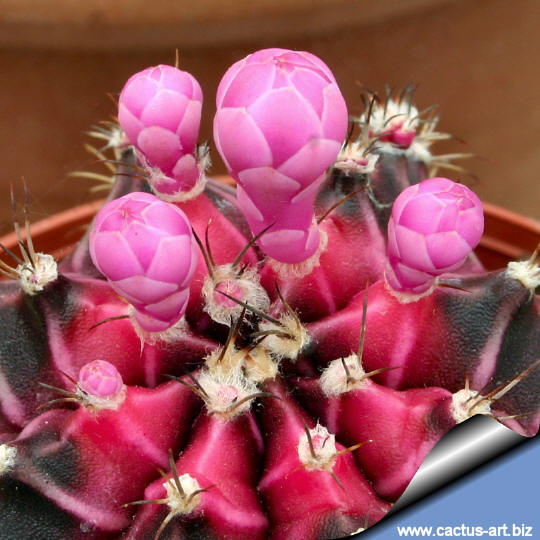 Cultivation: Variegated cacti are regarded as choice and difficult in cultivation, but despite that many of them are relatively easy to grow. But be aware that they cannot tolerate prolonged exposure to direct sun light (especially during the hottest summer days), so grow them in half-shade or under filtered sun. They are sometime seen as grafted plants, but many grow well on their own roots, too.
On the contrary, the albinos can survive only if grafted on a strong green base.
Use mineral well-permeable substratum with little organic matter (peat, humus). Water sparingly from March till October and keep perfectly dry in winter at temperatures from 5 to 15 degrees centigrade. (In general these plants are more tender and cannot endure freezing temperatures ) In the rest period no high atmospheric humidity!! Feed with a high potassium fertilizer in summer. Frost Tolerance: Avoid frost.

Propagation: Plants are often grafted onto column-shaped cacti, but the forms with some chlorophyll can be reproduced by seeds.