This form differs for having very clear (almost white) and very shining flowers.

Description: Solitary, or sparsely clumping
Stems: Spheric to ovoid, dark green 10-30 × 7.5-20 cm.
Ribs: typically 13 ( to 17), undulate to deeply crenate, tuberculate.
Areoles: 1-3 cm apart , young ones with yellow felt.
Spines: 12-16 per areole; Central spines up to 4 per areole, curved or slighly hooked, principal central spine thin s± flattened, 5-10 cm × 0,4--3 mm, ± flexible.
Flowers: White to very pale yellow 6-7.5 × 7-9 cm; stigma lobes 8-10.
Fruits: Green, yellow-green, or olive, 20-45 × 10-35 mm.
Seeds: ca. 1 mm.
Blooming season: Early summer to autumn in succession.

Cultivation: This species is easy and well worth growing. Require little care once they have reached a nice flowering size. H. simuatus is suited for any rich, well drained soil in full sun throughout the year (But do better with some light shade in summer). Pot culture: grow best in a well-drained container filled with a porous cactus soil mixture that doesn't contain too much humus. To insure robust plants water and fertilize during the aestival growth cycle, this plant need plenty of water (indicatively to about once a week) But needs to be avoided wetting the bodies of these plants while they are in sunlight. A wet cactus in the sun light can cause sun burning which can lead to scares or even fungal infections and death. Care must be taken to prevent sooty mould forming on the sugary secretions from near the areoles.
Frost Tolerance: In winter keep completely dry at 5°C this usually aids in maintaining a healthier plant, but it is hardy to -7°C.

Reproduction: Seeds or cutting. Seeds are the typical way of reproducing. These cacti will easily grow from seeds and some from cuttings. Seeds can be sown in the spring or summer in well-drained pots of soil for cacti and sow the seeds thinly on top. Cover them with a bit of fine quartz grit. Moisten and lay a piece of glass across the top. The pots should be set in a warm greenhouse until they start to sprout after which the glass should be progressively removed so they can receive full light and air. It isn't good to keep the glass over the seedlings. The seedlings well developed can be planted separately in small pots.


Cuttings made from pieces of the stem of any size can be detached and laid aside for a few days to allow a protective "skin" to form over the cut. They can then be planted in pots. Place them in a spot where they'll receive sun and do not water until the soil becomes fairly dry. After a while the soil can be moistened regularly but never kept constantly saturated.

Photo of conspecific taxa, varieties, forms and cultivars of plants belonging to the Ferocactus hamatacanthus (H. sinuatus) complex. (This Taxon has lots of synonyms whit several controversial varieties and subspecies:


Advertising




Family:
Cactaceae (Cactus Family)

Scientific Name:
Hamatocactus hamatacanthus var. davisii
(Houghton) Marshall
Published
in: Marshall & T. M. Bock, Cactaceae (Berlin) 145, 1941
Common Name: Yellow turk's head
Conservation status: Listed in CITES Appendix II

Synonyms:
Hamatocactus davisii Ito 1952
Brittonia davisii Frick 1931
Brittonia davisii Armstrong 1934
Ferocactus hamatacanthus var. davisii (Hought.) Mars
Ferocactus hamatacanthus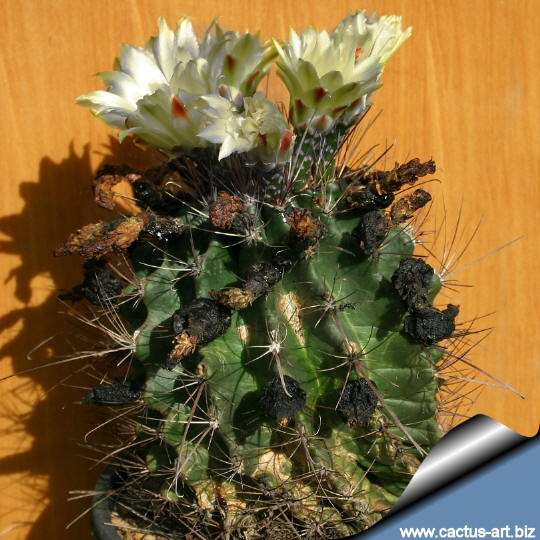 Hamatocactus hamatacanthus var. davisii
The old dried fruits persist for a long time on the plant. They are delicious eaten alone and taste like dried plums (prunes).