Lobivia winteriana
This species is one of the most remarkable Lobivia, with large, very colourful "shocking fuchsia pink" to purple-violet flowers with white centre. Everyone should have this plant.


.

.


Photo of conspecific taxa, varieties, forms an cultivars of Lobivia (Echinopsis) backebergii. (This taxon has lots of synonyms (like most Lobivia) whit several controversial varieties and subspecies):


Advertising




Family:
Cactaceae (Cactus Family)
Lobivia winteriana F. Ritter 1970
Currently accepted Scientific name: Echinopsis backebergii Werderm. in Backeb.
In: Neue Kakteen 83, 84, fig. 1931 Fedde, Rep. Spec. Nov. 30: 64. 1932
Origin: Peru, Huancavelica, Villa Azul altitudes about 3000 m.
Conservation status: Listed in CITES appendix 2
Echinopsis winteriana Ritter
Lobivia wrightiana var. winteriana (Ritt.) Rausch
Echinopsis backebergii subsp. wrightiana (Backeb.) M.Lowry
In: Cactaceae Syst. Init. 20: 15. 2005
Lobivia backebergii winteriana
Echinopsis backebergia Werdermann ex Backeberg 1931
Lobivia backebergia (Werdermann ex Backeberg) Backeberg 1935
Lobivia wrightiana Backeberg 1937
Echinopsis wrightiana (Backeberg) G. D. Rowley 1982
Neolobivia winteriana (F. Ritter) F. Ritter 1981
Description: Lobivia winteriana are small solitary or branched at base cacti, older plants may form mats. They are very easy flowerers, if you keep them reasonably cool and absolutely dry during winter.
Stem: At first globular becoming cylindrical as it ages, diameter about 5-7 cm. Epidermis greys-green.
Ribs: 13-19 more or le spiralling
Root: Napiform (Carrot like)
Areoles: Oval with dull white felt.
Radial spines: 6-14 short, about 4-7 mm long, thin, unequal, curved backward somehow pectinated, pale brown, yellow or amber when young, later greys.
Central spines: None or sometime 1 stouter about 1 to 3 cm long, darker with black tip.
Flowers: Large, funnel shaped, very colourful "shocking fuchsia pink" to purple-violet with white centre 7, 5 to 9 cm in diameter. Tepals lanceolate.
Fruit:: About 1,5 cm in long, tannish-green to brownish-red.
Seed: Black.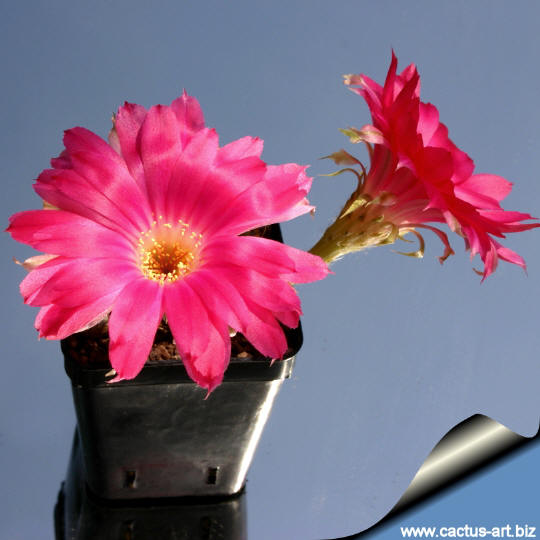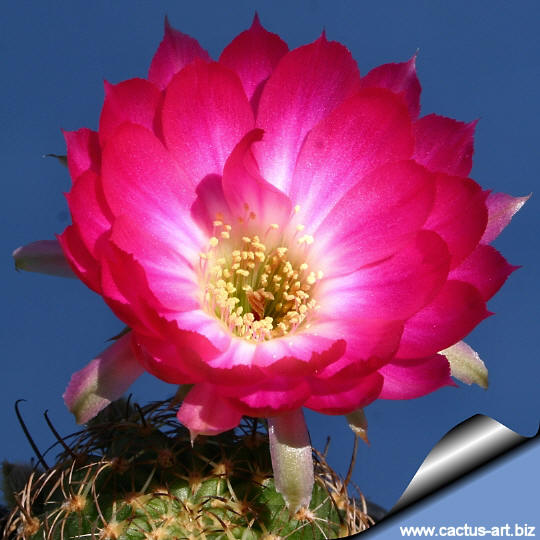 Cultivation: It is a summer grower species that offers no cultivation difficulties. Water regularly in summer (but do not overwater ) needs good drainage and very porous soil, keep rather dry in winter. Feed with a high potassium fertilizer in summer. It is quite frost resistant if kept dry (hardy to -5° C or less). Need a bright exposure, full sun or half shade in summer.

Propagation: Direct sow after last frost, offsets.