Mammillaria microthele ( v. superfina ) SB34 Presa de Guadalupe, San Luis Potosi, Mexico
This is a relatively tough and user-friendly small cactus with tight, dense minute
white spines that lie flat against the plant so not that dangerous.



Photo and © copyright by Mladen Turcinovic (Croatia)

Photo and © copyright by Mladen Turcinovic (Croatia)


Cultivation: It is a slow growing species . Use pot with good drainage and a very porous mineral-based potting mix, keep dry in winter. Pot plants are quite wet-sensitively. Care must be taken with watering (Rot prone) and needs good drainage. Water sparingly during the growing season, keep very dry in winter. Feed with a high potassium fertilizer in summer.
Usually it is recommended to overwinter this plant in a bright and warm greenhouse with at least 8-10° C , but it proved to be quite frost resistant (if kept dry it hardy as low as -10° C)Outside full sun or afternoon shade, inside needs bright light, and some direct sun.

Propagation: Direct sow after last frost, cuttings (if available).


Advertising




Family:
Cactaceae (Cactus Family)

Scientific name: Mammillaria formosa ssp. microthele (Muehlenpfordt) D.R. Hunt
First description: Mammillaria microthele Muehlenpfordt
Published in: Allg. Gartenz. 16:11 (1848)
Origin: Origin: Mexico (Coahuila, San Luis Potosi, Tamaulipas).

Habitat: usually found in limestone slopes of Agave lecheguilla-Hechtia glomerata scrub. Altitude 1.000 - 2.200 m.
Conservation status: Listed in CITES appendix 2.
Mammillaria formosa Galeotti ex Scheidweiler
1838
Mammillaria pseudocrucigera
Mammillaria arroyensis
Etymology: Microthele from Greek "micros"=small and Geek "thele"= tubercle, for the very small tubercles of the plant.
This is one of the Mammillaria commonly called "Owl Eye Cactus", known for dichotomous branching (forking or dividing into two parts). Although dichotomous branching is not a common occurrence in cacti in general, it happens for some reason in this particular subspecies. What is interesting about this cactus is that it began as a single head, and it has now divided twice, forming what will be four separate branches. When the division process started, it was obvious that four heads would appear, but I don't think the one head divided quadruply. Most probably, one head became two, and then those two immediately divided. Other Owl Eye Cactus among others comprise:
M. karwnskiana, M. formosa, M. tlalocii and M. perbella.


Description: Slow-growing flattened plants, clumping with tight, short white spines, form low mounds in time
Stems: Almost discoidal to globose, apically depressed, dividing dichotomously, each stem are up to 6 cm in diameter.
Radial spine: 22 - 24 tiny, white and bristle-like that almost obscure the stem.
Flower: Rings of small (5 mm) nearly pure white (Or with light pink midstipe ) are produced in spring over a several weeks period

The so called M. microthele "superfina" is a particular nice selected form with very small tubercles and spines.
NOTE: M. microthele is part of the very variable M. formosa complex, the different growing forms of which have for a long time been considered separate and distinguished subspecies, for example:

subsp. formosa: It has 20-22 radial spines and pink flowers. Origin: oahuila, Aguascalientes, Guanajuato, Zacatecas, Tamaulipas, Nuevo Leon and San Luis Potosi.
subsp. microthele: It has 22-24 bristly, flattened spines with white flowers. Origin: Cohahuila, Guanajuato, Tamaulipas and San Luis Potosi. This form should be grown conservatively to preserve the flat habit that is present in the wild.
subsp. pseudocrucigera: It has about 18 radial spines, (sometime lacking in mature areoles) the blooms are pink with paler margins. Origin: Queretaro, Guanajuato.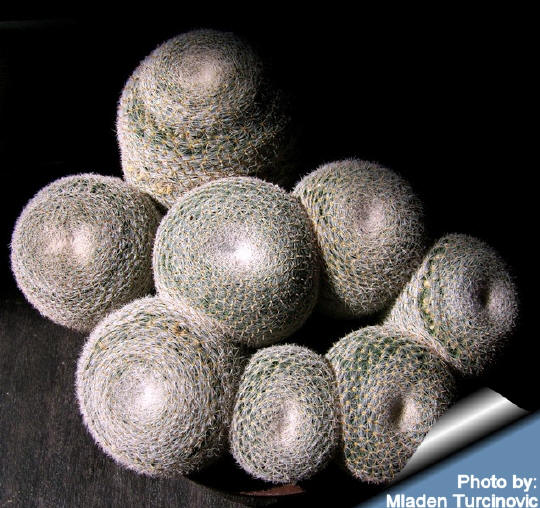 Photo and © copyright by Mladen Turcinovic (Croatia)
Old plants with lots of branching are treasures.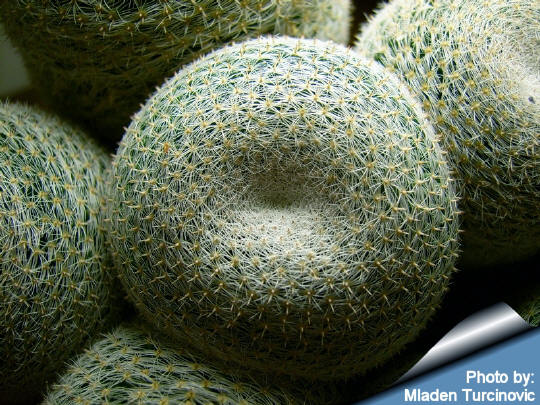 Photo and © copyright by Mladen Turcinovic (Croatia)
Photo of conspecific taxa, varieties, forms and cultivars of plants belonging to the Mammillaria formosa complex (This Taxon has lots of synonyms ( like many other cacti) whit several controversial varieties and subspecies and comprises a multitude of different forms, but where each form is linked to others by populations of plants with intermediate characteristics):