Parodia penicillata has glowing flame-red flowers which contrast well against the green body and tufty paintbrush-like golden yellow or white spines.


Pennicillum is the Latin for "Little brush" referring to the characteristic new spine clusters at the plant apex.

Cultivation:

Water these plants regularly, and fertilize with a low nitrogen fertilizer every 6 to 8 weeks, from mid-spring to late summer. This plant should remain rather dry at other times (especially in winter) except for a quick, periodic misting on warmer days in late winter. If it is kept absolutely dry for a long period, it tends to lose its roots in winter. It can tolerate light frost (-1C°)
If the local climate is warm enough to grow this plant outside, be sure that soil is well drained and sun if full, but with protection from strong midday rays.
Propagation: By Seeds that are very fine



Advertising




Family: Cactaceae (Cactus Family)
Scientific name: Parodia penicillata Fechser & van der Steeg 1960 (N)
Frequently this specie is found with the incorrect spelling Parodia pennicillata
Origin: Native to the highlands of northern Argentina

Synonyms: Notocactus penicillatus
Description: P. penicillata is a usually a solitary, small- growing, cactus
Stem: Pale green or bright green, spherical, later cylindrical, growing up to 40-5m cm tall and 9 cm wide.
Spines: Glassy, bristly straw-coloured (but also pale yellow, or pale brown) becoming very dense on specimen. The radials are very thin, clear, and silky, while the centrals are longer, stiffer and more coloured. There is also a form (the so-called P. penicillata var. nivosa) with dense snow-white spines.
Flowers: Funnel-shaped, orange-yellow or brilliant red in an apical circle. Dried flowers remain for a long time on the plant body after blooming.
Blooming time: Summer.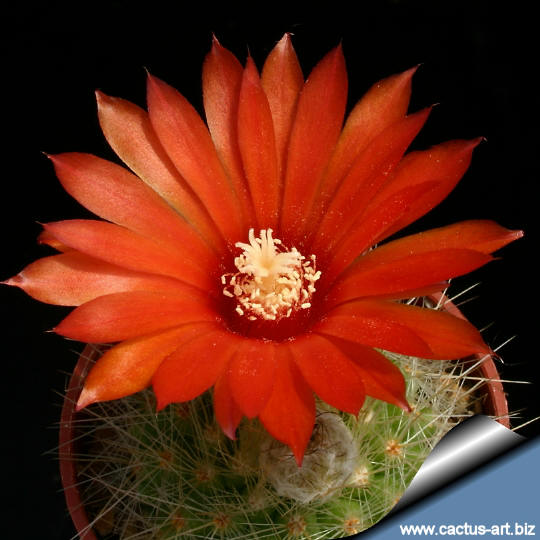 Photo of conspecific taxa, varieties, forms and cultivars of Parodia nivosa .