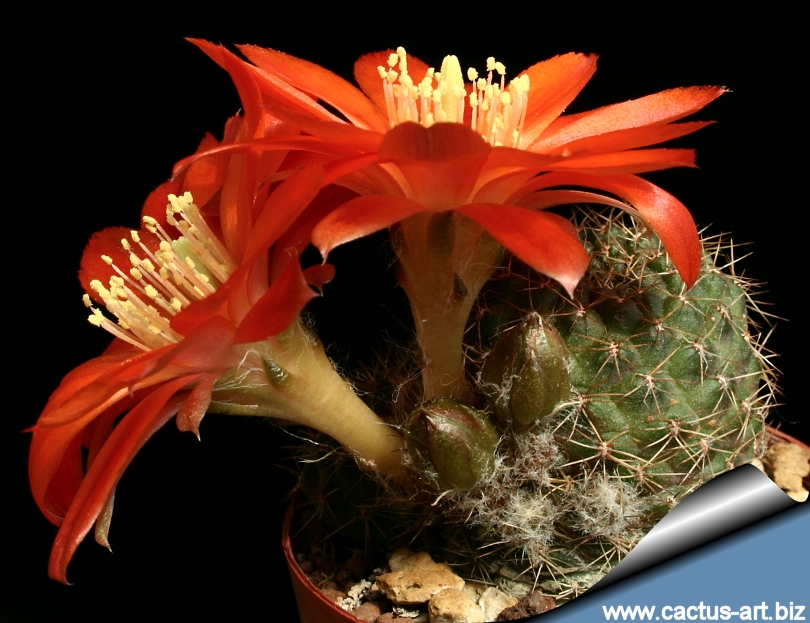 Rebutia tarvitaensis is a clumping plants with lots of dramatic, large orange red flowers from the lower stem.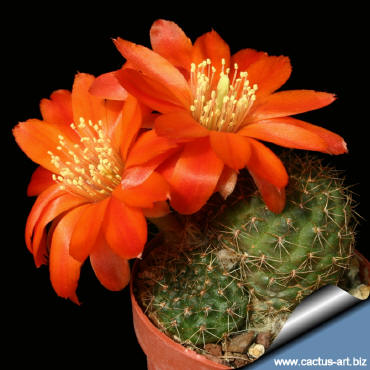 Description: Very small clumping plants,
Stems: Individual heads short-cylindrical 3-6 cm wide, 4 cm tall, The colour of the epidermis vary from grey-green to olive-green with violet tints.
Spines: Short .
Flowers: 4-4,5 cm in diameter bright orange-red.
Roots: tap root:
Cultivation: It is easy to grow and recommended for beginners. Prefer gritty, porous mix with a pH slightly on the acidic side. Full sun to light shade, Water regularly in summer but do not overwater (the root system is rot prone) and allow the pot to dry out between waterings. Keep dry in winter Hardy to -4°C it will take low temperatures when dry and do require a winter rest period. This species will occupy a small flower pot comfortably and remain a manageable sized house plant.

Pest and disease: This plants are subject to mealy-bug attack and to fungus and rot problems brought about by overwatering and high humidity.
Note: It would appear that in cultivation they grow larger and cluster more vigorously than in habitat.
Propagation: seed or offsets.




Advertising
Family:
Cactaceae (Cactus Family)

Rebutia tarvitaensis
Ritt.



Scientific name: Rebutia spegazziniana Bkbg.

Origin: Tarvita , Azurdua Co. , dpt. Chuquisaca , Bolivia,

Conservation status: Listed in CITES appendix 2.
Synonyms:
Rebutia rubiginosa,
Rebutia zecheri,
Rebutia vulpina,
Aylostera tuberosa,
Rebutia tuberosa,
Rebutia tarijensis,
Aylostera rubiginosa,
Rebutia patericalyx,
Rebutia mamillosa,
Rebutia fusca,
Rebutia froehlichiana,
Aylostera spegazziniana,
Rebutia sumayana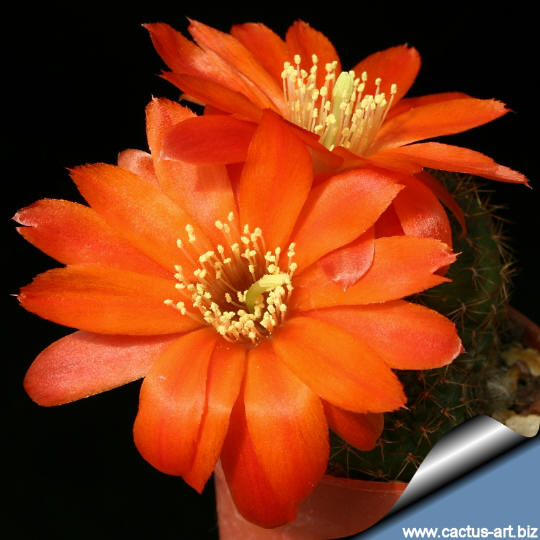 Photo of conspecific taxa, varieties, forms and cultivars of Rebutia spegazziniana.