T. primosii Titanopsis SB816 Platbakkies Bushmanland
These plants are not very common and are usually only found by specialists but are worthwhile, choice and attractive succulents even when still young. They are slow growing plants which will give pleasure for years.


Description: Titanopsis primosii (now called T. schwantesii) is a mat forming succulent with

c

lusters of basal rosettes up to 5 cm wide

.

I

t is similar to T. calcarea

,

which is more a summer grower.
Leaves: Short

,

fleshy with rounded ends

,

and chunky white, grey or flesh

-

coloured regular warts which look very rock

-

like in habitat. (Leaves of T. calcarea are considerably larger, flatter with a more spoon-shaped apex and a mix of large and small warts ) Old leaves will die off very slowly.
Flowers: With usual canary yellow mesemb 'daisy' form, opening in the afternoon in early spring. (T. calcarea flowers in autumn/winter)


Genus Titanopsis: There are three to six species, depending on botanists' opinions. Some botanists have now lumped T. lüderitzii and T. primosii in with T. schwantesii.
The species list for Titanopsis is considered to be:

T. fulleri ( = calcarea )
T. lüderitzii ( = schwantesii )
T. primosii ( = schwantesii )
schwantesii


Advertising




Family: Mesebrianthemaceae (Aizoaceae)

Scientific Name: Titanopsis primosii

Synonym: Titanopsis schwantesii

Origin: South Africa.

Habit: Comes from winter rainfall areas but will easily adapt to a summer watering regime.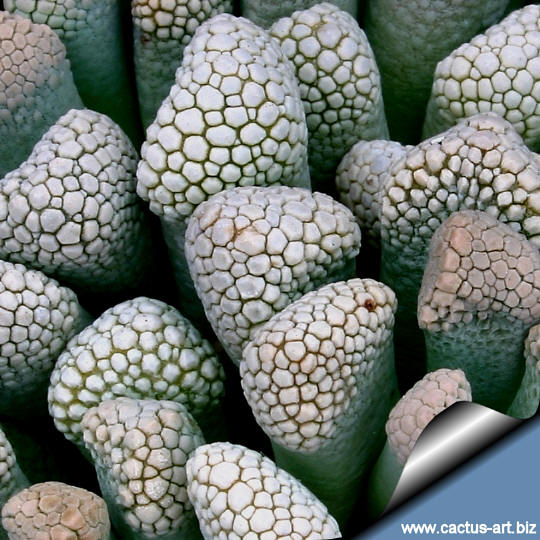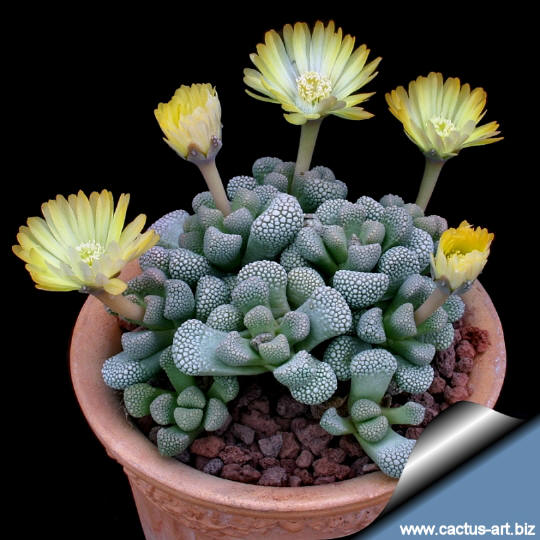 Cultivation: This species is easy to grow and clumps readily, forming a beautiful succulent mat. This is a winter grower species, but in cold climates we expect most growth in spring and autumn when the weather is cool but the sun is strong. Needs moderate water when growing in late fall and early spring. Keep somewhat dry the rest of the time. It will need a little water even in summer, just enough to stop excessive shrivelling. Over-watering makes the old leaves die off more quickly, and can also produce rot. Like all living rocks, they thrive in porous soils with excellent drainage. It can tolerates high heat and heavy frost to -10° C. Enjoy bright shade in summer and full sun during the other seasons.

Propagation: They grow quickly from seed or by division of larger clumps, including a piece of the rootstock.