T. subterraneus is one of the most fascinating and unusual cacti. It has a tuberous root from which arises an extremely thin neck, ending in an enlarged top-shaped plant body, there is little chance of the thin neck support the stem vertically.


Description: Usually solitary, club-shaped cactus, up to 150 mm high, 30 mm wide, green-bluish. The stem is typically prostrate, flaring out after a very long slender neck that separates the large tuberose root from the enlarged apical part of the plant; woolly apex
Spines: Radials 16-19

,

radiating horizontally

,

glassy white

,

2-6mm long. Centrals 2 straight

,

erect

,

blackish-grey

,

20-23mm long, one erect, the other on sideways.
Flowers: Whitish to pinkish-magenta

,

with pink or brown midstripe, in summer, 20-25 mm long, 30 mm wide.
Fruits: Greenish-brown, small, relatively dry

,

and unattractive.



Cultivation: It's a fairly easy species to cultivate but quite prone to rot, especially after the first flowering. It needs a very well drained soil, and requires strong sun to part sun. Waterings should be rather infrequent to keep the plant compact, and avoid it becoming excessively elongated and unnatural in appearance. Keep dry in winter, or when night temperatures remain below 10° C. It is hardy to -4°C for a short period. Assure a good ventilation.
It can generate new shoots from the tuber if the original stem is damaged.



Photo of conspecific taxa, varieties, forms and cultivars of the Turbinicarpus mandragora complex (This taxon has lots of synonyms with several controversial varieties and subspecies):


Advertising




Family:
Cactaceae (Cactus Family)
Scientific name: Turbinicarpus subterraneus (Backeb.) A. D. Zimmerman
Conservation status: Listed in CITES Appendix I

Origin: It is a restricted micro-endemic species scattered in small populations in the municipalities of Aramberri, Doctor Arroyo and Mier y Noriega in the state of Nuevo Leon (Mexico)
Basionym: Echinocactus subterraneus Backeb.
Synonyms :
Gymnocactus subterraneus (Backeb.) Backeb
Neolloydia subterranea (Backeb.) H. E. Moore
Rapicactus subterraneus (Backeb.) Buxb. & Oehme
Thelocactus subterraneus (Backeb.) Backeb. & F. M. Knuth
Turbinicarpus mandragora ssp. subterraneus (Backeberg) J. Lüthy
Pediocactus subterraneus
NOTE: The variety 'zaragozae' of this species (or perhaps an independent species) does not posess the thin 'neck'.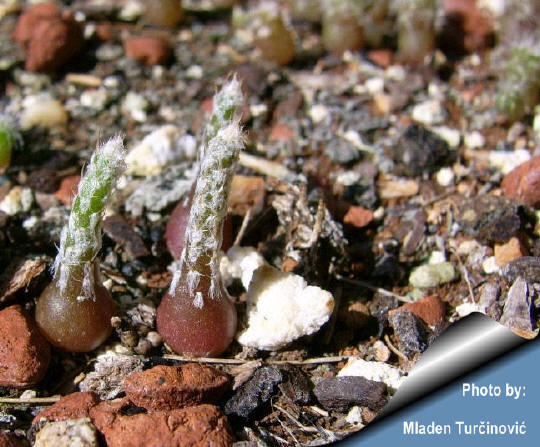 Turbinicarpus subterraneus P362 (Escondido) Young seedlings
Photo and © copyright by Mladen Turcinovic (Croatia)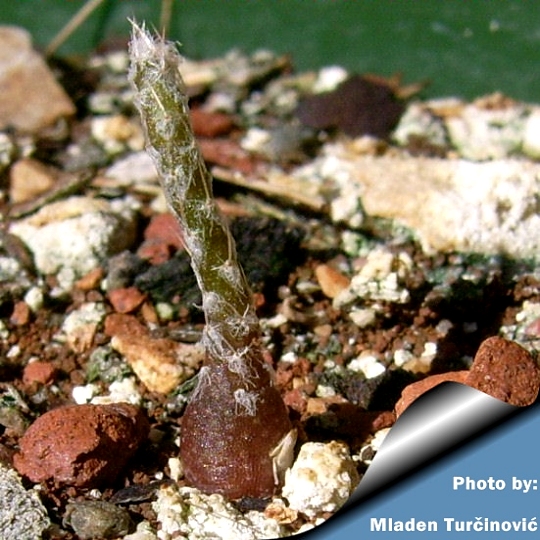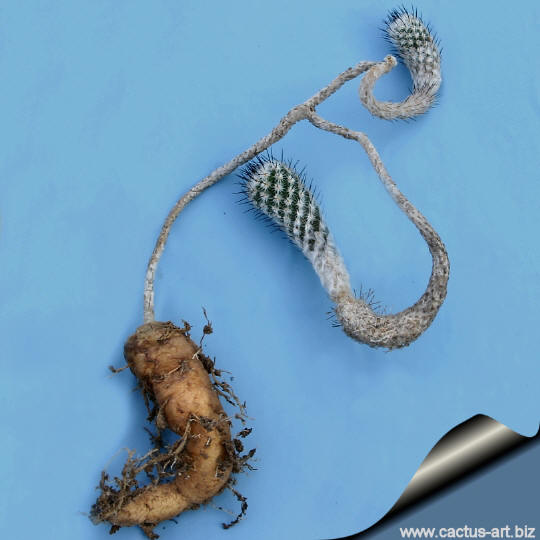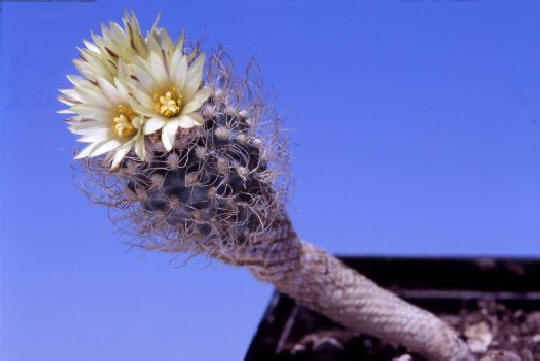 A white flowering specimen ( Hybrid ? )
Photo and © copyright by Andrea (Bologna, Italy)
( http://www.cactusfriends.com/Andrea/index.html )