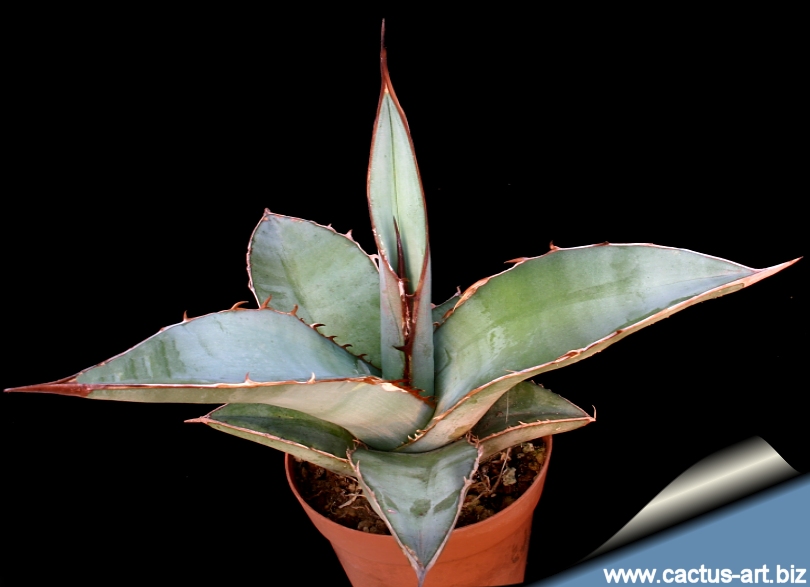 Agave titanota (Rancho Tambor )
This is a very odd plant with ghostly white colored leaves arranged in a typically solitary rosette. It is an open plant with few leaves, which are 30 to 60cm long by 12 cm wide and narrow near the base and widest towards their tips with prominent teats and teeth. Very handsome when big.

Description: Agave titanota is a medium sized agave that is extremely robust looking and form a mostly solitary rosette with wide, open crown of few leaves, up to 75 cm in diameter.
There are two different looking forms of this plant, the typical A. titanota defined by Gentry with ghostly white colored leaves gradually blend in habitat into the squatter round, greener form described by Felipe Otero (frequently sold as Agave sp. Sierra Mixteca FO-076), But some blue plants are found isolated at the edge of. the range of the green populations, with no green plants around.
Leaves: Wide alabaster-white (in the gentry form), deep grey-green or pale blue (in the Felipe Otero form) up to 60cm long, 12cm wide and are broader near the tip and narrower at the base. The margins of the leaves are lined with varying degrees of teeth from nearly toothless to broad papery wicked-looking, parchment colored saw-tooth-like projections.

Cultivation: It tend to be slowing than the standard white-grey species plant, hence the price. They do well in full sun or a lightly shaded area.
In winter watering this plant can be done once every 1-2 months, there is no need to mist the leaves. Agave titanota is theoretically hardy to -3° C, particularly when dry but it is best to avoid severe freezing temperatures. Heat Tolerance: Excellent
Propagation: Relatively easy to propagate by seeds or by suckers (if available) Remove the basal suckers in spring or summer and let the cuttings dry for a few days before inserting in compost.
Use: These striking plants are wonderful when used for accent or simply to provide some all year round foliage colour and often used in a pot as a patio plant, they make an eye-catching statement and along with other evergreen plants in pots, can be moved around to change the scenery or position to give more shelter.
Photo of conspecific taxa, varieties, forms and cultivars of Agave titanota.

Advertising
Family: Agavaceae
Scientific Name: Agave titanota Gentry
This plant is as Howard Scott Gentry described Agave titanota in "Agaves of North America" and comes seed collected at or near the type locality at Rancho Tambor in Oaxaca, Mexico where it grows on limestone cliffs and ledges.

Origin: Mexico (Oaxaca)

Habitat: Endemic to limestone hills.

Ecology: Like most Agave species, this plant is monocarpic, meaning that it will only bloom and bear fruit once during its life before dying. As Agaves approach maturity at 10 to 30 years of age, they accumulate a large amount of carbohydrates in their tissues that provide the energy that fuels the rapid development of the large flower spike. In nature, pollination by migratory nectar-feeding bats initiates the production of seeds that will be dispersed by the wind and produce the next generation of plants.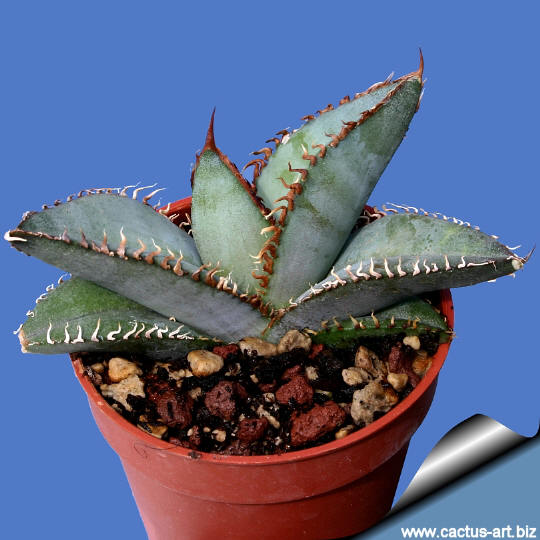 Agave titanota (Rancho Tambor ) A juvenile specime