Ariocarpus bravoanus var. hintonii
Flowers pink-purple with greenish-white margins, inner perianth parts deep magenta.


Habit: Solitary geophyte.cactus, rosette-shaped with triangular, rough, dark green verrucese tubercles..
Stem: Growing slowly to 6 cm in diameter 1.5 cm above ground level in habitat.
Tubercles: Flat, triangular, up to 20mm dark olive green, with a central woolly grove and two smaller glabrous, very distinct, perfectly straight lateral groves 0.5-1.0 mm wide,. The verrucose part of adaxial tubercle surface is 8-11 mm long and 11-15 mm wide, the remainder is densely and finely verrucose, with a pale, almost crystalline appearance, edges acute, not rounded apex acute and well-defined. The central fissure develops only with maturity.
Parastichy numbers: 5 and 8.
Spines: None.
Flowers: Pinkish-magenta flower, 4 cm in diameter.
Blooming season: August to October , it is frequently the earliest species of the genus to bloom in cultivation.
Fruit: Pale red 2O x 5mm.
Seeds: 1.1-1.4(-1.5) x O.95 -1.2 mm, testa black, tuberculate.


.

.

.

This specie starts blooming when still young. The first flower is larger than the plant's body.
The central fissure on the tubercle develops only with maturity.

Cultivation: Grows in alluvial plain that becomes muddy in summer, so likes quite a lot of water then... but very prone to rot other times of the year, moderate water in spring and autumn, no water in winter. Cultivate it in a well drained, non-organic, free-draining soil compost. The use of a weak low-nitrogen fertilizer during the growing season can encourage growth. The main threat to its development is root rot.
The Ariocarpus should be kept dry whenever there is a threat of cold. The appearance of Ariocarpus can benefit greatly by watering the plants from the bottom. This practice will help to keep the "wool" on the top of the plant from becoming matted or discoloured. Need half shadel to Full sunf. Frost Tolerance: Hardy to -10° C.

Propagation: It is easy to raise from seed, but will generally take about 6-10 years to reach flowering size, occasionally grafted.



Advertising




Family:
Cactaceae (Cactus Family)
Conservation status: Listed in CITES appendix I

Scientific name: Ariocarpus bravoanus subsp. hintonii (Stuppy & N.P. Taylor) Anderson E.F. & Fitz Maurice W.A
Pubblished in: Haseltonia 5: 1-20, 1997
Original pubblication (basionym):
Ariocarpus fissuratus var. hintonii Stuppy, W. & Taylor, N.P.
Pubblished in: (1989) Bradleya 7: 84-88.

Synonyms:
Ariocarpus fissuratus ssp. hintonii (W. Stuppy & N. P. Taylor) Halda
Origin: Mexico (known from two small locations 10 and 35km to the South of Matehuala, in Northern San Luis Potosi)
Habitat:

Habitat: Grows at circa 1600m altitude on gravelly limestone slopes.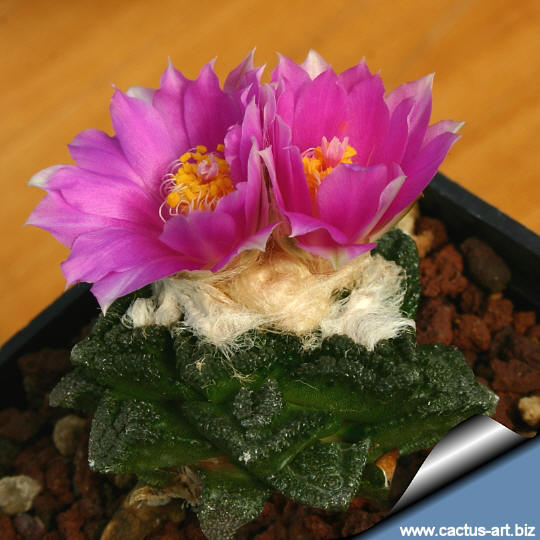 It flowers in August to October and is frequently the earliest species of the genus to bloom in cultivation. This species start flowering when still young.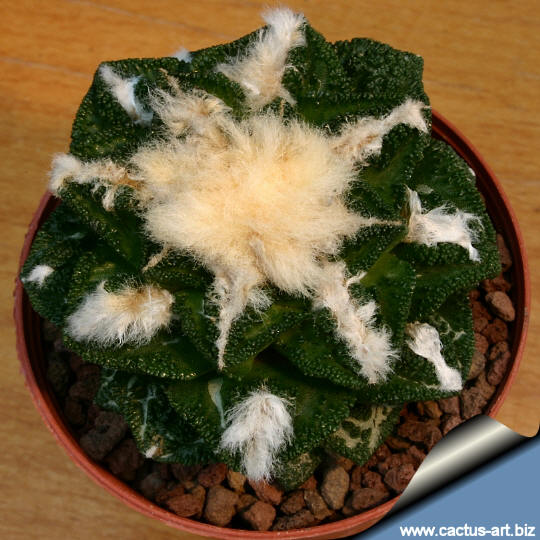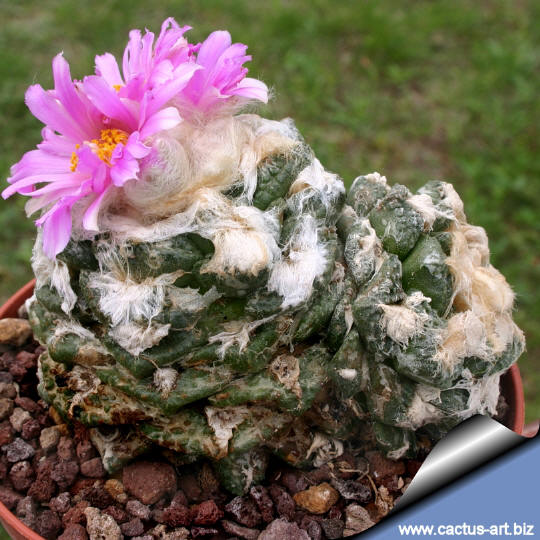 A degrafted specimen imported from China.
NOTE: Ariocarpus hintonii - discovered in 1981 - is a highland or southern form of A. fissuratus from a geographically remote isolated line.
A. fissuratus var. hintonii, although superficially resembling A. fissuratus of the Northern type, is closely related to A. bravoanus, sharing many similar morphological characters, tubercle structure, papillate epidermis, seed testa etc. A. fissuratus var. hintonii was therefore subsequently transferred to subspecific status beneath A. bravoanus by Anderson & Fitz Maurice. In fact some plants in the A. bravoanus habitat have a marked resemblance to A. hintonii, and these taxon two may well represent extremes of the same species.
Photo of conspecific taxa, varieties, forms and cultivars of plants belonging to the Ariocarpus fissuratus/bravoanus complex (This Taxon has lots of synonyms whit several controversial varieties and subspecies):