Echinocereus rigidissimus GL501 Peloncillo Mts., NM..
A jewel of the Sonoran Desert, this species has a tight lattice of tiny spines that hide the body of the plant.


Description: Solitary (very rarely few branched)
Stem: erect, short cylindric 6 to 20 (-30) cm tall, 4-11 cm wide
Ribs: 2 18-23(-26), slightly undulate
Spine: No central spines; 16 to 22 stiff pectinate radials, appressed, straight or slightly curved toward stem, grey, reddish brown, bright pink or pink-and-white in alternating bands of colour around stem, 5- 10 mm long. Mature plants with a good light will generally have red to deep pink spines that band the stems. Each year's growth is differentiated by differently coloured band of spines, hence the common name Arizona Rainbow.
Flowers: Bright pink with much lighter throat, 6-7 cm long, up to 10 cm in diameter. It blooms in late spring summer (May-July).
Fruit: Globose, greenish or dark purplish brownish very spiny, 3 cm in diameter, pulp white. Fruiting 3 months after flowering


.


Photo & © copyright by Irwin Lightstone Images may not be copied, downloaded, or used in any way without the expressed, written permission of the photographer.






Photo and © copyright by Andrea Italy



Photo and © copyright by Andrea Italy


Advertising




Family:
Cactaceae (Cactus Family)
Scientific name: Echinocereus rigidissimus (Engelmann) F. Haage
Published in: Special Preisverz. 13. 1897.

Common Name:
Arizona Rainbow

Hedgehog Cactus

Cabeza de Viejo
Origin: USA (south-eastern Arizona, south-western New Mexico), Mexico (northern Sonora, north-western Chihuahua)

Habitat: Grows on gravely hills, steep canyon sides, semidesert grasslands, oak woodlands, interior chaparral, igneous substrates; 1200-1600 m. The reported habitat preference for limestone is erroneous; this species is a calcifuge, preferring soils poor in lime and usually acid.
Conservation status: Listed in CITES appendix 2.
Cereus pectinatus Engelmann var. rigidissimus Engelmann
Published in:Proc. Amer. Acad. Arts 3: 279. 1856;
Echinocereus pectinatus var. rigidissimus (Engelmann) Rümpler
NOTE: Echinocereus rigidissimus, lacking central spines, belongs to the E. reichenbachii group, unrelated to the superficially similar E. pectinatus group, which has at least microscopically visible stubs of central spines. It sometimes occurs with E. pseudopectinatus but without evidence of hybridization.

Photo and © copyright by Andrea Italy
Echinocereus rigidissimus v. rubispinus
(L088 Sierra Oscura, W. Chihuahua, MX)
Huge 7 to 10 cm wide, shocking pink with white-eyed flowers.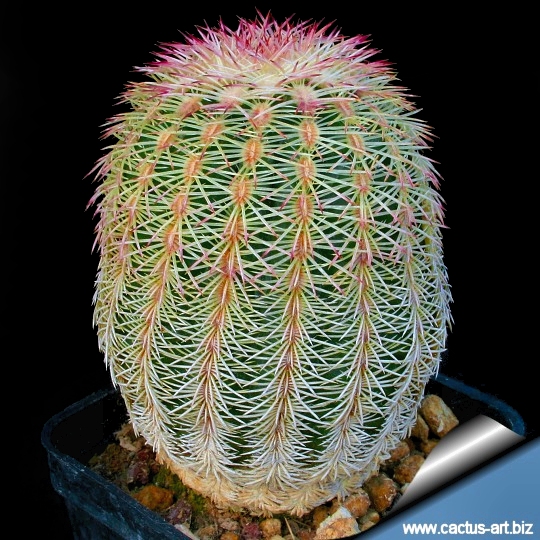 Cultivation: The E. rigidissimus is not the easiest cactus to grow, but when grown well it's very attractive. Rot easily it is sensitive to overwatering (rot prone), so perfect soil drainage is a must. It prefer a neutral to slightly acidic compost with plenty of extra grit. Best if watered with rain water and given an occasional tonic of sequestrated iron. In the summer they need an airy location in bright sun; well watered when it's hot. To achieve the best spine colors give these plants lots of sun. In the winter light, cool, and absolutely dry conditions. Very cold resistant above approx -12C or less for short periods of time. In mild climate they grow well when planted freely outside in well-drained soil.
Propagation: Seeds.
Photo of conspecific taxa, varieties, forms and cultivars of Echinocereus rigidissimus:
The flowers on both are bright pinkish-red or magenta or red with white throats.