Eriosyce aurata
The colourful spines are strong, glassy and usually amber coloured but also bright yellow or pure black.


Description: E. aurata is a very large and very spiny barrel cactus with numerous ribs.This fascinating plant is known by Chileans under the name of "sandillon" and resembles in habit and fruit to some of the giant species of Echinocactus in Mexico.
Stem: Spherical with abundant white wool on top up to 50 cm in diameter. Adult specimens become columnar, reaching over 90 cm in height.
Ribs: Around 30-35 ribs
Spines: Spines colour is variable yellow, amber yellow, fox red or almost black. Juvenile specimens have 1 central spine and 8 radial, but the number increase as they get older and areoles can have over 20 spines on mature specimens.
Flowers: Red campanulate or funnel-shaped 5 cm long, from the apex of plant, with a white hairy floral tube. There might be over 50 flowers on a mature specimen (only mature specimens bloom). Ovary densely matted with matted wool.
Fruit: Oblong, becoming dry, dehiscing by a basal pore, very spiny above.
Seeds: Rather large, dull, black-pitted with a sub-basal hilum.





E. aurata (sandillon) A plant from Vicuņa 2000m (North central Chile, at medium elevations in the Andes)

Cultivation: Slow growing, extremely rot prone if kept in a non ventilated place. Require a very fast draining drying soil, water regularly in summer, but do not overwater.
Needs a full sun exposure (or light shade) Good heat tolerance. Hardy to at least -5°C

Propagation: Usually propagated from Seeds. (seldom produces offsets) But the seedling are often grafted because the plants on their own roots (especially the bigger ones) are extremely prone to root rot. In fact the best and older specimens are the grafted ones.


Photo of conspecific taxa, varieties, forms and cultivars of plants belonging to the Eriosyce aurata complex. (This Taxon has several of synonyms whit various controversial varieties and subspecies):


Advertising




Family:
Cactaceae (Cactus Family)
Synonyms:
Scientific name: Eriosyce aurata (Pfeiff.) Backeb. 1936
Origin: Chile (Coquimbo), at medium elevations in the Andes
Conservation status: Listed in CITES appendix 2.

Synonyms:
Echinocactus auratus Pfeiff. 1847
Echinocactus sandillon Gay 1848
Eriosyce sandillon (Gay) Phil. 1872
Eriosyce ceratistes Britton & Rose 1922
Eriosyce ausseliana F. Ritter (Nom inval.) 1980
Eriosyce algarrobensis F. Ritter 1980
Eriosyce ihotzkyanae F. Ritter 1980
Eriosyce lapampaensis F. Ritter 1980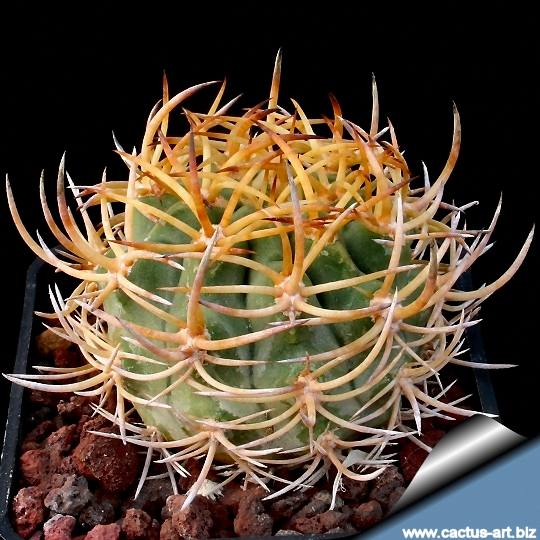 E. aurata N. Ovalle 1000m with glassy honey/yellow spines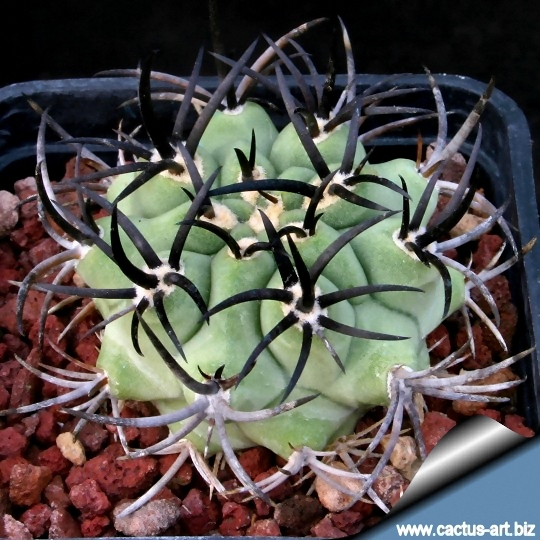 E. aurata (ceratistes) Huatalame 1000m.
A form with strong black spines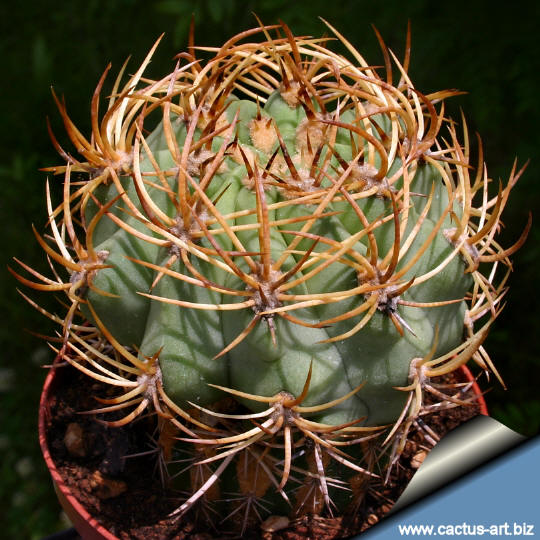 Grafted on trichocereus
(this species is frequntly grafted to avoid root rot)