E. strausiana (ex: Pyrrhocactus strausianus R542 Quebrada del Toro - Cacheuta, Mendoza, Argentina )


Description: Eriosyce strausiana is a solitary or slowly clumping cactus with very strong spines. Flowers grow up at the top.
Stem: Globose to to sub-globose or cylindrical as it becomes old, up to 20 cm tall and 8-15 cm in width, dark green to olive green.
Roots: Fibrous from a short tap root.
Ribs: 12 to14 in adult specimens. Obtuse and somewhat notched.
Areoles: Oval, woolly and hairy when young (with yellowish felt), later naked.
Radial spines: 8 to 14 about 25-30 mm long, Mostly curved upward, subulate, base swollen, dark greyish-black or dark horn coloured with black tips. Young spines are almost black (with a dark purple base), while older ones turn grayish.
Central spines: 1 to 8 longer and stouter (approx 30-40 mm long) similar in colour and shape to the radials.
Flowers: 3-4 cm long, 3,5-5 cm in diameter. Apical, broad funnel-form, straw coloured to dirty amber-yellow . Pericarpel and floral tube with wool and bristles.
Fruit: Only about 7-10 mm long, egg-shaped, greenish with thin wall, opening at maturity from a basal pore.

VARIETIES:

var. straussianus: 20 cm tall and 8-15 cm in diameter with 6-8 central spines, flowers 4 cm in diameter. Origin: San JosÚ de Jachal
var. pachoensis: 10 cm tall and 8 cm in diameter 1-2 central spines, flowers 3,5 cm in diameter. Origin: Pachaco.


.

.

.


Photo of conspecific taxa, varieties, forms and cultivars of plants belonging to the Eriosyce straussiana complex (This taxon has lots of synonyms (like most Eriosyce) whit several controversial varieties and subspecies):


Advertising




Family:
Cactaceae (Cactus Family)
Scientific Name: Eriosyce strausiana (K.Schum.) Kattermann
In: Eriosyce (Cactaceae): The genus revised and amplified 1: 117, 1994
Origin: La Pampa, San Juan and Mendoza, Argentina, South America.
Conservation status: Listed in CITES Appendix II

Synonyms:
Echinocactus strausianus K.Schum. 1901
Pyrrhocactus strausianus (K.Schum.) A.Berger 1929
Neoporteria strausiana (K.Schum.) Donald & G.D.Rowley 1966
Echinocactus catamarcensis Spegazzini 1905
Malacocarpus catamarcensis (Spegazzini) Britton & Rose 1922
Pyrrhocactus catamarcensis (Spegazzini) F. Ritter 1959
Neoporteria catamarcensis
Cereus catamarcensis
Echinopsis catamarcensis
Echinocactus sanjuanensis Spegazzini 1905
Pyrrhocactus sanjuanensis (Spegazzini) Backeberg 1939
Neoporteria sanjuanensis (Spegazzini) Donald & G. D. Rowley 1966
Malacocarpus sanjuanensis
Pyrrhocactus strausianus var. sanjuanensis
Pyrrhocactus vollianus Backeberg 1957
Neoporteria volliana (Backeberg) Donald & G. D. Rowley 1966 Pyrrhocactus pachacoensis Rausch 1975
Eriosyce strausiana var. pachacoensis (Rausch) Kattermann 1994 Pyrrhocactus platyacanthus F. Ritter 1980
Pyrrhocactus setiflorus,
Neoporteria setiflora,
Pyrrhocactus atrospinosus,
Neoporteria backebergii
Etymology: Named after Mr. L. Straus (1862-1934), German merchant and cactus hobbyist in Bruchsal near Baden and co-founder of the Deutsche Kakteen-Gesellschaft DKG.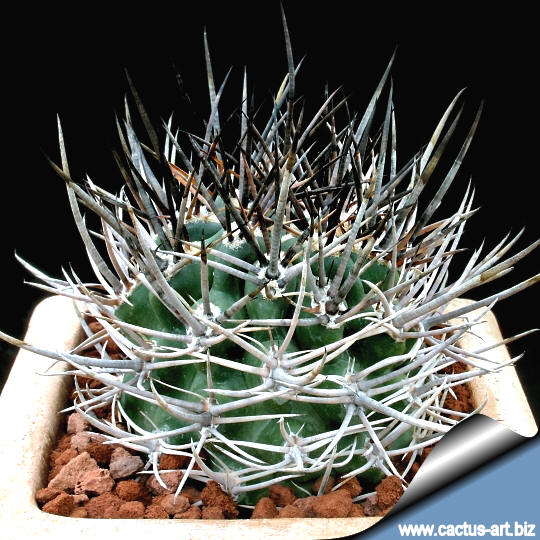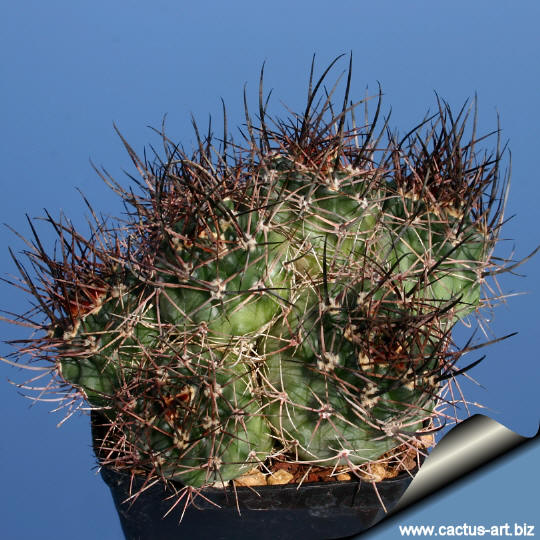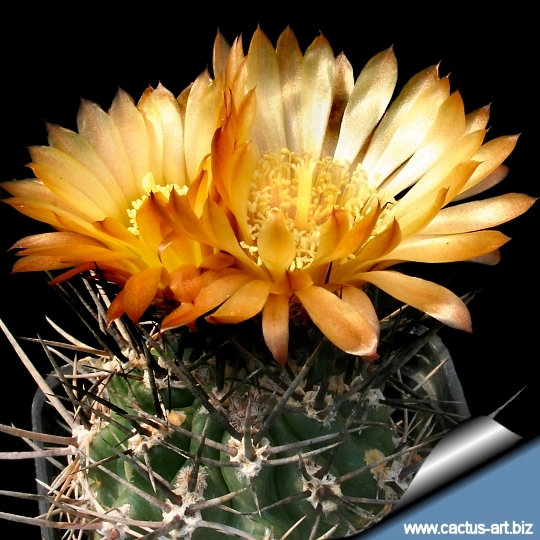 Cultivation: This slow growing cactus is kept for the beauty of its form and flowers. It is a summer grower species. Easy to cultivate but somewhat rot prone if kept in a non ventilated place. Require a very fast draining drying soil, water regularly in summer, but do not overwater.
Needs a full sun exposure, but must be protected from excessive heat and sun in summer, and seems to do best in cultivation with a bit of shade. Good heat tolerance. Keep warm and dry in winter (5 to10░C) to avoid rot. Not highly tolerant of a great deal of frost. (Frost tolerance -5░C or less for shot periods)
Propagation: Usually propagated from Seeds. (seldom produces offsets)
Grafting is sometime used to speed growth rate and to create a back-up to plants in collection.