Ferocactus diguetii is the largest of all of the genus Ferocactus and reaches 4 m tall and may
grow almost 1 m in diameter.

.

Photo of conspecific taxa, varieties, forms and cultivars of Ferocactus diguetii.


Advertising




Family:
Cactaceae (Cactus Family)
Scientific name: Ferocactus diguetii (Weber) Britton & Rosevar. diguetii
In cactaceae 3: 131, pl. II, fig 2; pl. 12, Fif 3, 1932,
Origin: It is an island endemic from the Gulf of California, Mexico. (Baja California, Gulf islands - Carmen, Santa Catalina, Cerralvo, Danzante, and San Diego islands)
Habitat: Gravely slopes on rocky hills in the lower sonoran desert and on island in the Gulf of California.
Ecology: This cactus ( like many other species — both plants and animals — found on islands ) shows the phenomenon of gigantism, being larger and more robust than its nearest relatives in continental regions
Conservation status: Listed in CITES appendix 2.
Common Names include: Giant barrel cactus
Etymology: The specific epithet honors Leon Diguet, a French explorer who was investigating pearl fisheries on Santa Catalina Island in the Gulf of California.
Echinocactus diguetii Weber
In: Bull. Mus. Hist. Nat. Paris 4: 100, fig I, 1898
Description: F. diguetii is a spectacular cactus that grows up to 4 m tall. It is among the largest species of column-like cacti, usually unbranched, forming a solitary column. The plants from from Santa catalina are probably the largest and most spectacular Ferocactus.
Stem: Massive, darck green, globular flattened in juvenile specimens, then columnar. The usual height of this species is to 2 meters, but some specimens can reach the 4 m of eight. and 60-100 cm in diameter.
Ribs: Slightly tuberculate, vertical, straight or wavy in moribund specimens, up to 3 cm tall. Mature plants have 25 to 35 ribs.
Areoles: Elongated, 1 x 2 cm wide, with short tan wool which turn chalky-white/grey and finally erodes away in age.
Spines: 4 to 8 spines of which one central (often up to 10 in juvenile specimens), clear yellow or sometime reddish or brownish, almost all alike, subulated, not ringed or hooked, slightly curved outward, up to 7 cm long.
Flowers: Fiery reddish to orange, funnelform are about 4 cm long and wide. Floral tube with fimbriate scales on ovary, inner perianth segment, oblanceolated, up to 2 cm long, 8 mm wide, dark red with yellowing margins, external perianth segments brownish-yellow. Stamens basally yellow fading red toward te tips, style orangish/red up to 18 mm long with longitudinal ridges continuing in stigma lobes, this are yellow upp to 5-10 mm long.
Blooming season: Flowers from March to May.
Fruits: Up to 3 cm long and 3 cm wide They tend to dry at maturity and split open through a basal pore.
Seeds: Glossy brown, irregular, 1,5 mm wide.

Note: The variety carmenesis only reaches 1 m in height.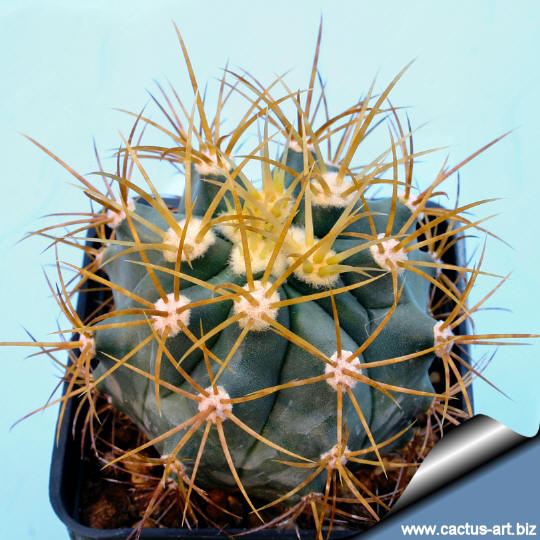 Has no ringed or hooking spines, but as seedling, spines have ornamental gold appearance. The stem is slightly blue-green.

Cultivation: Slow growing to start, but it does well under cultivation. Use very draining soil, water during the aestival growth cycle (this plant needs plenty of water). But it's necessary to avoid wetting the bodies of these plants while they are in sunlight. A wet cactus in the sun light can cause sun burning which can lead to scars or even fungal infections, and death.
Needs full sun. Keep dry at 10°C in winter, but it can tolerate sporadic light frost.
Reproduction: Seeds are the only way of reproducing.