F. diguetii var. carmenensis is one of the more rare and priced of all cacti.
This variety "only" reaches a height of about 1m.

Description: Contrarily to the common F. digueti that form a huge, solitary column up to 4m tall the variety carmenesis only reaches 1m of eight. Apart for the reduced size and slowest rate of growth this plant looks almost identical to the standard form.
Stem: Shortly cylindrical that never grows up to to 40 cm in diameter and 100 cm in height, but usually much smaller. The young specimens are often globular rather than flattened.
Ribs: Slightly tuberculate and wavy . Mature plants have 25 to 35 ribs; 4 to 8 spines, almost all alike, not ringed or hooked, up to 7cm long.
Spines: The spines in the juvenile plants are somewhat heavier than in the standard F. diguetii, they vary from 4 to 8 (often up to 10 in juvenile specimens), clear yellow or sometime reddish or brownish, almost all alike, subulated, not ringed or hooked, slightly curved outward, up to 7 cm long (but usually shorter).
Flowers: The fiery reddish to orange flowers are about 4 cm long and bloom from March to May.
Blooming season: Flowers from March to May.
Fruit: up to 3 cm long.
Seeds: Glossy brown, irregular, 1,5 mm wide.



Advertising




Family:
Cactaceae (Cactus Family)
Scientific name: Ferocactus diguetii var. carmenensis (G.E.Linds.) F.Wolf & R.Wolf
In: Cactus & succ. Jour 27: 167,fig. 156, 1955
Origin: It is an islands endemic from Gulf of California, Mexico. (Baja California, Carmen island)
Conservation status: Listed in CITES appendix 2.
Common Names include: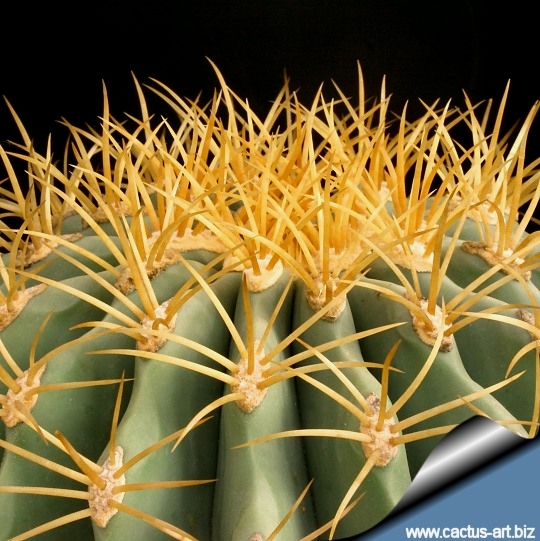 This species has has no ringed or hooking spines.

Cultivation: Plants are very slow growing to start but are easy to grow and require little care once they have reached a nice flowering size. It is suited for any rich, well drained soil in full sun troughout the year.
Pot culture: grow best in a fairly roomy, well-drained container filled with a porous cactus soil mixture that doesn't contain too much humus. To insure robust plants water and fertilize during the aestival growth cycle, this plant need plenty of water (indicatively to about once a week) But needs to be avoided wetting the bodies of these plants while they are in sunlight. A wet cactus in the sun light can cause sun burning which can lead to scares or even fungal infections and death. In winter keep completely dry at 10°C this usually aids in maintaining a healthier plant, but can tolerate sporadic light frost.

Propagation: Seeds are the only way of reproducing.
Photo of conspecific taxa, varieties, forms and cultivars of Ferocactus diguetii.