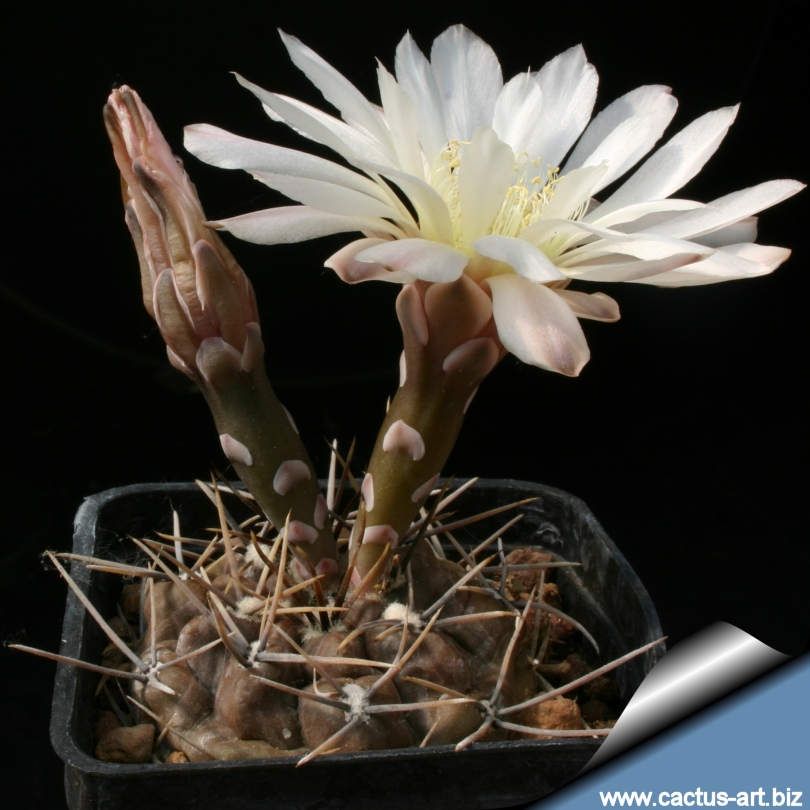 Gymnocalycium gibbosum brachypetalum P101 (Choele Choel, Rio Negro, Argentina 300m)

This variety has robust dark style="font-family: Arial">/brown stems and long brownish/blackish spines
Description: Solitary cactus.
Stem: Deep glaucous-green to grey-black, discoidal that became elonged with time 10-25 cm tall, up to 12 cm in diameter, the apex is slightly woolly.
Ribs: 10-16 straight, divided in well distinct angular ribs.
Areoles: Whitish-grey, elonged.
Radial spines: 5-7 20-35 mm long slightly bent against the plants body, clear brown with a darker base when young, that became whitish-grey with a black base as they age.
Central spines: 0-2 very similar to the radials.
Flowers: Infundibuliform in the nearest periphery just around the apex 45-60 mm long, 60-65 in diameter. Tepals ivory white with a brownish mid rib or occasionally reddish, throat greenish with a basal reddish area. Style white-greenish, stigma white. Anthers cream coloured.
Fruit: Globate or fusiform, 20-40 mm long green with white bordered scales.


Photo of conspecific taxa, varieties, forms and cultivars of plants belonging to the Gymnocalycium gibbosum complex (This Taxon has lots of synonyms ( like many other Gymnocalyciums) whit several controversial varieties and subspecies and comprises a multitude of different forms, but where each form is linked to others by populations of plants with intermediate characteristics):



Advertising
Family:
Cactaceae (Cactus Family)
Conservation status: Listed in CITES appendix 2.
Scientific name: Gymnocalycium gibbosum var. brachypetalum (Spegazzini) Backeberg
In: Kaktus-ABC :289, 1935
Common Name: Black Chin Cactus
Origin & habitat: G. gibbosum is widely distributed in the mountains of Argentina from the south of the Buenos Aires province to Patagonia and show a great variability in morphological traits.
Gymnocalycium brachypetalum

(brachypethalum)

Spegazzini,


in:

Anales de la Sociedad Cientifica de Argentina 99: 135, 1925
Gymnocalycium gibbosum v. brachypetalum (Spegazzini) Papsch 1996
Gymnocalycium gibbosum subsp.gibbosum var. brachypetalum (Speg.) Papsch,


In:

Gymnocalycium 9(4): 201, 1996
Gymnocalycium gibbosum var. nigrum Backeberg nom. inval. (Art. 37.1),


In:

Die Cactaceae 3: 1755,1959
Gymnocalycium gibbosum ssp. radekii Halda & Milt,


In:

Acta musei Richnoviensis Sect. natur, 9(1):63-64, 2002
Gymnocalycium nigrum n. n. Backeberg

Note: Seems to be a pretty variable plant you might get some other names which are effectively the same plant.... and also not sure all plants identified as this are really this.
Cultivation: summer grower and pretty easy, water regularly in summer, keep rather dry in winter, but can handle excessive water to few water, best for half-shade but grow well in full sun and full shade too (but in full sun turns an uneven brownish red colour). style="font-family: Arial"> Frost Tolerance: Hardy to -12C.
Seed Collecting: Permit fruit to ripen, fruit must be significantly overripe before harvesting seed; clean and dry seeds