Gymnocalycium marquezii (G. pflanzi)
It has fairly heavy spines bent backward in a distinctive fashion.


Description: Solitary or slowly clustering, with peculiar spine clusters characteristically bent backward in a distinctive fashion.
Stem: Flattened-globose,10-15 (25)cm in diameter, 10 cm tall, pale green, to olive green that can tinge of orangish purple in full sun. The epidermis has a velvety appearance. The apex is slightly depressed and woolly.
Ribs: 10 to 12 thick, large, divided into polygonal rounded (not chinned) tubercles, separated by arched furrows.
Roots: Fibrous
Areoles: Large long, oval 10x14 mm, with cream-yellowish wool, then blackish dismantling with time.
Spines: Strong, very stiff, bent backward, initially blackish with a brown base then becoming grey-pinkish to whitish brown with black point.
Radial spines: (5-)7-9 up to 25 mm long
Central spines: One (or two) of the same length.
Flowers: Infundibuliform near the apex, diameter and height 45-50mm. Pericarpell dull green very short. External tepals spatulate, slightly bent outward , white with brownish green midrib. Inner tepals intern narrower, spatulate and slightly denticulate, white with carmine/pink purplish throat. Style carmine with carmine pink 10-12 lobes. Pollen yellow.
Fruit: Globose of approximately 2 cm of diameter, becoming red carmine with maturity. Pulp intense cherry-red.
Seeds: Microsemineum type, section pirisemineum, very small (0.6 X 0.4mm), testa reddish shining and smooth.

NOTE: G. marquezii is very similar in structure to G. pfanzii var. riograndense but has shark mat type skin, dark coppery red stem and dark spines.

.

.

.


Advertising




Family:
Cactaceae (Cactus Family)
Gymnocalycium marquezii Cárdenas
in: Die Gattung Gymnocalycium in Bolivien.- Kakt. Sukk. 9(2): 26-27, ills. 1958
Type: Cárdenas 5066 – Bolivia: Tarija, Entre Rios, "near Angosto de Villa Montes" [protologue, translated] / "Angosto de Villa Montes, 600 m" [holotype], 600 m, 3.1952 (type herbaria: LIL). LIL 531592 (holotype): rad, corp, ar, sp, fl, ic.
Accepted Scientific name: Gymnocalycium pflanzii (Vaupel) Werdermann 1935
Origin: Garden origin (Nursery produced cultivar)

Etymology: Named in the honour of Dr. J. L. Marquez
Conservation status: Listed in CITES appendix 2.
Gymnocalycium marquezii Cárdenas1958
Gymnocalycium pflanzii var. marquezii
Gymnocalycium marquezii var. argentinense Backeberg
nom. inval. (Art.8.2) In: Kakteenlexikon: 169, Abb. Seite 566 (1966).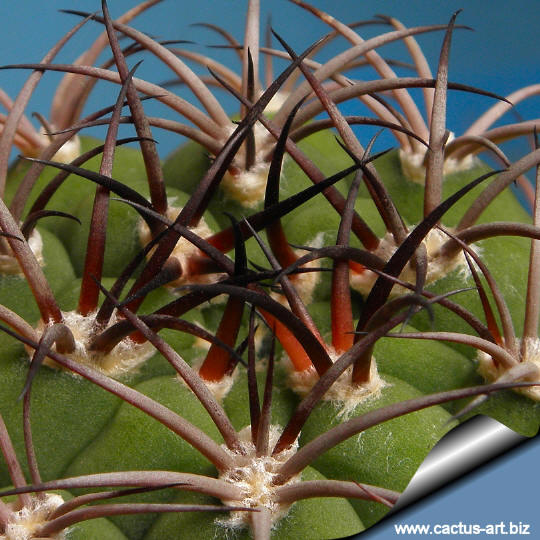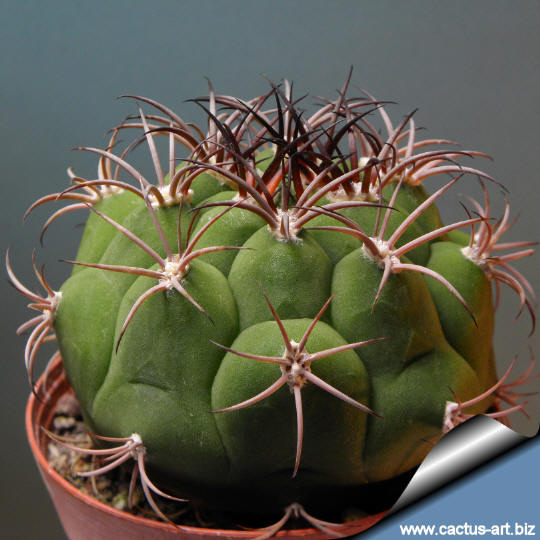 Cultivation: Gymnocalycium are very gratifying plants, their culture is easy and their flowering is abundant if we give them a well drained relatively rich substrate (if possible not limestone) Water regularly in summer (but do not overwater ) keep rather dry in winter, need frequent repottings and a very luminous exposure but avoid direct exposure to the sun rays. This species is particularly easy and accommodating, seldom suffer of cryptogamic diseases. Feed with a high potassium fertilizer in summer. Hardy as low as -5° C (or less) if kept dry.

Propagation: Usually by Seeds.
Photo of conspecific taxa, varieties, forms and cultivars of Gymnoclycium pflanzii: