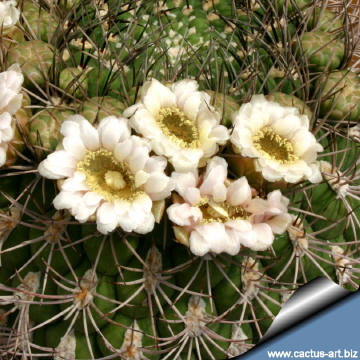 Description: Solitary barrel cactus.
Stem: Dull-green or blue-green, Almost cylindrical more or les flattened up to 30 (40) cm in diameter, slowly up to 90 cm tall.
Ribs: 10-30
Spines: 3-4cm long, yellowish-brown , reddish or black becoming grey with time which contrast well against the green body, 1-3 centrals and 10-15 radials bent against the stem.
Flowers: Pale pinkish white, with reddish throat up to 3-4 cm long, 2-3 cm in diameter, with a very short flower's tube. The flowers have a hard time coming through the dense mass of spines.
Blooming time: Appearing repetitively during the growing season. . Ftruit: Red,globular.


Cultivation: Keep this plant almost dry in winter at a minimum temperature of 0°C, prefer a low pH compost otherwise growth will stop altogether. The plant tolerate extremely bright situations but are likely to suffer from sun scorch or stunted growth if over exposed to direct sunlight during the hottest part of the day in summer. Since they are big sized plants need plenty of space for their roots, repotting should be done every other year or when the plant has outgrown its pot.
This species makes a great landscape cactus in moderate climates.
Propagation: Seeds (It don't produces offsets)
Seed Collecting: Permit fruit to ripen, fruit must be significantly overripe before harvesting seed; clean and dry seeds