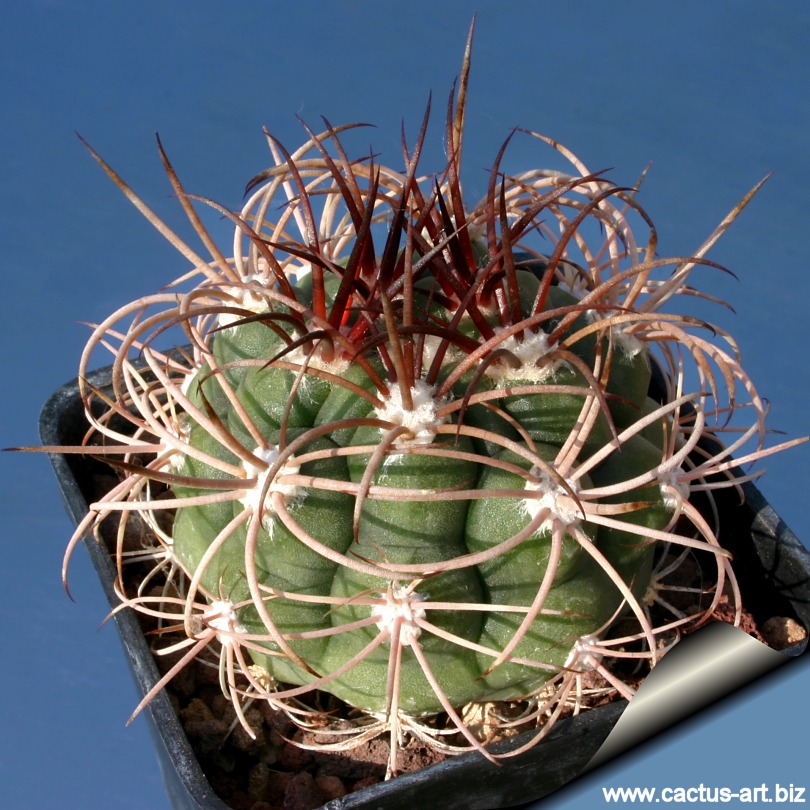 Form huge balls with large tubercles and long, arching spines.
The flowers are white or clear pink whit a darker pink throat.

Photo of conspecific taxa, varieties, forms and cultivars of Gymnocalycium saglionis:

Advertising
Family:
Cactaceae (Cactus Family)
Scientific name: Gymnocalycium ssp. tilcarense (Backeb.) H.Till & W.Till

Origin: Northern Argentina (Dept. Tilcara, Quebrada de Humahuaca, 7500 feet - 2250 m)
Conservation status: Listed in CITES appendix 2.
Common Name: Giant Chin Cactus
Etymology: Named after habitat, Argentina, Prov. Jujuy, Tilcara.
Synonyms:
Echinocactus saglionis Cels 1847
Brachycalycium tilcarense Backeberg of 1942

Gymnocalycium tilcarense

Gymnocalycium saglionis subsp. tilcarense (Backeberg) H Till and W Till 1997
Gymnocalycium saglionis var. tilcarense (Backeb.) Krainz.

Cultivation: Keep this plant almost dry in winter at a minimum temperature of 0°C (but hardy down to -20° C) prefer a low pH compost otherwise growth will stop altogether. The plant tolerate extremely bright situations but are likely to suffer from sun scorch or stunted growth if over exposed to direct sunlight during the hottest part of the day in summer. Since they are big sized plants need plenty of space for their roots, repotting should be done every other year or when the plant has outgrown its pot.
This species makes a great landscape cactus in moderate climates.
Propagation: Seeds (It don't produces offsets)
Seed Collecting: Permit fruit to ripen, fruit must be significantly overripe before harvesting seed; clean and dry seeds