Mammillaria fraileana SB1247 Pichilingue BCS.
Slowly offsetting, thin upright dark green stems, 3-4 cm in diameter, up to 15 cm tall.



The so-called "yellow form" with yellowish-green stigma lobes.


It starts flowering when still very small.
Best for full sun to light shadow.


Roots are fibrous but moderately swollen.

Photo of conspecific taxa, varieties, forms and cultivars of Mammillaria fraileana.


Advertising




Family:
Cactaceae (Cactus Family)
Scientific name: Mammillaria fraileana (Britt. & Rose) Boed. 1933

First description by Britton & Rose 1923, Neomammillaria fraileana.
Origin: Mexico, state of Baja California (on the Coast of Gulf of California, near La Paz, Cabo san Lucas, Todos santos)
Habitat: Grows in non calcareous rocks.

Conservation status: Listed in CITES appendix 2.
Bartschella albicans ssp. fraileana (Britton & Rose) D.R. Hunt 1997
Chilita fraileana (Britton & Rose) Orcutt 1926
Ebnerella fraileana (Britton & Rose) Buxbaum 1951
Neomammillaria fraileana
Mammillaria albicans ssp. fraileana
Mammillaria albicans

Description: Slowly offsetting

,

irregularly forming small clusters.
Stem: Cylindrical, narrow, eventually clumping near the base of the plant, without latex, 3-4 cm in diameter, 15 cm tall. Body

is

green

,

but often reddish if grown in full light.
Tubercles: Pyramidal without latex, axil naked (

o

r with a few bristles)
Roots: Fibrous or moderately swollen..
Radial spine: 11 to 12, 8 to 10 mm long, thin and white.
Central spine: 3 to 4, 10 mm long

,

dark brown, with one central spine

,

hooked.
Flowers: Light pink flower, petals with darker pink median line, 2,5-3 cm in diameter, stigma bright carmine-pink. (A form with greenish-yellow stigma lobes is also known as "yellow form" )
Fruit: Red, clavate and long lasting on the plant.
Seed: Black.
Blooming season (Europe): From May to September.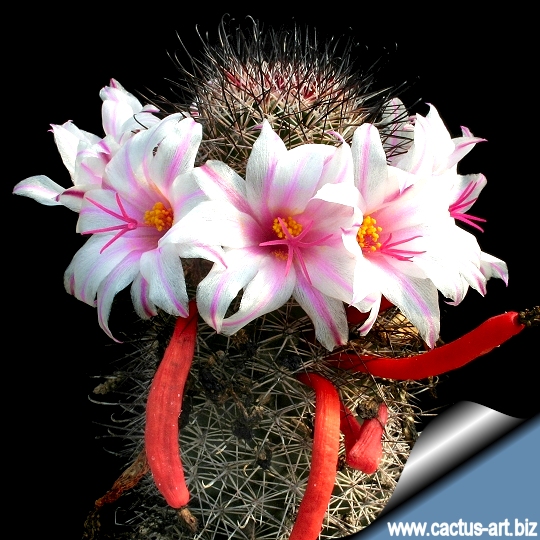 Gorgeous flowers and very decorative, long-lasting red fruits.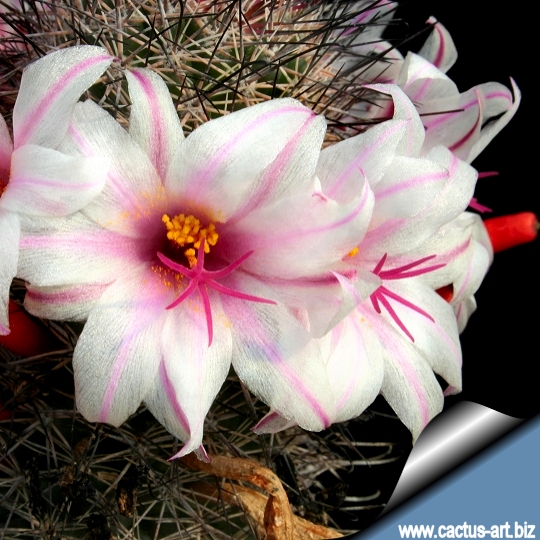 Light pink flower, petals with a darker median line, 3 cm in diameter. Unusual pink stigma stretched out towards the sun.

Cultivation: This plant isn't famous for being easy to cultivate, but in good conditions with excellent ventilation, it grows without difficulty. It is especially sensitive to over-watering. So careful watering and an open mineral potting soil are a must. Avoid the use of peat or other humus sources in the potting mixture.
Don't add limestone to the potting mix, which must be moderately acidic. Can be sensitive to frost (but some populations are resistant to -10° C). Requires maximum sun exposure to reach its full potential. and in order to achieve success in flowering.
A winter rest that allows the plant to shrivel (perhaps losing up to 25% of its summer height) will encourage flowering and long term survival. Be careful to encourage slow growth.
Propagation: Seeds or offsets.