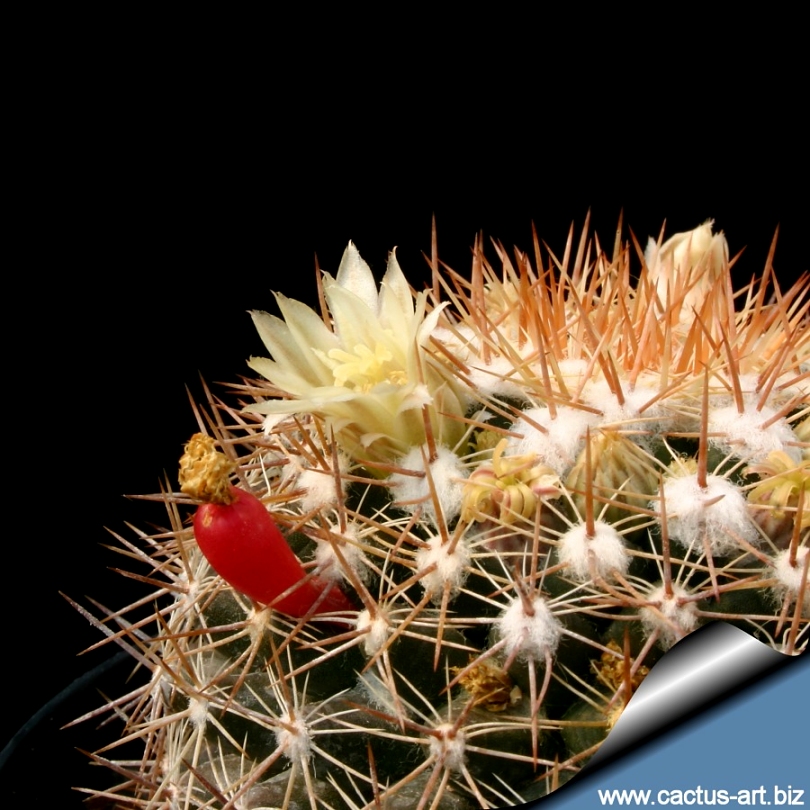 A very interesting and rare Mammillaria that grows wild in the sand dunes just only a few meters from mangrove swamp.

Description: Plants clustering. Stems more or less spherical to short cylindrical, green, to 15 cm high, 4 - 12 cm in diameter. The areoles are large and woolly , while the axil is naked.
Spines: Radials : 10 - 12, white with brown tips, 5 - 7 mm long. Centrals: usually 1 yellowish-brown, to 10 mm long.
Flower: Creamy white, 10 - 14 mm long to 18 mm long with darker midveins in a ring in the growth of the previous year.
Fruit: Light purplish, 20-30 mm long.
Subspecies and varieties:

M. heydery ssp. heyderi It has 1 central spine and 15-22 radial spines; Flowers are cream coloured with brownish-greenish mid-veins.
M. heydery ssp. gaumeri It has one central spine and 10-12 radial spines; Flowers are plain creamy-white.
M. heydery ssp. gumifera. It has 1-2 central spines and 10-12 radial spines: Flowers are reddish-white with darker midviens.
M. heydery ssp. hemisphaerica. It has 1 central spine and 9-13 radial spines; Flowers are Cream-colored to dusty pink.
M. heydery ssp. macdougalii. It has 1-2 central spines which are stouter and 10-12 radials spines; Flowers are cream-colored to pale yellow.
M. heydery ssp. meiacantha. It has one to none central spines and 5-9 radial spines; Flowers are pink or white with pink mid-viens.
M. heyderi var. applanata It is often the flattest but otherwise very similar to the The ssp. heyderi and may probably repesent only a race of the same species.


Advertising
Family: Cactaceae (Cactus Family)

Scientific name: Mammillaria heyderi ssp gaumerisubsp. gaumeri (Britton & Rose) D. R. Hunt 1997
Published in : Mammillaria Postscripts 6:10. 1997

First description: by Britton & Rose, Cact. 4: 72 (1923) as Neomammillaria gaumerii. (basionym)

Conservation status: Listed in CITES appendix 2.

Related taxa:
Mammillaria heyderi subsp. gummifera
Mammillaria heyderi subsp. hemisphaerica
Mammillaria heyderi subsp. heyderi
Origin: Yucatan, Mexico. Almost Endemic of Savana Chichulu and perhaps in the nearest forests of Yucatán and Quintana Roo (under different climate) Altitude just above sea level to 8-25 m.

Habitat: This is a rare species that would delight any naturalist, it grows in full sun or under shrub canopy half-hidden in the dunes sand of the beachfront land in the amazing transition zone between the mangroves - where saltwater occasionally floods in the almost-flat land - and the scrubby, spiny, arid-land with succulent plants typical of inland northern Yucatan.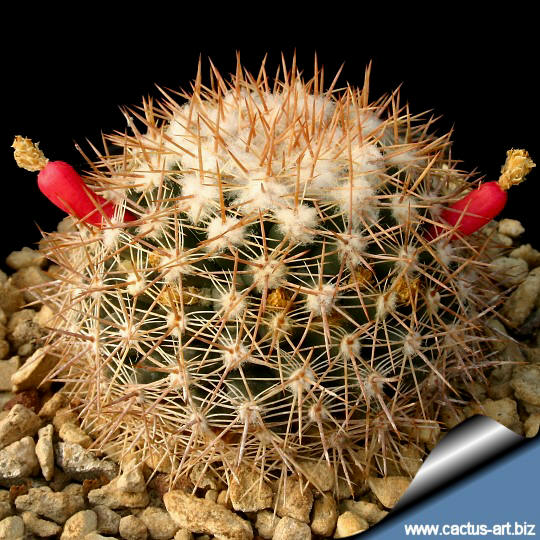 Cultivation: This is an easy to grow species, don't requires any special treatment, but need as much light as possible without burning the plant to encourage the heaviest spine formation. Needs a very good drainage with regular water in summer, dry in winter. Avoid any frost.
Propagation: Seeds, offsets (Allow cut surface to callous over before planting)

Photo of conspecific taxa, varieties, forms and cultivars of Mammillaria heyderi.