Mammillaria sphaerica


Description: Small, light green clumping cactus, 5-7 (12) cm in diameter, with 30-40 (or more) branches.
Roots: Thick taproots, large in upper portion.
Stems: Subspheric, 4-5 × 5-8 cm, soft, flaccid; cortex and pith not mucilaginous; latex absent.
Tubercles: Conical to cylindrical, flabby 12-25 × 5-8 mm; axils slightly short, woolly, without bristles;
Spines: 13-15 per areole, whitish to yellowish, glabrous; radial spines 12-14 per areole, grey, bristlelike, 6-9 × 0.1 mm, stiff; central spines 1 per areole, porrect, straight, not hooked or curved, similar to radial spines, 3-6 × 0.25 mm; subcentral spines 0.
Flowers: Broad, funnel-form, brilliant lemon yellow, 4 × 5-7 cm; outermost tepal margins entire (or minutely toothed near base); inner tepals bright yellow, paler near base, 20-30 × 5-8 mm; stigma lobes cream to pale yellow or greenish, 5-6 mm.
Fruits: greenish white to dull pinkish tan or maroon, ovoid to short cylindrical, 10-15 × 7 mm, floral remnant weakly persistent. The fruits are juicy throughout, and have a pleasant aroma.
Seeds: black or brown, 1.3 × 0.9 mm.
Blooming season (Europe): July; fruiting May.


.

.


Advertising




Family: Cactaceae (Cactus Family)

Scientific name: Mammillaria sphaerica

First description: A. Dietrich, Allg. Gartenzeitung 21: 94, 1853

Origin: USA (southeastern Texas)

,

Mexico (Tamaulipas)

Habitat: Grows under bushes in the Tamaulipan thorn scrub on plains and low gravelly hills. Altitude 0-300(1000?) m

Conservation status: Listed in CITES appendix 2.

The taxonomic reduction of Mammillaria sphaerica to varietal rank within the geographically disjunct and morphologically distinct Mexican species, M. longimamma, while plausible, is still controversial.

Synonyms:
Dolichothele sphaerica (A. Dietr.) Britt. & Rose
Mammillaria longimamma var. sphaerica (A. Dietr.) K. Brandeg.
Neomammillaria sphaerica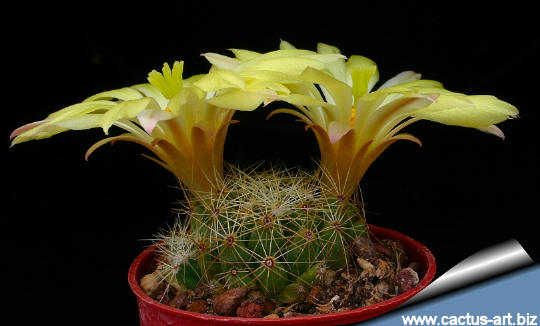 It has soft stems. If grown correctly, it will recompense the grower
with generous displays of lemon-yellow flowers.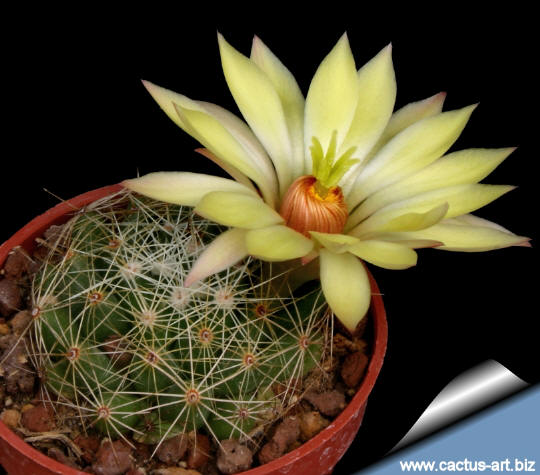 Mammillaria spaerica GL 40 Zapata County, Texas, USA

Cultivation: Very easy to grow. Watering Needs: It needs regular water, but do not water again until dry. Also, it is a species that is dormant in the winter and requires very little water (maybe even none) during the cold months. Frost Tolerance: Light frost protection required. Minimum of 5º C for safe growing (but hardy down to -8°C or less.). Sun Exposure: In spite of its preference for shade in the wild, in culture, good exposure to sunshine will favour good spine development. It can get sunburned if moved from shade/greenhouse into full sun too quickly. During the spring it may be able to take full sun until the heat arrives at the end of spring. In an area that has hot afternoon sun, it may be able to take full morning sun, but requires afternoon shade or afternoon light shade. If grown correctly, it will reward the grower with generous displays of yellow flowers. Clumps will be formed quite readily over a few years. Spider mites are especially attracted to this species, but often are controlled with overhead watering. Care with repotting is needed, as the thick taproot is easily damaged.
Propagation: Seeds or offsets that appear at the base; leave them attached to form a cluster, or wait until they are 1/3 the size of the parent and then detach and plant.
Photo of conspecific taxa, varieties, forms and cultivars of Mammillaria longimamma: