The lemon yellow flowers are very large for this genus (6 cm in diameter ) and are produced in abundance in summer.


Description: At first solitary, but clustering very young and forming dense clusters to 15 cm or more broad. With 10-30(-50) braches.
Stem: Spherical, green, 3-6(12 cm) cm in diameter, up to 10 tall. Without latex.
Tubercles: Very long soft and flaccid 12-25 × 5-8 mm.
Axil: Sparsely wooly, without bristles
Radial spines: About 8 to 10 for 12 to 20 mm long white-yellowish or brown.
Central spines: Usually 1 central spine, to 25 mm long, not hooked or curved, similar to radial spines. No Central spine for the var. uberiformis.
Flowers: Very large for this genus, 4-6 cm. long, 4.5-6 cm. wide with bright yellow petals in May-July. , stigmas yellow.
Fruit: yellowish to green.
Roots: Thick taproots, large in upper portion.

.

Photo and © copyright by Andrea B. (Bologna, Italy)


Photo & © copyright by Irwin Lightstone

Cultivation: An easy species that will form large clumps with age. Mammillaria longimamma has a fairly large tap root, and should be kept in a deep pot with a very draining mineral substrate. Watering during the active growing season (spring and summer); this will encourage steady growth, and prevent the large tubercles from becoming flabby. But be careful with watering, which all thick rooted species require (rot sensitive). Keep dry during the winter rest, when the plant may pull near the surface of the potting mix.
Fertilize every 2 weeks with diluted high potassium fertilizer when the plant is in bud. Need light shade to shade.

Propagation: Seeds, offsets, tubercles (Tubercles can be removed from the plant, let to dry a day or 2, and planted)

Advertising




Scientific name: Mammillaria longimamma A. P. de Candolle 1828.
Origin: Mexico (Hidalgo, Querétaro between 1000 and 2200m altitude)
Conservation status: Listed in CITES appendix 2.
Common English Names include: "Finger Mound", "Peyotillo" , "Nipple Cactus"
Etymology: The species name "longimamma" comes from the Latin for "long nipple" which refers to the tubercles of the plant, while "uberiformis" which appears in Dolichothele uberiformis means "shaped as an utter".
Neomammillaria longimamma,
Cactus longimamma,
Dolichothele longimamma,
Dolichothele uberiformis,
Mammillaria longimamma var. uberiformis,
Dolichothele longimamma ssp. uberiformis,
Cactus uberiformis,
Mammillaria uberiformis,
Neomammillaria uberiformis,
Cactus alpinus,
Mammillaria alpina,
Mammillaria laeta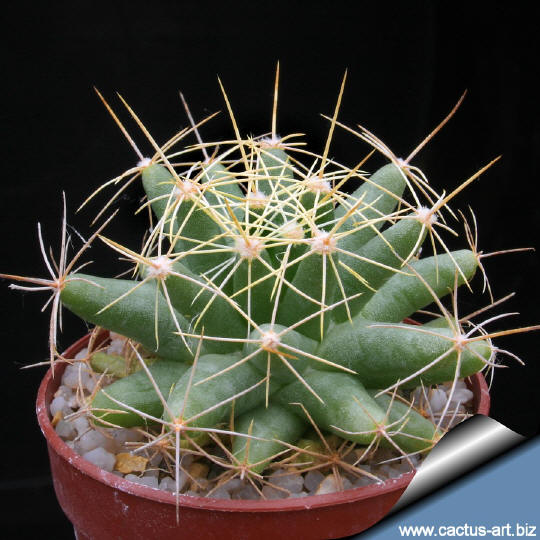 The tubercles are very pronounced.
Photo of conspecific taxa, varieties, forms and cultivars of Mammillaria longimamma: